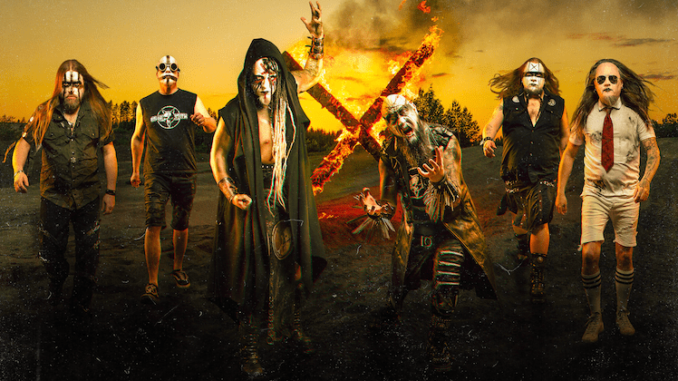 Album Review: Turmion Kätilöt - Omen X
Reviewed by Dan Barnes
This year marks Turmion Kätilöt's twentieth anniversary and to mark such an auspicious occasion they release album number 10, the appropriately named: Omen X. Perhaps not having the widespread public recognition of fellow Scandinavian Industrial Metal bands as Norway's Combichrist or Sweden's Deathstars, these Finns match their contemporaries in sheer power alone.
With a sound closer to the Swedes rather than the Norwegians, Turmion Kätilöt combine their industrial sound with a Power Metal ethos, giving Omen X a distinctly chimeric feel. Whether they be laying down a heavy opening beat, as on Sormenjälki, Käy Tanssiin or Kun Kesä Kuoli, Turmion Kätilöt are able to mould those rhythms into choppy riffs and chugging guitars.
For all its weighty progression, Vie Se Pois introduces something of a Euro-Pop moment in the chorus bridges, before dropping back into grinding guitars. This sort of bombastic approach is foreshadowed in album opener Totuus, whose commencing salvos metamorphose from Club to Pit in the briefest moment.
Possibly due to MC Raaka Pee's vocals not being in my native English, but there are great swathes of Omen X that call to mind Rammstein. Be they the speed and weight of Pyhä Kolminaisuus and Puoli Valtakuntaa or the hook-laden melodic moments of Gabriel and Kuolettavia Vammoja there is something of the German colossus being channelled through several of Omen X's eleven tracks. Even Lindemann's more pronounced vocal delivery is on display during Verestä Sokea.
You don't last twenty years and ten albums by being sloppy and it goes without saying Turmion Kätilöt, like any Industrial band, stand and fall on the precision of its rhythm section. Antero Seppänen percussion is pinpoint throughout, replicating the pulse of a never-ending machine cycle; whereas as the core of the sound is contained within Hannu Voutilainen's bass work.
Combining dance beats with Power Metal anthems could be a recipe for disaster, but Turmion Kätilöt pull it off by having the insight as to what ratio to use and when. Omen X is an album that is more on the Metal side than the Industrial, but it uses its electronic elements at just the right times.
If you're the sort of person who enjoys their music big and bombastic and are unfamiliar with Turmion Kätilöt, then why not give Omen X a spin.