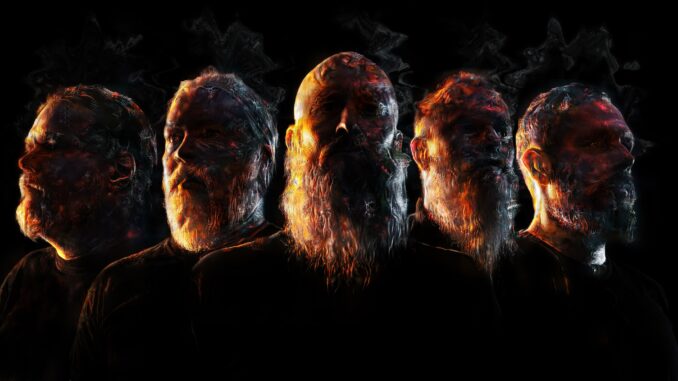 Album Review: Meshuggah – Immutable
Reviewed by Dan Barnes
Sweden's most insane sonic architects, Meshuggah, return from outer reaches of musical experience with Immutable, their first studio record since 2016's The Violent Sleep of Reason. If you've checked out the lead single, The Abysmal Eye you'll know the hiatus has not mellowed the band one-iota. Instead, it seems the rage burns bright, expressed through those trademark polyrhythms, orchestrated by drummer Tomas Haake and bassist Dick Lovgren and supplemented by Martin Hagtrom and Fredrik Thordendal's six-string sorcery.
Meshuggah have never just been about off-kilter time signatures or brain-melting complexity, rather it is the effect of those methods that more interest the band and why they have a fiercely loyal set of devotees who worship at their feet.
The experimentation and stylistic cross-pollination allow for a rejection of classification and opens the whole musical spectrum for exploration. Opening piece, Broken Cog, sits in a more ambient mode and, although it does contain plenty of abrasive moments, it is the calm before storm. Basslines at the core of Phantoms fire off like artillery as synthesisers give voice to the titular entities.
Songs like Light the Shortening Fuse, Kaleidoscope and Armies of the Preposterous are just some of the reasons why a Meshuggah live show is not a seated event. The Faultless' big groove will see bodies strewn about the pit every night and it will be a glorious sight to behold.
Sitting at the centre of Immutable is the ten-minute instrumental epic, They Move Below, a beautifully built composition, beginning with the gentle strings of an acoustic before giving ground to the incoming drums. There is a tempestuous feel here, with the instrumentation conjuring images of a bleak and barren landscape, incessantly buffeted by the elements.
As Immutable closes we are presented with the final track, Past Tense, another appearance from the acoustic guitar, this time creating an ominous sense of impending menace, the bass acting as a ticking clock, marking off the time.
Meshuggah's records have always grown and developed through expose. Immutable, their ninth, is no exception and is an album that hides many secrets within its as-yet hidden passages. But, intrepid explores that we are, we shall seek enlightenment amid the musical chaos and complexity and, who knows, maybe uncover the Rosetta Stone that will unlock the whole Meshuggah mystery.