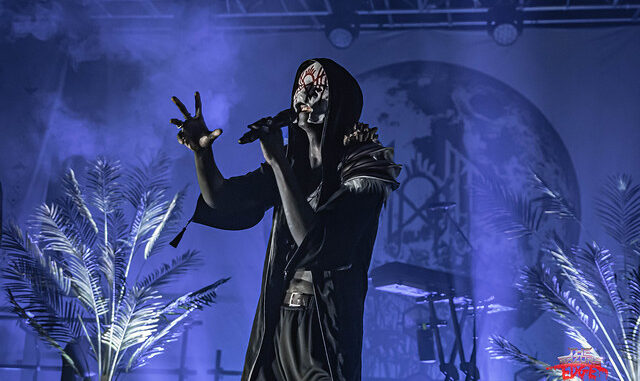 Live Review: Sleep Token - O2, Academy, Birmingham
17th January 2023
Support: Northlane
Words & Photos: Tim Finch
It's another cold, windswept night in Birmingham, but that doesn't stop the locals queuing for what seems like miles to enter the O2 Academy in the city centre this evening. The much hyped Sleep Token are in town and the fans are out in force to see the phenomena.
The sold out event only has one support act for the evening, Aussie metalcore outfit Northlane hit the stage as the clock strikes 8. By now the sold out venue is already nearing capacity and the bands appearance is well received. Melding the sound of late 90's Korn with hints of dance/electronica is an interesting tactic, and whilst some (older) sceptics amongst us may query the idea, the three thousand in the house lap it up.
For forty five minutes Northlane wow the crowd, through openers 'Clarity', 'Plenty' and 'Echo Chamber' theres a mix of moshing and dancing going on as the atmosphere and temperature rises! There is no let us in this set, it's a fast paced affair and the bands appearance flies by. It's not long before 'Cypher' and 'Talking Heads' close out the first act of the evening, a suitable warm up for what is about to come.
The vast Academy venue is now bathed in a low purple light as the expectant masses await tonight's headliner, Sleep Token. The stage set is a simple affair, a small drum riser festooned with palm tress silhouetted against the dim light. The band appear from the rear of the stage, through the light and palm trees whilst ripping into 'Chokehold'.
The anonymous outfit, all masked and mysterious, head off into latest single 'The Summoning', only released last week and indeed Birmingham is treated to the debut live performance of it.
If asked to describe the band the immediate thoughts that come to mind and the sounds of Zeal & Ardor mixed with the presentation of Ghost. Taking the best of both worlds, they deliver something that looks and sounds totally unique.
The set is peppered with live debuts, making this one special night in the countries second city. 'Aqua Regia' and 'Granite' get their first outings since being released on record, much to the crowds joyous reception.
The band maybe only two albums into their fledgling career, but selling out the biggest concert halls in the UK is a good way to prove there are big things coming for this outfit. It won't be long before they return in arena's off the back of this performance.