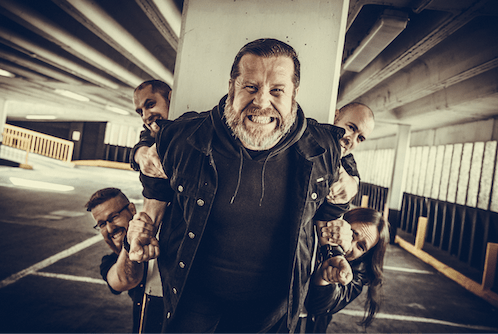 Album Review: King Kraken - MCLXXX
Reviewed by Robbie Maguire
There's a certain four-letter word that thankfully has much to answer for in our world of heavy music. Holding so much importance we simply couldn't function without it. No, not Ozzy! Although he has much to answer for. No not Tony either. Actually, we're getting much closer with Tony. Much much closer! Its riff. That's right. The simple use of repeated notes often forms the beating heart of the songs we love. Other factors need to be added to the recipe but the power of this catchy use of instrumentation cannot be underestimated.
King Kraken, the groove orientated metal quintet from Wales have not only clearly been studying from the book of riffs they have fully immersed themselves in the tome. Creating quite a stir in the busy, and high-quality underground UK metal scene the culmination of their hard work and creative endeavours is 'MCLXXX'. The ten song debut album, taking its title from the year the first reported sightings of the mythical sea beast (1180) they are named after, is to put it bluntly one hell of a masterful statement of intent. With a canny, dark and moody bass riff heralding the opener 'Devils Night' immediately King Kraken lay their metallic stoner infused cards on the table. Hummable yet gritty and with a rhythm section whose tightness and rolling power simply needs applauding, yes even at this early stage, the heavy formula that King Kraken employ is clearly one that is not going to wear thin. On the contrary, as the album pushes on it unfolds its sheer heft and gutsy power. The stoner thrash rhythms of 'Bastard Liar' elevate the crushing groove and not for the last time on the album the scintillating lead work of Adam Healey amazes and illuminates in equal measure.
With momentum surging and interest never waning King Kraken have clearly a solid understanding of their craft. For theirs is a straight up, unwavering sound and one that retains the right amount of restraint yet still is punishing but never compromising on melody. The horror inspired 'Haddonfield 78' delivers such an instant hit of vigorous punchy metal. Anthemic and with a stabbing crunch despite having a darker feel it's still an undeniably fun listen.
The impressive shapeshifting vocals of Mark Donaghue that illuminate the album radiate brightly all over. In amongst bouncy heavy psych bluster of 'Walls of Jericho' his imposing screams and the gorgeous gruff warmth of his voice shine. His commanding delivery of the lyrics injects an assured swagger to 'Proctors lodge', a bluesy smouldering beast summoning the heavier and darker charms of the grunge visionaries of yesteryear.
Nothing forced, it all clicks and flows. No scrap the flow bit. 'MCLXXX' unashamedly races along whisking you up and not spitting you out until the very last notes of 'Castle of Bone' fade out. Blink and you'll miss it but despite rattling along the essence of the album is not sacrificed. For the very essence, the galvanising vibrant energy and enriching power of the songs are very much what create its impacting character. Be assured you'll very much be aware you've heard something very special and gratifying.
Not redefining heaviness or trying to rewrite the rulebook, King Kraken know where their strengths lie and don't deviate from the punchy, bouncy groove that they execute so adeptly. Why would you veer away from a style that you absolutely make your own? Clearly King Kraken are going to be one of the most exciting and talked about bands in the burgeoning UK metal scene and rightly so. For with 'MCLXXX' they have delivered one hell of a memorable and potent shots of heavy fist pumping, life affirming modern metal.