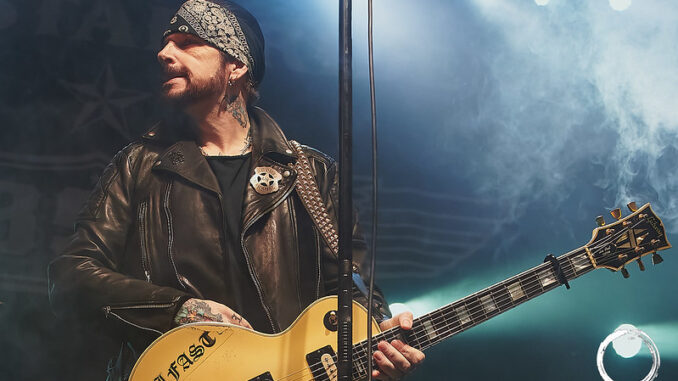 Live Review: Black Star Riders - O2 Ritz, Manchester
17th February 2023
Support: Phil Campbell & The Bastard Sons, Michael Monroe
Words: Dan Barnes
Photos: Rich Price Photography
I was extremely disappointed that the Black Star Riders were forced to cancel their 2021 headlining slot at Stonedead Festival. I fully understood and was grateful for Uriah Heep stepping in at short notice and delivering a killer set, but there was a pang of longing, nonetheless.
So I was all over it when they announced this 10th Anniversary trek, even more so when they revealed the supporting cast. An evening of top flight rock n' roll was assured and the Ritz was a sell out for the Friday night show.
Phil Campbell and the Bastard Sons are just about to drop into Motörhead's Going to Brazil as I flick through to a fresh page in my notebook. This is one of three 'head covers in tonight's set, which is both a blessing and a curse. Phil was Lemmy's partner-in-crime for thirty years and no one walking this planet today has as much right to the Motörhead legacy. But that is, in itself, something of a poison chalice as Lemmy's was such an iconic delivery that most attempts to replicate it fall short.
But vocalist Joel Peters does as good a job as anyone could and we lament the passing of a legend in our own way. Born to Raise Hell and Ace of Spades are the other songs aired tonight and both are met with the kind of reception usually reserved for returning heroes.
Phil and family's original material takes the spirit of that gritty rock sound, loads it with dirty riffs and crank the poo out of it. Get On Your Knees has no small amount of groove and we get some early audience participation and Freak Show is an unassuming banger of a track with a meaty low end.
The penultimate Dark Days is a real switch of pace, being a slow plodding intro, built around a bluesy progression as Phil's solo skims lightly over the top; all of which serves to carry the crowd back to a simpler time, when it was only how a musician arranged those twelve notes that mattered. The aforementioned Ace of Spades brings Phil's shift to a close in really the only way permissible.
For a man in his sixties, who's been at this Rock N' Roll thing since the seventies, Michael Monroe is certainly defying the years and is not going gently into that good night. Last year's solo album, I Live Too Fast to Die Young attracted some stellar reviews and with a 40th Anniversary version of Hanoi Rock's sophomore record, Oriental Beat, coming soon (watch this space) there appears to be something of a renaissance for the Finnish singer.
One Man Gang see Michael prancing and preening like it's 1984 all over again. He's up on the monitors and wrapped around his mike-stand, giving folks half his age a masterclass in stage craft.
The title track of the newest album comes out next, but Murder the Summer of Love is the only other recent song sung tonight. Whatever excesses the Monroe body has experienced isn't reflected in the vocal delivery, as Michael still has just the right level of edge and grit in his throat.
Last Train to Tokyo and Trick of the Wrist are full-on sleezy rockers; '78 and Ballad of the Lower East Side are the kinds of classic, timeless tunes that don't need anyone to request audience participation.
Big beats and a snotty punk attitude are on show for Demolition 23's Nothin's Alright; the Rocks' Malibu Beach Nightmare and their cover of Creedence Clearwater Revival's Up Around the Bend proves the crowd are eating out of Michael's hand, whereas Dead, Jail or Rock n' Roll seems the only practical way to bring the set to a close.
Black Star Riders are ten years and five albums into their career, yet are on tour to celebrate a legacy far greater than that.
My recent review of BSR's newest record, Wrong Side of Paradise, could act as a template for this show, in that there is always a conversation going on between the band's past and the present and, rather than being jarring in any way, is vital to the sound.
The Thin Lizzy legend is in safe hands with Ricky Warwick and co and the inclusion of Another State of Grace and Bloodshot are as close to those classics as you can get, with Ricky's voice harbouring a close Lynott vibe. Don't Believe a Word and Jailbreak are presented as metrics against which to measure this theory, and all evidence supports the hypothesis.
The urge to load the set with new numbers is resisted, with only Pay Dirt, Better Than Saturday Night, Riding Out the Storm and the album's title track being played, as opposed to the five songs from the All Hell Breaks Loose debut. A fifth from Wrong Side…, The Osmonds' Crazy Horses, has those insane string bends and is fun for what it is.
Scott Gorham makes an appearance for All Hell's title track and stays around for the rest of the show. Although the hair might be gone and the years have caught him up, there's no denying he's still fully in charge of those strings.
Soldiertown and Kingdom of the Lost are the kinds of songs that would make an ex-pat Irishman weep into his Guiness and yearn for the old country. Filled with traditional vibes and the sort of twin guitar for which Lizzy were renown. I could be mistaken, but there's more than a hint of Gary Moore about some of those guitar lines, I feel.
Michael Monroe re-emerges to take backing vocals on Tonight the Moonlight Let me Down, before Jailbreak and Finest Hour finish the evening, leave only a battle through the infuriating Friday traffic to fight.
Tonight's show is the epitome of what a Rock n' Roll show should be: driving rhythms, big beats and a born-to-be-a-rock-star frontman. Motörhead, Hanoi Rocks and Thin Lizzy on the same bill - in 2023! Well, not far off.
And, is it just me, or does anyone else see a Black Star Riders sized hole on the Stonedead bill this year? – just there between Therapy? and Blue Oyster Cult!