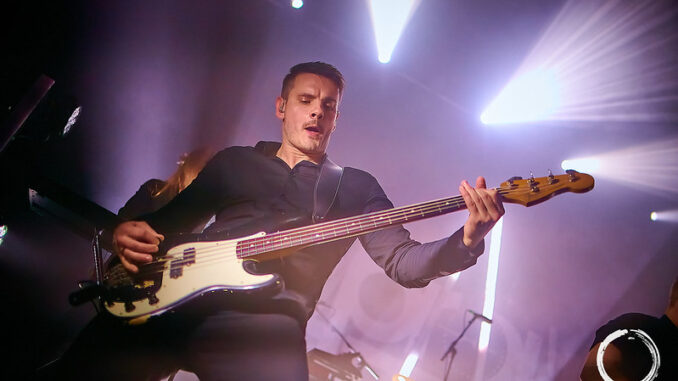 Live Review: Leprous - SWX Bristol
9th February 2023
Support: Kalandra, Monuments
Words: Richard Oliver
Photos: Rich Price
SWX in Bristol was host to a show of varied music sounds and styles all of which would appeal to fans of heavy music but also completely transcended those limitations. Three bands with three very different sounds. With it being a Saturday night and the venue most likely double booked for a club night afterwards, it meant an early start and early finish for the show.
Opening up the evening were Norwegian band Kalandra. This four-piece mixed nordic folk music, art rock and ethereal sounds together in truly stunning fashion. We were treated to several songs from the bands 2020 album "The Line" which were performed immaculately and to a hushed awe from the audience. The band incorporated bowed guitars, horns and layers of atmospheric keyboards alongside drumming which ranged from the delicate to the furious. The element which gelled all this together was frontwoman Katrine Stenbekk whose beautiful ethereal voice was simply spellbinding. Despite the early start the band had a very decent crowd watching who were in awe of songs such as 'Borders', 'Virkelighetens Etterklang' and 'Brave New World' and gave Kalandra a truly well deserved applause and cheers. It was simply a stunning way to start the evening and Kalandra deservedly earned themselves several new fans (this reviewer included).
In the main support slot were London metalcore band Monuments. This was a bit of an odd choice of support sandwiched in between two bands which have a sound built on atmosphere so the bands aggressive djent and metalcore sound felt rather jarring. The atmosphere and ambience created by Kalandra was quickly dissipated by heavy chugging and groove-laden riffing and pit-worthy breakdowns which the audience duly delivered. The most well utilised weapon that the band have in their arsenal is frontman Andy Cizek who has an incredible vocal range effortlessly switching between shrieks, growls and cleans and his boundless enthusiasm ensured that the crowd got worked up with Andy getting involved in the action and crowd-surfing. This is not the type of metal I see any appeal in whatsoever but there is no denying its popularity as the crowd had swelled considerably by the time Monuments hit the stage with songs such as 'Cardinal Red' and 'The Cimmerian' getting singalongs from the audience as well as plenty of bouncing. Despite the popularity of the band Monuments stuck out like a sore thumb amongst Kalandra and Leprous and were a confusing choice of support act. The band performed a tight set but personally I was quite happy to see the band leave the stage.
Leprous are a band that I have seen perform countless times and every single time they have been nothing short of phenomenal. Originally a progressive metal band, Leprous have steadily been shaking off the shackles and restraints of the metal genre becoming a hybrid mix of art rock and art pop but whilst not forgetting the metallic origins of the band.
The band themselves are an insanely tight unit and are incredibly accomplished musicians. With three banks of keyboards set up on the stage allowed band members such as bassist Simen Daniel Børven and cellist Raph Weinroth-Browne to switch from their primary instruments throughout the set and also allowed frontman Einar Solberg to wander the stage and perform keyboards at the same time. Within the realms of prog, Leprous have two things which really set them apart from other bands and make people take notice. One is drummer Baard Kolstad whose intricate yet hard hitting style is a sight to behold and he is hands down one of the finest drummers out there. The other is frontman Einar Solberg who has the most incredible singing voice which is at equal times delicate and graceful as well as powerful and forthright. His range across the material performed was simply astounding and ensured hairs were standing on end for the audience.
It was also fantastic to see Raph Weinroth-Browne on stage with his cello as he has made such a brilliant addition to the bands sound and his cello playing is now so interwoven into the Leprous sound that even when he plays on older songs which originally did not feature his playing his parts sound like they have always been there. Einar said to the crowd "don't you hate it when bands only play songs from their new album" and whilst a decent chunk of the set was taken from the band's latest album "Aphelion" we were treated to a lot of goodies from the back catalogue.
The band opened with the restrained "Have You Ever" from "Aphelion" as well as gorgeous renditions of 'On Hold', 'Castaway Angels' and 'Out Of Here' but songs such as 'The Price', 'Foe' and 'The Flood' got some of the loudest cheers. The highlights of the set were the jaw-dropping 'Distant Bells' and 'Below' whilst the closing duo of 'Nighttime Disguise' and 'The Sky Is Red' demonstrated that although Leprous can be delicate they can also be ferociously intense. It seems that the profile of Leprous has been raised as the last time they played a headlining show in Bristol it was in the far smaller confines of The Fleece but they easily packed out SWX and as Einar said "they will never have to play The Fleece again" whilst making a playful jab at the view blocking pillars in that venue. It definitely seems that Leprous are growing in popularity and they are a band that deserve all the success they can get.
Overall this was a fantastic show though the inclusion of Monuments was a bit of a head scratcher and it would have made more sense to include a band with more similarity to Kalandra and Leprous and maintained the more relaxed atmosphere that these bands exuded. Leprous are a band that I implore anyone to see should they get the opportunity as they are not only one of the finest live acts out there but they are a pure masterclass in 21st century progressive music.