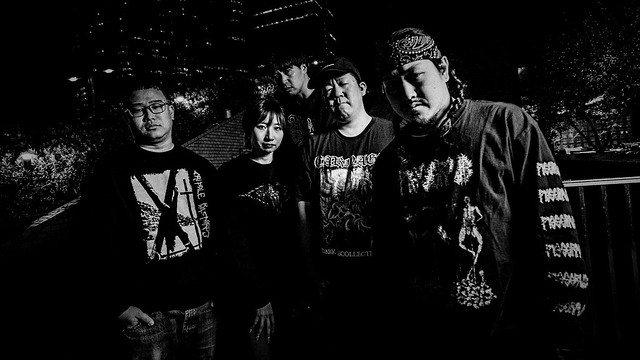 Album Review: Kruelty - Untopia
Reviewed by Daniel Phipps
Formed in Tokyo during 2017 Kruelty are one of the most notable artists currently fusing together metallic hardcore with crushing death metal. In a time where deathcore has made a comeback into the limelight when personally I hoped never to be submitted to that abomination again hearing bands who are looking to properly fuse together both styles is met with both excitement and potential dread.
I guess the easiest way to define Untopia the band's new record would be an old school death metal album with a hardcore attitude attached to it. Kruelty built the foundation of this record with a huge dark vibe and absolutely crushing heaviness, think Immolation, Incantation etc in terms of the death metal vibe of this record. The drums are what I found to help give Untopia that hardcore attitude which the record is full of. The distinctive groove which the drumming adds to the record is executed very well and does not offer a generic groove, it has a real distinctive sound when used and really works well when mixed in with the rawer parts of the album.
The riff composition is well crafted and really excels with the band being able to juggle a combination of very classic sounding death metal structures and composition one minute and then the next adding a hardcore/punk sounding composition the next without breaking character. No matter the playing style Untopia remains crushing and the breakdowns on this record are on another level in terms of how huge they sound. Production wise is another big plus on the record, it sounds absolutely devastating and everything sits really nicely in the mix so you hear the evil crunch of the guitars and you feel the pound of the drums when you listen to the record.
In terms of bands who mix the styles of death metal and hardcore most fall well short of producing a record really worth listening to. Kruelty delivers everything you want with this sound. Its both devastating in heaviness and in groove and should hit the mark with fans of both styles.