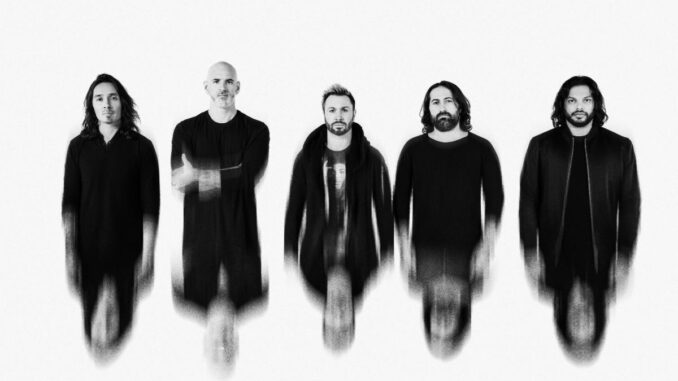 Album Review: Periphery - Periphery V: Djent Is Not A Genre
Reviewed by Liam True
I've never given Periphery a chance. One of those bands I've heard of but never heard any of their material. I've never really been into the 'djent' scene, but now with the release of Periphery V: Djent Is Not A Genre, I've given them a chance. And I'm not sure why I've never given them a chance considering they're seven albums deep into their almost 20-year career.
Opening song Wildfire is a progressive heavy track with fierce blast beats from Matt Halpern, a catchy chorus from vocalist Spencer Sotelo and a jazz piano section courtesy of Misha Mansoor which threw me off guard but was most welcome to the first song I've ever heard from them. The transition between Sotelo's vocal changes from his cleans to his growls are perfection and fit neatly between the hulking drum fills and guitar riffs that encompass the entire album.
Atropos kicks in with a crunchy riff backed up by Adam Getgood's bass which sounds huge behind the vocal and background atmospherics. Equal parts aggressive and melodic, it makes for a beautifully constructed song ending with an industrial sounding crescendo. Being a total of 70 minutes, the album is a little longer than I'm used to personally but when you're listen to the album back to front with no skips, the way it should be, the song lengths aren't even a thought. With the longest track standing at twelve and a half minutes compared to the shortest being just under five minutes it feels as though they're all the same. Nothing feels dragged out but feels like the right amount of time for that particular song.
Wax Wings is the main example I'd use for this. With Sotelo's vocals hitting highs that sound heavenly along with the guitar riffs and drum work combined to make a more passionate and almost soulful song toward the end with a blisteringly beautiful guitar solo after Sotelo hits peak vocals on the album. Everything Is fine then jumps back up a notch with the crunchy riffs, pitch harmonics and screaming vocals aplenty for fans of the heavier styling the band produce with complex drum work being the most catching feature as Halpern is relentless with his double bass kicks and drum fills between the blast beats.
Silhouette takes the atmospherics and makes it the focus of the track which makes for a beautiful song. The synths intertwining with drum machine beats along with Sotelo's haunting vocals make for perfect middle track.
Front to back the album is perfection. The production is great. The instrumentals sound beautiful and the genre changes the band make during the songs and between tracks themselves are smooth and almost unbeknownst they're sometimes that subtle. As a first-time introduction to the band, you couldn't ask for a better album for it, and for long-time fans it ticks the boxes for previous albums with the progressive styles making it a phenomenal album.