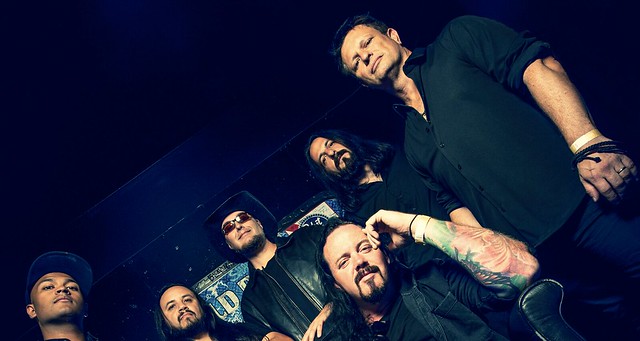 Album Review: Redemption - I Am The Storm
Reviewed by Richard Oliver
Redemption are a progressive metal band from Los Angeles who formed in 2001. I'm a bit of a latecomer to Redemption having discovered them when Thomas Englund of Evergrey joined the band in 2017 replacing Ray Adler of Fates Warning. "I Am The Storm" is the eighth album by the band and it is also the first album to feature keyboardist Vikram Shankar as a full time member.
The sound of Redemption is very much in the melodic and progressive side of metal with influence from the European progressive metal scene but also features influence from the US power metal scene with the sound being very guitar driven with heavy almost thrash sounding riffs a prevalent part of the sound. Founding member and guitarist Nick Van Dyk is the driving force of the band and his guitar playing is up front and centre. With other guitarist Bernie Versailles still recovering from a terrible aneurysm in 2014, DGM guitarist Simone Mularoni has been drafted in to provide some lead guitars as well as guest appearances from Chris Poland (ex-Megadeth) and Henrik Danhage (Evergrey) both providing lead guitar parts.
'I Am The Storm' is definitely on the heavier end of the prog metal scales with songs such as the title track, 'Seven Minutes From Sunset' and 'Resilience' being far more concise and aggressive songs but with a strong melodic backbone. You also get the lengthy prog epics such as 'Action At A Distance' and 'All This Time (And Not Enough)' which offer up many musical soundscapes and fully utilise the keyboard skills of Vikram. Also with Vikram now a full time member of the band, he offers up his own compositions such as the stunning 'The Emotional Depiction Of Light' which appears in two versions - a more guitar driven version on the main album and a bonus track remix where Vikram really puts his own stamp on the song.
The album also features a couple of cover versions with the Genesis classic 'Turn It On Again' getting the Redemption treatment as well as a Peter Gabriel song 'Red Rain' appearing as a bonus track. The band sound on absolute fire throughout with the fantastic guitar playing from Nick but also a muscular rhythm section from bassist Sean Andrews and drummer Chris Quirarte. Tom Englund is easily one of my favourite singers in metal and he absolutely smashes it here though in a more restrained style than we get with his other band Evergrey but his soulful voice is utilised to full effect.
Redemption are a band that have a very strong and devoted fan base and 'I Am The Storm' will easily please those fans as well as being a very strong entry point for anyone who is yet to discover this band. A fantastic album of progressive and melodic metal goodness which hits hard when it needs to but also has plenty of depth and soul to it,