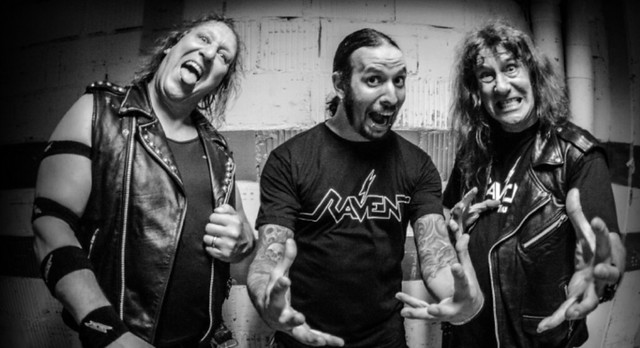 Live Review: Raven – The Patriot, Crumlin
10th March 2023
Support: Daxx & Roxane, Hellgrimm
Words: Richard Oliver
It was a Friday night and what better way to spend a Friday night than to head up to the home of rock in South Wales - The Patriot in Crumlin - for a stacked evening of hard rock and heavy metal and an evening to celebrate the 40th anniversary of one of the all time great album from the NWOBHM movement.
Opening up the evening were Swiss hard rockers Daxx & Roxane. A band I had never heard of prior to this evening but one that seriously impressed with their performance. Daxx & Roxane are very much in a classic rock mould with influence from bands such as AC/DC and Krokus as well as a big wedge of blues thrown in there for good measure with some tasty use of harmonica throughout the set. The band are a whirlwind of energy with the two guitarists Cal Wymann and Simon Golaz leaping about the stage and over each other whilst ripping out riffs and solos. Despite a short set the band managed to cram in a number of songs which showcase the range of sounds from the pure rock 'n' roll of 'Strange Woman' and 'Grind' to slower and more blues infused songs such as 'Lust & Love'. Daxx & Roxane are a high energy rock 'n' roll band who are definitely worth checking out.
In the main support slot were Hellgrimm who are a heavy metal power trio hailing from Texas with a sound that mixes classic rock and old school heavy metal with a few influences from contemporary and groove metal. The band played with bags of energy and enthusiasm with Erica Missey having the unenviable task of tackling both drums and vocals whilst guitarist Jerry Connor taking his guitar with him and walking the floor and even popping outside to the smoking area whilst playing.
The band suffered with an awfully muddy sound but the performances themselves were very lacklustre and sloppy sounding with the vocals from Erica sounding very flat and off-key whilst Jerry demonstrated his lead guitar playing chops but his solos just felt completely out of place with the rest of the music. It was clear that the majority of the audience found the performance unappealing as the crowd steadily thinned throughout the set with people wandering off to the bar or back of the venue. Hellgrimm soldiered on and whilst it was hard not to feel sorry for the band seeing the crowd steadily walking away from the stage it was also a performance I wouldn't want to see repeated in a hurry.
Headlining the evening were Newcastle NWOBHM legends Raven who were on tour to celebrate the 40th anniversary of their seminal 1983 album 'All For One' with the album being performed in its entirety this evening. If you could harness the energy of a Raven performance then there would be no ongoing energy crisis as considering this is a band that has been going since 1974 they play with the stamina of a band a fraction of their age which is seriously impressive considering that both John Gallagher and Mark Gallagher are in their sixties. John Gallagher's vocals seemingly have not aged at all in the intervening years, still able to hit those insane high notes with no struggle at all whilst Mark is a ball of energy rarely standing still and tearing away at his guitar like a man possessed.
The junior member of the band is drummer Mike Heller who is an absolute machine battering away at his kit with blinding intensity and insane precision. As well as being a furious metal machine on stage, Raven are also hugely entertaining as you can see that not only are they having the time of their lives on stage but John Gallagher is a fantastic and funny frontman declaring the evening not to be Ant & Dec's Saturday Night Takeaway but Raven's Friday Night Take It Away before launching into said song. He also had two words to say to bands who use backing tracks and they aren't happy birthday! As well as the entirety of 'All For One' we were also treated to other Raven past and present with latter day cuts as such 'Destroy All Monsters' and 'The Power' sitting alongside ye olde metal anthems like 'Rock Until You Drop', 'Faster Than The Speed Of Light' and 'Chain Saw'.
Despite playing to a small crowd, Raven played like they were in front of an arena crowd and it was an absolutely joyous heavy metal experience. It was my first time seeing Raven play properly and it was an unforgettable experience. Unlike most bands of their era who start taking things a bit easier and slip into a comfortable groove, Raven are still playing with the passion and intensity they had back in 1983 and it is seriously a performance worth seeing. It is clear why they made such an impression on the thrash scene as this was a show that was fun, furious and absolutely heavy metal to its core. Truly glorious stuff