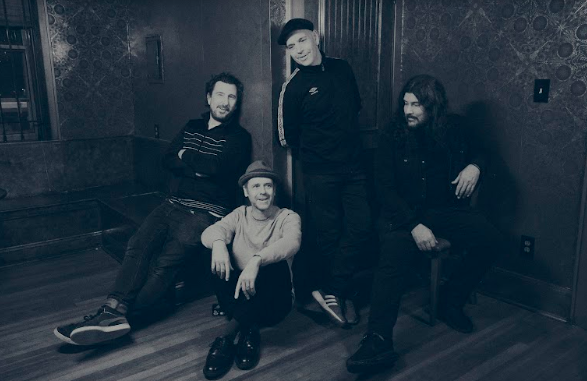 Album Review: The Bouncing Souls - Ten Stories High
Reviewed by Dan Barnes
I'm not sure which is more impressive: that The Bouncing Souls celebrate thirty-four years as a band – twenty-nine of them as an album releasing collective – or that those years have only seen a couple of switches in personnel from the drum stool. That said, skinsman George Rebelo is hardly the new-boy ready to be hazed as he's been there for a decade now.
Ten Stories High is The Bouncing Soul's twelfth full-length release and the band used their Covid-demanded down-time to take something of an unconventional approach to the new record. Through Patreon, they were able to connect directly with their fans and get to know a little of what makes them tick, eventually using their stories (ten of them, no less) as the inspiration for this record.
The energy the band brought to the Empress Ballroom last August is injected into every moment of Ten Stories High, like a virologist doing gain-of-function research. From the opening bars of the title track to the final moments of closer, Higher Ground, The Bouncing Souls hardly let up in the delivery of hook-laden pop-punk future classics.
Both Ten Stories High and Higher Ground have been lead tracks previewing this record and both have that terminally upbeat and uplifting positivity common to the genre. The early part of the record is a reiteration of this message as one invigorating track follows another.
You can't help but be buoyed by the back-to-back hits of Another Day in Denver and True Believer Radio, meaning even the grim grey day I sit writing this review is rendered bearable.
Yet there seems to be a switch as the surprisingly emotive and fragile, Shannon's Song begins. Jangling guitars and an easy vocal from Greg Attonito marks something of a sea-change for Ten Stories High as things take a turn for the weightier – maybe even for the darker.
Pete Steinkopf wrings howls of pain out of his instrument throughout the big beats and aggressively crunching guitars of Andy and Jackie, leading one to believe many a dance floor will be bounced into oblivion when this one gets out on tour.
Kevin Second, from California's 7 Seconds, joins the band for Vin and Casey's urgent punked-up attitude, adding to the gang vocals before the song fades into a sort of wistfulness at it's close.
There are times when The Bouncing Souls balance the pop-punk of the early songs with the more aggressive attack of the latter moments. Both Back to Better and Magnum Air Opus combine the two aspects, with the former taking the positivity and hooky chorus and blending it with a breathless delivery of stomping beats. Magnum Air Opus opts, instead, for the other route, adding pounding drums and cranky guitar onto the more accessible formula.
It should always be remembered that The Bouncing Souls are Jersey Punks, so To Be Human should come as no surprise, tucked as it is toward the end of Ten Stories High. A full-on fast, heavy ripper whose driving beats veer close into the Metallic and Attonito gets to flex those vocal chops a little wider than elsewhere as Steinkopf becomes possessed by a passing guitar shredding demon.
Ten Stories High is a novel concept and is a priceless piece of memorabilia for those fans whose stories inspired their favourite band to write a song about it. To the rest of us it's another reason why The Bouncing Souls are one of the leaders of their fields and why they have been around for so long.