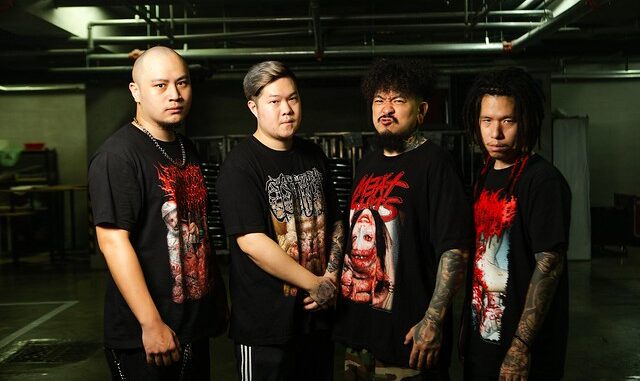 Album Review: Fatuous Rump - I Am At Your Disposal
Reviewed by Daniel Phipps
South East Asia, a massive hot bed of brutal death metal which can rival anywhere in the world and Taiwan's Fatuous Rump have been on the circuit for a number of years and are set to release their brand new record 'I Am at Your Disposal' via Brutal Mind & Fat Tub of Lard.
It's safe to say that 'I Am at Your Disposal' is going to be more suited to the taste of a particular form of death metal fan. Fatuous Rump build their tracks on groove and power which are evident though each of the ten barbaric tracks on display. Now each song is not particularly dissimilar from its predecessor so you kind of know what to expect as you get into the release but Fatuous Rump do craft incredibly catchy brutal death metal which keeps it an interesting listen.
I hear resemblance to Texas slam titans Devourment within the song writing from the huge and brutal slamming sections right to the skin crawling samples which accompany a few songs during the album. The guitar sound is truly savage and works so well in setting the tone for this album, the monstrous riffs are just part of what creates such severity. Frontman Larry Wang displays a truly outrageous display of vocal filth, which comprises insane gutturals with a high pitched cricket like style, again very much a style of personal taste but if you are a fan of obscene guttural vocals then this is for you.
Slamming brutal death metal is not everyone's cup of tea, but I am at your disposal is a definite winner for fans of the style. It's super catchy, has a twisted and outright savage composition of riffs and blasting which is matched with great production giving the tracks just the right layer of dirt so it's not an overly clean mix. If that sounds like your thing check it out, if it's not then probably walk on by as it's not really going to change your mind on the style, but it's a winner for me.