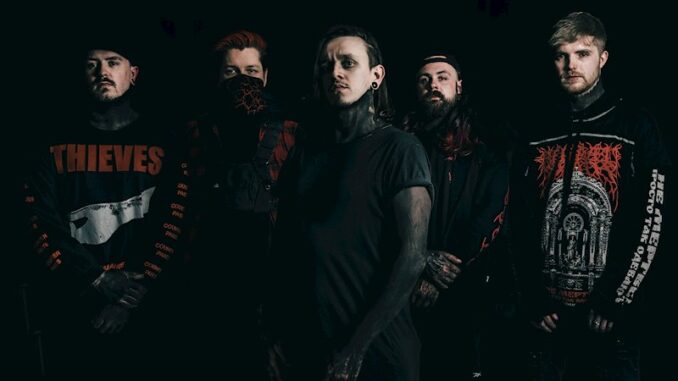 EP Review: Veiled - The Black Rite
Reviewed by Liam True
Releasing their debut EP with downtempo deathcore mixed with symphonic elements is a bold manoeuvre. While a lot of bands have been doing it lately the majority of them have perished for being too generic and sounding alike. Veiled are one of those bands that have taken the formula and put their own twist on things. The harrowing growls and screams form vocalist Jamie Dewhirst entangled with the cleans of Rob Hemmingway with the demonic background instrumentals is just a great combination.
Opening song, The Discovering lulls you in with a soft piano and then suddenly the band blast into action with guitarists Hemmingway & Sam Mcevoy pulling out riffs, pitch harmonics and beatdowns as drummer Jamie Tucker sets the pace with his double bass kicks and blast beats that the band stay on pace with. Recusant is a more melodic affair, apart from Dewhirsts's vocals that dominate you. The guitars and drumming are a bit more complex and combined with Hemmingway's cleans and Dewhirst's growls the chorus is beautiful and the entire song is a headbangers paradise. The slow breakdowns, the chaotic symphonic melodies and the pounding bass of Adam Gabsby pushes through at times making it heavier in parts.
Confession is a throwback to the older days of Chelsea Grin. The brutality and speed throughout the song combined with the twin vocal assault with breakdowns galore hits hard and with the melodic guitar parts, it sounds bigger than it should for a band on their debut EP. Relinquished is a story telling you about a man's descent into madness while being possessed by a demon he's trying to communicate with. And you get that from the song's chaotic nature. The distorted guitars and violent vocals are neck breaking as well as mosh pit inducing. Ending song, The Becoming starts with distorted pianos and violins until the band break the silence with Dewhirst's gutturals. While the song itself is more technical in places with more complex drum patters and guitar riffs.
The entire EP is phenomenal back to front. The entire band work as a creative force to make a piece of deathcore madness that shouldn't be passed on.