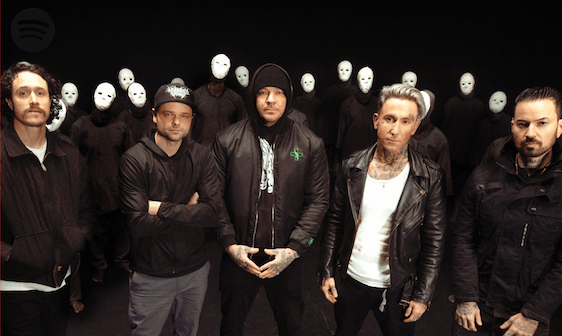 Album Review: Hollywood Undead - Hotel Kalifornia
Reviewed by Liam True
Hollywood Undead are one of those bands where you remember their hits from the late 2000's and get oddly excited when you hear that they've released a new album. Not for me however as I've been following them properly since 2015's Day of the Dead. And while most people look at them like they are sex & drug obsessed rock rappers that couldn't be further from the truth.
Hotel Kalifonia, released originally in 2022, but not the deluxe edition with six extra tracks has dropped. And the entire album is great. While the rock rap elements they're known for haven't been dialled back, because if it ain't broke then why fix it? The association of their first few albums has certainly broken away. Gone are the songs and lyrics devoted to sex and drugs, replaced by hulking chorus' and neck breaking guitar riffs.
Opening song CHAOS is a huge sounding slice of beefed-up singalong tunes. World War Me follows the same path with more of a singalong chorus and heaviness in passages where you'd least expect it. Ruin My Life starts as an abrasive static filled glitchy radio sequence before the vocals of the group kick in. With four of the members being vocalists it's sometimes hard to distinguish who's singing on what verse and sometimes even what song, but to be honest that's the only bad part of the album. Hourglass is much more of a pop punk song with the catchy guitar hooks and vocal passages feeling like early 2000's bands on MTV. Go to War is a much more electrical piece as physical instruments are lacking on the song but when they do appear they pair great with the vocals and background fixtures.
This being the deluxe edition brings it up from the normal listing of fourteen songs to an almighty 20 songs. And with an album as big as fourteen songs in general you'll come across a few songs that hit the mark a bit. Alone At The Top is a great song but slightly misses it for me. Wild In These Streets is also the same. The mixture of hip hop and rock sounds doesn't pair right for me and ends up being more of a mess that a banger. Trap God is where things pick up again where band use their rap rock to pull you back in, even though the song is majority trap sounding, as the title would suggest.
A few more track appear with City Of The Dead being the stand out of them as the others float under the radar for me personally. Then you come to the album 'ender' Alright which is a more passive and slower tone, but when the chorus kicks in it keeps the same speed but is more upbeat.
Here is where we then get into the new bonus tracks. Evil sounds like a mixture of Fallout Boy and Stormzy as the two genres intertwine perfectly to create hip pop punk. Salvation while starting as a ballad lulls you in as the heavy guitars distort around the song to create a safe environment until the chorus kicks in which is powerful by itself. First Class Suicide is among the songs that are considered trap rock but falls a bit slightly personally. Ransom is almost a throwback to Bullet on American Tragedy as the slower acoustic guitar combined with the rapping and catchy chorus'. Break On Through is mostly a trap rap song which for me misses that bar even though at time and on the chorus, it reverts back to the rock elements they've shown on the album, but it sounds too soft and forced. Ending track House Of Mirrors with a feature from Jelly Roll (whoever that is) is the more traditional style of Hollywood Undead. Full on rap rock holding no punches and kicks you in the chest when the slower catchy chorus chimes in.
While it is more grown up that previous albums some parts do seem to slide back to the childish side of their older discography, which on some tracks fit well, but on others it's too cheesy and provides nothing to the album. But it's a strong contender for their second-best album, behind Five that is.