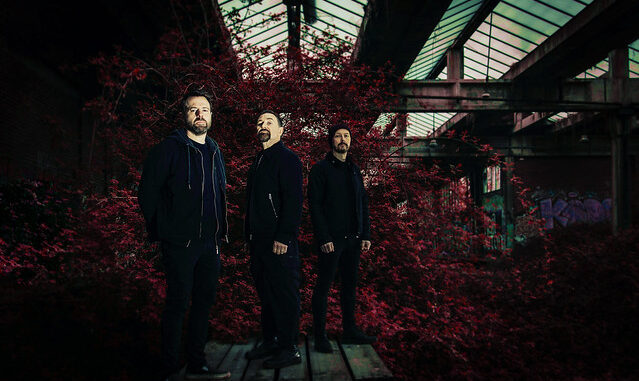 Album Review: Therapy? - Hard Cold Fire
Reviewed by Dan Barnes
I was going to start this review by saying how they don't make bands like Therapy? anymore. But, as I put pen to paper, I realise they never made bands like Therapy? Rather, Northern Irish three-piece is the kind of anomaly that comes along ever so often and leaves folks scratching their heads.
Just trying to work out where they sit in the pantheon of guitar-based music is a task all of its own. Could they be Metal? I have seen them playing with Judas Priest, Black Sabbath and Metallica; but I've also seen them playing with Aerosmith and they were the main tour support on The Stranglers' 2018 trek, and have been mainstays at the Reading festival back in the nineties.
Whatever and wherever you chose to place Therapy? in your filing system it's obvious they will fit and not-fit in equal measure. Each album is essentially a Schrodinger's Cat of a conundrum and Hard Cold Fire is no different from the fifteen full-length releases that have come before.
Although difficult to classify in the broadest sense, the music on offer here is distinctly Therapy? Chugging staccato riffs that fluctuate between the alternative and hard rock, a foundational rhythm section so solid as to have withstood the test of time and a lyrical complexity, influenced by countryman Samuel Beckett, that drops bombs on the state of the modern world.
They Shoot the Terrible Master opens proceedings and brims with punk attitude. Woe hits with a skipping drum that offers a swing to the sound and first single, Joy, sees Andy Cairn's guitar and Michael McKeegan's bass locked in perfect harmony and building a melodic hook along the way.
All of this is propped up by Neil Cooper's drums that don't so much ring as thud with each kick and each hit, giving a muddy feel in keeping with the lyrical drive of the album. To Disappear revels in the overt touches of plectrum on strings, as Andy's vocals take on a low and devilish tone, narrating perfectly the anguish of a damaged psyche. Ugly adopts a similar thematic motif, incorporating the merest hint of eastern sounds.
Days Kollaps ends the record with an alternative nineties feel, closer to Smashing Pumpkins or Sonic Youth than Slayer. But, before getting there you have to negotiate Hard Cold Fire's two stand-out tracks.
First up would be Bewildered Herd, which plays into the band's metallic direction. Frenzied guitar lines begin this observation of the state of the world and, although Therapy? did not want to address the past few years directly, it would be remiss of them – as artist – not to be affected in some way by those events. Fitted into the second half of the song is a snippet of dialogue from Mike Leigh's Naked, in which the protagonist, and anti-hero, Johnny, is espousing his opinion on the insignificance of the human species.
The second, and probably the most caustic, track is the superbly-titled Poundland of Hope and Glory, whose abrasive riffs harkens back to the band's early days and is a vicious and caustic commentary on the state of the nation.
Therapy? aren't looking to make new friends here or to re-invent themselves for Gen Z; what they are doing is building on a thirty-plus year legacy of some of the most inventive yet simplistic music and ideas. Does Hard Cold Fire stack up against Troublegum or Infernal Love? In the same way the last record, Cleave, did. Here is a band who were angry young men in their past and who continue to be angrier middle-aged men, using their art to rail against injustice everywhere. By the time they become old men, they'll be absolutely furious. Can't wait to hear those records.