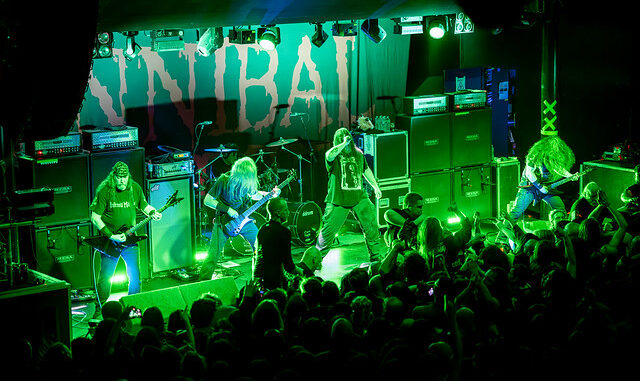 Live Review: Cannibal Corpse – Rock City, Nottingham
23rd April 2023
Support: Stormruler, Ingested, Dark Funeral
Words: Patrick O'Reilly
Photos: Philip Piskor
Anticipation for this show and indeed this tour was really high with many of the previous nights having sold out. Fans started arriving early afternoon and the line to get in started to snake round the side of Rock City.
There was a good-sized crowd already gathered by the time opening act STORMRULER took the stage. These relative newcomers on the US Black Metal scene seemed to be really grateful for their chance to play to these large crowds and seemed to give their all. They play melodic Black Metal and play with energy and passion. Mixing in a large portion of classic heavy metal influences certainly helps and the crowd really started to get into it, with heads banging and horns raised. Highlight of their set was a blistering cover of Dissection's classic 'Where Dead Angels Lie' with Dark Funeral's drummer behind the kit and Stormruler's drummer on vocals!! Definitely a band to look out for, to quote Emperor Palpatine "We shall watch your career with great interest"!
Next up were Northern UK slam masters INGESTED. A perfect band to support Cannibal Corpse they whipped the crowd into a frenzy with heavy slams, brutal breakdowns and a great mixture of high and low death growls. These guys work incredibly hard honing their art and it shows on stage, a really tight band who write good songs and connect with their audience will always be successful and this has proven to be the case for Ingested. An upcoming US tour with Slam legends Devourment beckons and also make sure to check them out at Download Festival this June.
Time to up the atmosphere and dread next as Swedish Black Metal stalwarts DARK FUNERAL step up to the rock city stage. A different beast to Stormruler these guys play a less melodic and more traditional form of Black Metal but they also seemed to put everything into this performance and really wowed the crowd. They blasted like crazy and in vocalist Heljarmadr have a confident and imposing front man. It was on the morbid and melancholic track 'When I'm Gone' that they really stood out, a slower song that seemed to convey real pain and sorrow.
Finally, it was time for CANNIBAL CORPSE and as each band member walked out on stage, they got a hero's welcome. We got an insane set list that most bands would kill for and tracks from each era of the band, with newer songs from recent album 'Violence Unimagined' slotting in seamlessly, particularly 'Inhumane Harvest' with its gargantuan breakdown section.
Opening with 'Scourge of Iron' was a masterstroke and really set the tone for the set, which was sheer brutality from start to finish!! Like a well-oiled machine these masters put on a show, and it was amazing to see them with Erik Rutan who shredded effortlessly and majestically!
Yes, the stage banter from George 'Corpsegrinder' Fisher is still the same but it still makes me laugh and I thought his vocals were great, powerful and intense from start to finish.
Highlights for me were an absolutely crushing 'Evisceration Plague' and an airing of my personal favourite 'The wretched Spawn' but you could have picked any song tonight for they all sounded amazing, a perfect heavy and thick sound complementing the musicianship and quality of song writing. A true legendary band putting on a stellar performance, what more could you ask for?
All photo credits: Philip Piskor