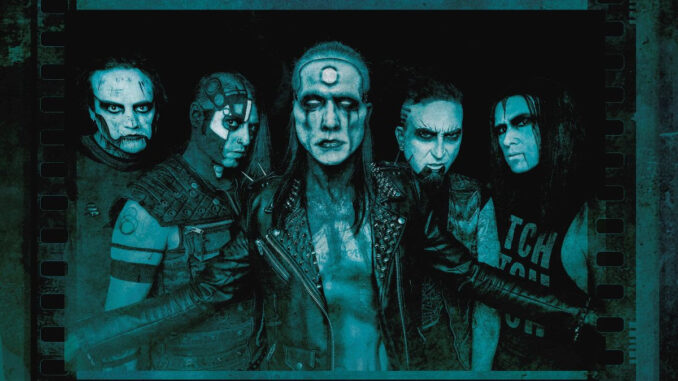 Album Review: Wednesday 13 - Necrophaze
Wednesday 13, The Duke of Spook, returns this week with brand new album 'Necrophaze', released via Nuclear Blast Records on September 27th. The album, his eight solo recording, see's a return to the fore for the man many style as a modern day Alice Cooper. His stage theatrics rival the legends as does the content and themes of his song writing.
The packaging of the new album alone stands out, inspired by Wednesday 13's love of both collecting media and toys, the artwork has a horror comic book styling. Melding aspects of Creepshow with Jon Carpenters The Fog to produce an eerie, stylised album cover that perfectly matches the performers persona.
Themes and topics on the album range from the man's own experiences of night terrors, to his love of 1980's horror. From the opening of title track 'Necrophaze' the 80's style keyboard intro, reminiscent of the recent Stranger Thing themes, start forming images in the listeners mind. From just the first thirty seconds your mind is already running into the horror theme being laid out before you. The title song, once it fully kicks in, is a wonderfully faced paced affair mixing elements of 80's synth, punk and heavy metal into a tune that is unmistakably Wednesday 13 but with the added guest vocals from Alice Cooper giving the man huge credibility.
The album features many more guest appearances. Cristina Scabia of Lacuna Coil adds vocals on the track 'Monster'. Which has a far more upbeat feel than everything that has come so far, while still containing horror elements and themes. Scabia's vocals give the song writing a second dimension and depth which will make this a fan favourite.
'Be Warned' features a guest spot for Jeff Clayton, former member of GG Allin's Murder Junkies. The haunting keyboards and spoken word introduction setting that scene again in the listeners mind, creating the field of vision that the song is about to fill. The slower pacing of the song along with keyboards and immense drum track gives it a hint of black metal ambience.
Wednesday 13 makes great use of samples throughout the album, adding to the atmosphere created by the whole recording. The introduction to 'Bring Your Own Blood' a fantastic example of this, a beautifully structured horror metal anthem.
For a long time now, Wednesday 13 has been growing in stature and earning the respect of a multitude of his peers. 'Necrophaze' sees him taking his act to the next level with inspired song writing and performances. We now await what the live show for this masterpiece will look like!
Wednesday 13's album 'Necrophaze' is released on September 27th via Nuclear Blast.