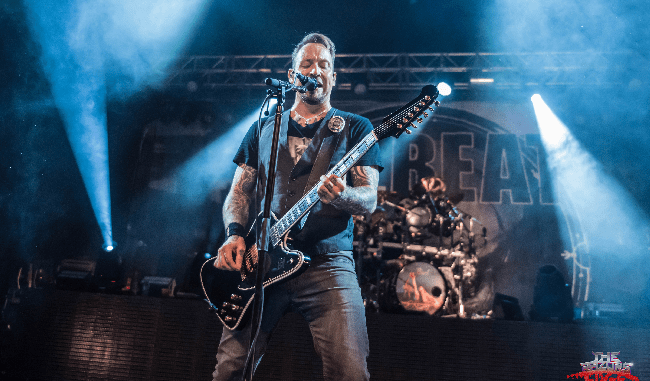 Live Review: Volbeat @ O2 Academy, Birmingham
We're in Peaky Blinder country tonight, just a stone's throw from the real Garrison. Torrential rain is lashing down outside whilst inside the O2 Academy in Birmingham a crowd is gathering. Many of them in flat caps and Peaky Blinds T-shirt's – not a usual sight for a heavy metal gig. For tonight is the penultimate stop of the Volbeat U.K. tour and the aforementioned TV series has become an inspiration for the band of late. So what better way to spend an evening in Britain's second city than with a band focusing of two of Birmingham's greatest creations - Heavy Metal and The Peaky Blinders.
The sold out venue has filled up early for Canadian rock sensation Danko Jones and the his band. They are not, as yet, a house hold name in the U.K. hence their low billing despite international reputation. Their sound is out and out rock and roll, with the occasional hint of something a little heavier, all delivered with Danko's trademark smile. They obviously love what they are doing and the fans feed off that, appreciative of such entertainment so early on in the evening. If you like your music a little less heavy then these guys are well worth checking out.
Baroness are a completely different beast. Spanning multiple genres, their eclectic sound is a magical mix of heavy doom, rock and even a hint of indie. The Georgian four piece have an aurora around them, it sucks the audience in, and keeps them enthralled. They are not a high paced band and there are no circle pits in sight. Instead you have four musicians at the top of their game, who for forty five minutes keep the audience enthralled with their expansive sound. If you ever wanted to get lost in the music of a band during a live performance, Baroness are the perfect act.
Chants of "VOLBEAT, VOLBEAT" ring out around the O2 Academy, as we await tonight's headliners. Following a singalong to Motorhead's 'Born To Raise Hell', The Peaky Blinder TV theme 'Red Right Hand' by Nick Cave and the Bad Seeds rings out of the PA. It's quite a mood setter, hairs standing on the back of your neck, much like effect 'The Ecstasy of Gold' has at the start of a Metallica show. It's an inspired intro to the set for sure.
The set gets off to a flyer with 'Pelvis on Fire' and 'Doc Holiday' getting the crowd into an early groove. The previous scheduled date of their tour having been postponed due to Michael Poulsen's ill health, but tonight just two days later, he is showing no signs of sickness as the energy levels of the set rise.
'Lola Montez' features earlier in the set than expected but as always the crowd lap it up. Volbeat in the live arena protrude an energy like few others. Smiling faces throughout as they are clearly enjoying a set filled with classic's but mixed with a spattering of new material.
As the set closes with 'Pool of Booze, Booze, Booza' and 'Still Counting' we are left in awe. The whole show from start to finish has been magnificent, and in some respects it's been a coming of age for Volbeat. To sell out a tour of this scale shows the signs of a band ready to take it to the next level. I very much doubt we'll see them in Academy sized venues again, Volbeat are every bit the band ready to burst into the arenas!