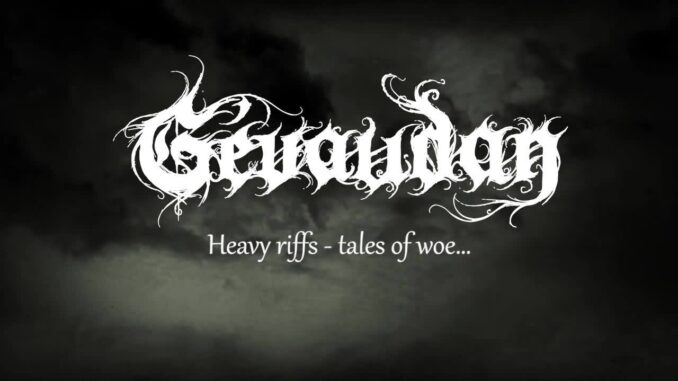 Album Review: Gévaudan - Iter
For those of you not familiar with Gévaudan, they are one of the UK's brightest doom metal bands. They balance a blend of storytelling via their lyrics with Iommi-esq riffs and progressive song writing.  This October they release their first full length album 'Iter'; so we've given it a spin to see if it lives up to the hype.
The album opens with Dawntreader, as softly spoken a song as a doom inspired band can produce. Gentle guitars weep as the song builds and the soft vocal, almost spoken words, flow. Three minutes into the ten minute epic track, the energy hits. Loud guitars raw as Adam's vocal's growl with ferocity. The song fluctuates like this throughout, reminding me of early Anathema in places.
It is with 'Maelstrom' that the doom really comes forth. Ferociously dark riffs, and Sabbath inspired heavy bass reverberate as the song weaves its tale. Slow in pace, but maintaining the heaviness, the Sabbath inspired sound is magical, heart-warming doom.
Throughout the album, lashings of doom are ever present. 'The Great Heathen Army' may have a slight hint of pace within it, but the doom essence remains. Bruce's heavy riffing the driving force of their sound, low and heavy and built upon the bass foundation of Andy. This song tells a story that as listener you can't help but be drawn into.
'Saints of Blood' is a twelve minute behemoth of a track. Like many other tracks on the album it's starts slowly and softly, gentle guitars lulling you to a false sense of security with its meandering introduction. The song builds, Adams vocals setting the scene of this epic progressive tale. The song airs on the lighter side of doom, skirting the sound and very much reminding me of old school Anathema again in the expansiveness of the song writing and performance.
Finishing off the album is 'Duskwater' which keeps to the same song writing formula as the rest of the album, it's soothing introduction building to crescendo within the huge fifteen minute run time.
The band fall on the lighter side of doom, they are dark and heavy in places but light and expansive throughout. The album may only be made up of five tracks but runs for the best part of an hour. This is progressive doom at its very best. Fluctuating pace, intensity and aggression and mixing it with passion and an incredible song writing ability. With the right exposure this band will go far.