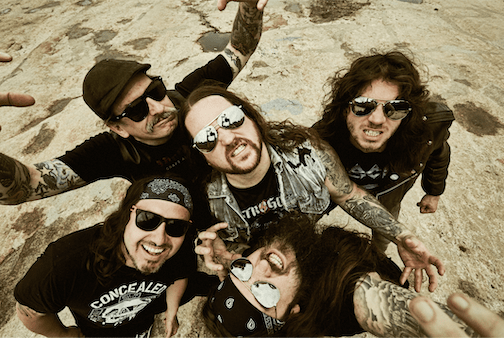 Album Review: Municipal Waste - The Last Rager
Reviewed by Robbie Maguire
After a short sharp dose of catchy aggressive crossover Thrash? Why of course you are! Municipal Waste have become the leaders in this straight to the point good time style of metal. 'The Last Rager' released two years after their last full length album (2017's Slime and Punishment) continues gamely riffing along the same well thrashed road that Municipal Waste now comfortably travel on. If you are familiar with them then you will know what you are going to get here. Four tracks of punky, belligerent thrash.
Opener 'Wave of Death' kicks proceedings off nicely with its characteristic solid riffs and mid paced rumble. It's nothing out of the ordinary but the subtle echo on the vocals adds an extra depth to the song. Where Municipal Waste truly excel is when the whole band are locked in and they up the ante in the speed stakes midway through. Its only for a short moment but the tightness and delivery of this galloping section demonstrates despite being lumped in the 'fun thrash' group of bands, Municipal Waste slay with the best!
'Car Nivore (Street Meat)' and 'Run For Your Life' continue the nod of recognition to their old school favourites but with a modern delivery. There is a technical proficiency evident and the rhythm section must be complimented. For it is this that binds everything together and allows the trademarks to shine which are the gang vocals, the marauding lead guitar and the pit inducing riffs.
Municipal Waste save the best till last with 'The Last Rager'. Numerous clever tempo changes scatter this song and at over three minutes long you can really get your teeth into it.  This song will surely become a popular live cut further enhancing their already formidable live reputation.
When you have a formula that works so well as it clearly does for Municipal Waste, why would you want to change it?  What they do is deliver a furious shot of adrenaline fuelled fun and they do it very, very well. Clocking in at just under ten and half minutes 'The Last Rager' flies by and doesn't overstay its welcome.
Municipal Waste launch 'The Last Rager' via Nuclear Blast on 11th October.