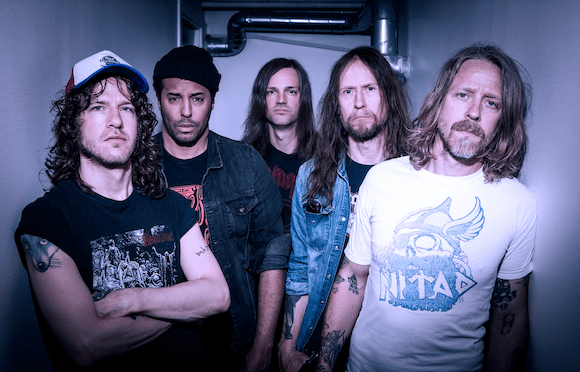 Album Review: Bombus - Vulture Culture
Reviewed by Tim Finch
"As civilisation crumbles, everyone needs to find a good party at the end of the world."
At least that what Swedish metal crew Bombus tell us. The band who celebrate their tenth anniversary this year also release their third album on the world. 'Vulture Culture' carries a message on the state the word along with its barrage of up beat riffs.
From the opening of 'A Ladder - Not A Shovel' the recording is loud, proud and bombastic. The intro has guitars almost sounding like synths on a Japanese video game at times. They mix a variety of style to form this aggressive in your face album. But wait... what's this, suddenly the pace and tempo changes and ballad elements slip in.
It's the experimental mix of styles that make this band unique. At one point I hear a heavy hint of Motorhead, the next euro symphonic metal and then stadium rock. It may sound eclectic, it may sound out of the ordinary and on both points it certainly is these things. But this is something special, Bombus make all these styles work together just perfectly.
The opening riff of 'Mama' is infectious, a simple chugging of a guitar, no frills, no effects, but the riff alone draws you in as a listener. As the rest of the band kick in you realise you've been dragged from your seat and placed deep in the heart of Bombus' world. The song is heavier than what they have presented so far, a dark subject with a heavier feel is wonderfully placed in an album that has been very purposely tracked to keep the listener enthralled.
Title track 'Vulture Culture' opens with a very purposeful riff, the song builds instruments coming in and building the depth of the track before it's all raked back to the drums and some soft vocals. Then the song builds again, stronger than before.
With 'Vulutre Culture', Bombus have written an album unlike any other I have heard, certainly of late. Drawing on so many influences and styles makes their sound unique, but they have written and produced their work so cleverly as to keep the listener engaged, enthralled and enveloped from start to finish.
This is not your traditional heavy metal album, it's the unique future of the genre that Bombus have defined for themselves.
Bombus released 'Vulture Culture' via Century Media on November 15th