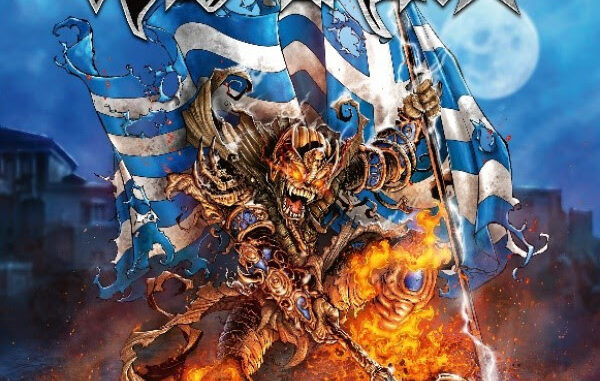 Album Review: Iced Earth - Alive In Athens (20th Anniversary Edition)
Reviewed by Gareth Pugh
I'm going to take you back 12 years to when I first heard "Alive in Athens", at the time I was unfamiliar with Iced Earth, and the only material I knew from them, was an EP: 'Overture of the Wicked' with their then vocalist Tim 'Ripper' Owens, the man once handpicked to replace the legendary Rob Halford in Judas Priest no less. Now I thought it was an okay EP, sort of a heavier American version of Iron Maiden (the group's main man and founder, guitarist, songwriter: Jon Schaffer, is a Maiden fanboy) with a Priest like vocalist. It was okay but it didn't exactly blow me away, I've never been a huge fan of Judas Priest (wash my mouth out with soap), love their music, but I'm just not a fan of the high-pitched vocals. Personal choice, I guess. So when a few months later I had the chance to buy "Alive in Athens" at a knocked down price, I must admit I did hesitate for a moment, but in the end curiosity, and the fact I can't resist buying metal CD's, got the better of me and I bought it and I have to say that I'm very glad I did.
So the story behind "Alive in Athens" is that after 5 studio albums (and Iced Earth's first 5 albums are as good a back catalogue that you could wish for), Iced Earth wanted to make a live album, but not any old live album, they wanted something a bit different to the norm, so back in 1999, Iced Earth played two completely different sets over two nights, the 23rd and 24th January, at the Rodon Club in Greece, to a packed house. 'Alive In Athens' was the outcome, 3 CDs, 32 tracks and over 3 hours of music.
Talking about the music, what do you actually get; well firstly any worries about the high pitched vocals I had were completely dispelled, as this album features the band's third (Iced Earth go through vocalists like you and I go through pairs of socks) and arguably best vocalist Matt Barlow, a completely different type of singer than 'the Ripper', with a deeper, richer and frankly more powerful set of lungs. And here he gives the performance of his career, it really is a quite stunning performance - check out the end of 'A Question of Heaven' for sheer depth of emotion.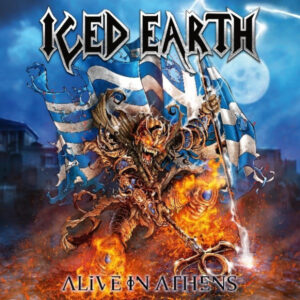 Musically Iced Earth are pretty much a power metal band with a hint of thrash thrown in for good measure, my previous description of a heavier American version of Maiden is pretty much spot on (Schaffer loves using triplets and a galloping riff). Set wise it really is a greatest hits of Iced Earth songs (up to that point in time) with pretty much every vital track played. The exception, bizarrely, the glaringly obvious omission of the 'Burnt Offerings' title track, otherwise it's a fantastic set-list, and the songs pretty much cover every aspect of metal. There's chant along choruses; "Blessed Are You", "Burning Times", "Stand Alone" and "Iced Earth" itself. There's some seriously epic riffing; "Travel in Stygian", "The Coming Curse" and the total thrash fest that is "Dante's Inferno", 17 minutes of pretty much everything you can think of, including the kitchen sink, but every second works.
Other Iced Earth classics are covered with "The Hunter", "Vengeance is Mine", "Pure Evil" and "Strormrider", while the emotional side is represented with "When the Night Comes", "Melancholy", "Watching Over Me" and the afore mentioned "A Question of Heaven". And if you like it brutal and heavy, they have "Disciples of the Lie" and "Violate" (they prove their Maiden worship at the end here).  If you're unfamiliar with Iced Earth, this is the perfect starting place, as every version of each song here blows the corresponding studio version out of the water.
If you are familiar with Iced Earth and haven't got "Alive in Athens", then why the hell not? Seriously though, this is a must buy. If you're unfamiliar with them, this record should appeal to pretty much every metal-head. For me it's up there with "Live After Death" in terms of live albums. I once said that this would be one of my essential picks if I was stranded on a desert island, and I still stand by that, it's that good. And now, here is the 20th Anniversary 5-disc vinyl version, remastered and with a 'missing' track and a better running edit. You really have no excuse. Go treat yourself.
Iced Earth release the 20th Anniversary Edition of 'Alive In Athens' via Century Media on December 6th.