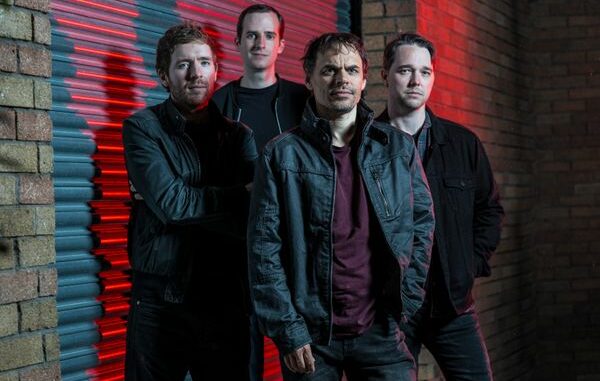 Album Review: Godsticks - Inescapable
Reviewed by Paul Hutchings
If you got even a little bit excited when Cardiff progressive rockers dropped first single 'Denigrate' recently, then you will be moist in all the right places when album number five, 'Inescapable', hits the turntable. Without doubt the band's most accomplished release, 'Inescapable' builds on the industrially progressive sound of 2017's 'Faced with Rage'. Once more the band's perfect mix of heavy rock, progressive and alternative metal works beautifully, gentle soundscapes mixing intricately with a dynamic range of angular riffs, whilst all the while hitting listeners with an emotional depth which few bands can achieve.
If like me, you have followed the band with interest over the past few years, then 'Inescapable' will be one of the early front runners for the top ten of 2020. Channelling their energy and technical ability with undisputed melody and a vocal performance from Darren Charles that, is his best performance in the Godsticks shirt, the album opens with 'Denigrate', which also enjoys guest harmonies from Daniel Tompkins of TesseracT. Dan Nelson's brooding bass propels the song forward, Charles immediately demonstrating his vocal prowess whilst there is also opportunity for Gavin Bushell and Charles to add edge with some fluid guitar work. Tackling the challenge of battling with perfectionism, the song combines melody with aggression in a style that is immediately identifiable as Godsticks, whilst retaining a huge freshness of approach.
It's noticeable throughout 'Inescapable' that the lyrical themes focus on more personal and intimate thoughts and feelings than in previous offerings. 'Victim' drips with emotion, Charles high pitched delivery soaring over a fusion of staccato guitar bursts and groove laden rhythm. Charles is honest in his assessment of the album, commenting on the challenges faced.
"Lyrically, I've always shared personal thoughts, feelings and experiences but in a very ambiguous way. For Inescapable - in a conscious effort not to repeat ourselves – I thought I'd be a little more self-reflective and perhaps examine some of my inner demons. I have a strange relationship with music, and especially playing guitar. I would struggle to survive without either, but equally they have made my life mentally torturous because my own self-worth is completely wrapped up in them. I used to be very much a perfectionist in my early years, and whilst some people may wear that as a badge of honour, I eventually viewed it as huge heavy weight dragging down. It was a long time before I arrived at the realisation that perfection was impossible to achieve."
Eight songs in total, close to 50 minutes worth of music and most definitely a joy to listen to… ideally on repeat. The punchy 'Relief' and darkness of 'Resist' stand tall amongst an album full of memorable, crafted music. The nine-minute epic 'Change' allows Godsticks to explore and develop; their creative juices squeezed hard to provide a smouldering track that twists and turns, changing direction and tempo several times. The opening part calm and measured, the central section accelerating with a pummelling riff which one cannot avoid nodding along to, some haunting guitar breaks and harmonies on the vocals combining with ease and style. Produced by James Loughrey (Skindred) and recorded at the famed heritage Monnow Valley studio, 'Inescapable' is an album that should be on everyone's list in 2020.
Godsticks are Darren Charles on vocals, guitars, synths and keys, Gavin Bushell – guitar, Dan Nelson – bass and Tom Price on drums. The band play four select UK dates in April (Tickets available https://www.facebook.com/godsticks/) 'Inescapable' will be released on CD, LP & digitally on February 7th 2020.