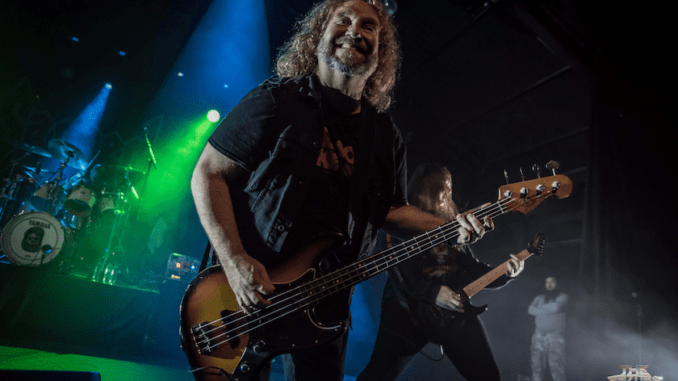 Live Review: Sacred Reich - Wolverhampton
Review by Cat Finch
Some things are just right together; fish and chips, bangers and mash, salt and pepper and Dave McClain with Sacred Reich. When it was announced that one of the modern day great heavy metal drummers was returning to the Sacred Reich fold the thrash metal community cried out in joy at the news. It was a home coming, the rightful pairing back together again.
Quite a few months on and Sacred Reich have released a new album, with the new line up - Phil Rind and Wiley Arnett being joined by Dave McClain and guitar sensation Joey Radziwell. The album has received critical acclaim and rightly so. Following a US tour with GWAR the band hit the UK and Europe for a headline tour of their own, and we caught up with them in Wolverhampton on a cold December evening.
K.K.'s Steel Mill is the location, the West Midlands hottest property as a venue is attracting big names thanks to its big name backer K.K. Downing of Judas Priest. With the beer flowing freely amongst the fans, Eradikator take to the stage. The local thrashers have also released a new album this year and tonight is their big chance to show it off to a large audience. The set mixes their out and out thrashy older material with the newer, more melodic offerings. It's an interesting mix but serves the band well and the performance to a large crowd has no doubt done their fan base wonders!
Night Demon are the support for the whole European run, an unknown quantity to most in the UK, I watched on with intrigue. As they galloped through their first few songs, 'Welcome to the Night' and 'Full Steam Ahead' I'm trying to put a finger on their sound. It's has elements of thrash, but it's something else… finally it comes to me this is Motorhead... but on crack. The three piece have that classic Motorhead sound, but the thrash influence puts pedal to the metal and cranks the speed up. Just as that thought comes to me they play a cover of the aforementioned's 'Overkill' and everything seems just right. Wonderful.
So onto the headline act. It's been two years since Sacred Reich were last on these shores and their line-up has changed somewhat, as mentioned earlier. Just looking at them, they look fresher and happier than I've seen them for years, Phil with a big smile on his face as he stands front and centre for 'Divide & Conquer'.
This is many fans first view of Joey Radziwell on guitar, he's the youngest member of the band, he has energy and enthusiasm, but most of all the boy can shred! Through 'American Way', 'One Nation', 'Awakening' his head a mass of flailing hair as the riff''s he produce batter our senses.
It's noticeable the change in the bands auroa, there has been a fresh injection of energy, and they are all the better for it. Throughout Dave show's just what an amazing drummer he really is those deft little cymbal crashes, the waves of bass drum and all that go with it. Dave has breathed life back into this old dog, and it's a joy for us thrashers to behold.
Very expectantly 'Surf Nicaragua' closes out the set, a triumphant return for the four piece riding a wave (no pun intended) right now. We can't wait to see what they have in store for us at Bloodstock next summer!