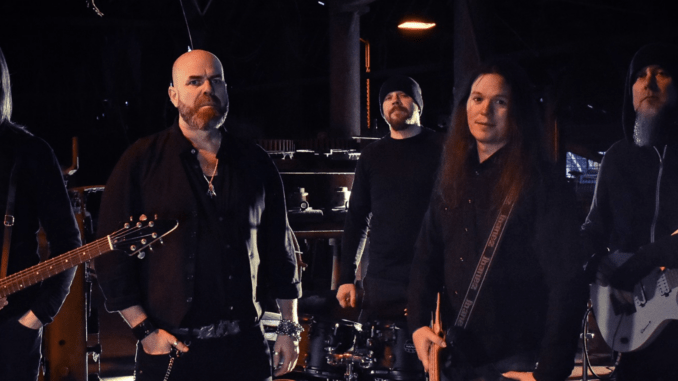 Interview: Kristian of Sorcerer
Interviewer: Paul Hutchings
Originally formed in 1988, Swedish epic doom merchants Sorcerer folded after two demos but reformed in 2010 with original members Anders Engberg (vocals) and bassist Johnny Hegel. The band recruited guitarists Kristian Neimann and Peter Hallgren and drummer Robert Ivessen. The band recorded two albums, 2015's 'In The Shadow Of The Inverted Cross' and 2017's 'The Crowning of the Fire King', before Ivessen was replaced by Richard Evensand who had drummed on the 1990 demo' The Inquisition'. Justin Biggs joined the band permanently on bass in 2019, having been a touring member of the band since 2018. On the eve of the release of the band's third album, Lamenting of the Innocents, Paul hooked up with Kristian over Skype to find out more.
The Razor's Edge: Hello and welcome to The Razor's Edge. How are you?
Kristian: Yes, we are doing good, staying at home and working one day. We miss just meeting up with friends and rehearsing.
The Razor's Edge: You're a teacher of music – how are you managing with the social distancing?
Kristian: Yes, I teach mainly guitar. We are using Skype and WhatsApp, it sort of works but it is definitely not ideal. Everything is so much faster when you sit next to a student because you can tell them, just change this position or move that arm, and the home set up is certainly not ideal as you can't see the whole arm and then there may be a shadow coming from the window so you can't see! And the sound lags so it's not as much fun but we are managing to do some work.
The Razor's Edge: And what ages do you teach? Is it mainly younger students?
Kristian: Yes, from age 7 up until around, the oldest at the school I am at is 22 but the average is between 10-17.
The Razor's Edge: So, you are actually helping keep them busy as well!
Kristian: Yes, exactly. It's important to have something to focus on.
The Razor's Edge: You obviously come from a musical background with your brother Johan [who is bassist with Evergrey and has played in several well-known bands] also a metal musician. When did music first become important to you?
Kristian: I started listening to music quite early. My parents had a great record collection with Hendrix and Simon and Garfunkel, stuff like that and Elvis, who was my first love of music. And my uncle, he had the first Zeppelin album and a bunch of Elvis records. I remember when Elvis died, that was 77 and I was talking to my mother about it, When I was about 10 or 11 I started listening to Kiss, 'Alive 1' was amazing and then Iron Maiden, and then Metallica around Ride the Lightning but I didn't start playing until I was around 16.
The Razor's Edge: And what was it that made you pick up the guitar?
Kristian: It was seeing Metallica. They made a video around 1985 with Cliff Burton, maybe at Monsters of Rock, it was a live video of 'For Whom The Bell Tolls', and I thought, I can do that. A couple of chords and lots of energy, it looked fun. And it was down the rabbit hole from there. I got a couple of cheap guitars and then I decided I needed a teacher to catch up because I felt like I had started late so I needed a 'turbo' start, I didn't want to waste time playing stuff wrong.
The Razor's Edge: You then studied music is that right?
Kristian: Yes, I went to the States for two years, to the Musician's Institute, in Hollywood, mainly studying jazz, because I had played rock for a few years and I wanted to get an understanding of jazz, and came back to Sweden and tried to play jazz, but it wasn't natural for me and then I got an offer to join Therion and then got sucked back into playing metal.
The Razor's Edge: You grew up in the 1980s which was a crazy time for the evolution of heavy metal. Which bands were your big influences? What albums from that time do you still play?
Kristian: I have a lot of favourites. The whole Maiden output, it's amazing, and Metallica. I don't actually listen to them that much because they are in my head, I know them so well. You know, 'Still Life by Maiden', I can hear that. I listened to 'Operation Mindcrime' for the first time in about 15 years a couple of weeks ago and it blew me away how good it was.
The Razor's Edge: You were in Therion for about 10 years. That must have been an interesting experience.
Kristian: Nine years. It was a great learning ground; I travelled the world several times and played with great people. I learnt as lot about the business.
The Razor's Edge: You joined Sorcerer in 2010. They were an underground band before they split. How did you get involved in the band?
Kristian: Because Anders [Engberg] was in Therion for a while, he toured with us in 2000, 2001 and we became friends and stayed in touch. Johnny's [Hagel] girlfriend, she was one of the choir members in Therion. So when Johnny got the call from Oliver at Hammer of Doom they knew I didn't have a band so they got in touch and asked if I wanted to do this gig, at this weird festival, playing as this doom band. I didn't know about Sorcerer until they told me. They gave me the demos and I dug it, which of course must happen, and it had this whole Candlemass vibe and I adore Candlemass, everything Leif Edling does is, where he walks is hallowed ground.
The Razor's Edge: 'In The Shadow of the Inverted Cross' was released in 2015. Were you involved in much of the writing of that album?
Kristian: Not really, Johnny had much of the writing and the ideas, about 98% already written or at least planned. So, we sat together in my studio and I added some riffs and the odd solo but it was mainly his writing on that album. As we worked now, we put the songs together, we had a structure that Anders could put his vocals on it. Johnny and Conny [Welén, co-writer] then worked on it, chopped the songs around a bit and added a verse or a chorus. So, I wouldn't say I was terribly involved. There was a song called 'Into Oblivion' on the EP called 'Black' that I wrote most of, as far as the instrumental parts. As we went into 'Fire King' then everybody started writing separately.
The Razor's Edge: In 2019 you announced that Justin [Biggs] had joined the band on a permanent basis but that Johnny would remain an essential part of the band. Is that still the position?
Kristian: Yes, very much so. Johnny is behind the scenes and contributing to the song writing and promotion and PR and we are really happy that he is. He has so much expertise in the business.
The Razor's Edge: Justin has contributed to the new album. What did he bring?
Kristian: We wanted an active partner, someone who would bring their influence and new blood, not just the bass player. He had some great ideas and he wrote most of Age of the Damned and he also added lyrics and does the growls on the album.
The Razor's Edge: I've only had the copy of 'Lamenting of the Innocent' today but the couple of plays I've had of it have been great. You seem to have captured the Sorcerer sound but developed it from 'The Crowning of the Fire King'. I read that as a band you write music that you want to rather than sticking to an expected sound. There remains plenty of Rainbow/Sabbath/Dio influences on it so is this an organically developed record?
Kristian: I would say so yes. We wanted to expand the sound out. We didn't want to be just epic doom, so we have influences from heavy metal and rock and pop. I am certainly not one just to listen to metal so we wanted the heavy parts to be heavier and the melodic parts to be hooky, we wanted to push the sound out in new directions but it was a natural thing. When you write, when you try to follow up something, it is always a challenge. 'Fire King' got good reviews so we were nervous about doing another album, but it has worked out well and we have tried things which we feel have worked. We have the growling on 'Lamenting of the Innocents', there is this heavy part before the second chorus, and I knew Justin could do it and it fits. That was the way it went, no scheming, we didn't write it to be popular
The Razor's Edge: 'Deliverance' is a track on the album that has Johan from Candlemass and Cellist Svante Henryson. It's a quieter track but has a hidden power and atmosphere. Tell me about this song and how you got the guests involved.
Kristian: Anders is an old friend of Johan and was in a band with Johan's brother when they were young, so they go way back and had kept in contact. When this song came up, Anders just said we should have some guests on the album and then it was we should have guests on 'Deliverance' and then it was I think Johan should sing on this song. We thought that would be awesome of course. Johan is cool and so nice, with no rock star behaviour and he came down to the studio to record his parts. We are going to be releasing a documentary about the album and we have some epic footage of when Johan came to the studio. Svante is also and old friend of Anders and he had played on an old Lion's Share album and he remembered Anders and he liked the song so he said send it over which we did and he did the parts really quickly.
The Razor's Edge: The album looks at the Inquisition and the hunting of witches, looking at the various stages of the human condition in response to this. It's proper heavy metal subject matter. What was the reason for this topic?
Kristian: That was Anders again. He's the guy when it comes to coming up with lyrics. We'd had the idea for some time but it's a pain to do it chronologically, like 'Operation Mindcrime', for example, you have to have the songs first, so it flows, you can't have five up tempo songs and then five ballads. We just wrote about the subject and you can listen to the songs in any order. Anders had been reading the Witchhammer book and wanted to write some lyrics. Anders is the lyric writer in the band, so we said go for it. I don't pay that much attention to lyrics to be honest unless they are really shit and then its annoying. I listen to the music and the melody. So, Anders and Justin wrote the lyrics and it works well. It's not the most original concept but it fits the mood of the songs. [personally, I think it's more about the quality of the songs rather than the originality that counts].
The Razor's Edge: Most metal bands these days are looking at social commentary in their writing. Whilst 'Lamenting of the Innocent' is historical, there's a lot of resonance with the world we live in today. I'm assuming that is coincidental.
Kristian: Yes, you are right. We didn't start out to do any political commentary whatsoever, but you are right, you can interpret the lyrics that way. If people want to interpret it as a metaphor in what happens in other countries today, then go for it. I mean, they were burning witches in medieval times but that still happens in some countries today where people are assholes, maybe not witch burning per say, but there are other forms of persecution today.
The Razor's Edge: the album cover is striking and captures the themes brilliantly. Who did it?
Kristian: A fella called Dejan Marcović, he has done a lot of covers for books and games but yes, he's young and super talented. Anders found him on-line and emailed him and we sent him the concept and the title. His first effort wasn't right, but the second version was spot on.
The Razor's Edge: The band famously covered 'Stargazer' back on 'The Inquisition' demo. What other songs would you like to cover?
Kristian: Actually, there are a couple and now with Corona we were talking about some cover recording or a mix towards the fall. I can't tell you exactly what we are going to do as that would spoil the surprise. We are still discussing it. I would like to cover some pop songs and make them metal. If I'd been in the band at the time I would not have chosen 'Stargazer' because even though they did a great job on it, Stargazer is untouchable. It's like recording 'Powerslave', the original is so good, you don't mess with it. I'd prefer to do some pop music instead.
The Razor's Edge: The album comes out on 29th May and I assume you had a whole schedule planned to support it.
Kristian: Yes, you have to go back to 2018 and we thought the beginning of the summer in 2020 would be perfect, just in time for the festival season, which meant we'd spend 2019 writing and recording the album. The plan is still in place, but there are no gigs! We did have gigs; we had a release gig at Rock Hard Festival and Sweden Rocks but they have been cancelled. So next Saturday, 23rd, we are going to do a live stream release but in a different way to what has been happened. Most of our gigs are being rescheduled for next year. And tomorrow [15th May] we release the 'Deliverance' single [with video].
The Razor's Edge: A lot of people won't understand the lead in and planning for this.
Kristian: For sure. It took six months to write and six months to record. A lot of work went into this album. The label needs four months to put everything out, the pressings and everything else.
The Razor's Edge: Thanks for your time. It's been a real privilege to chat to you today and good luck with the album.