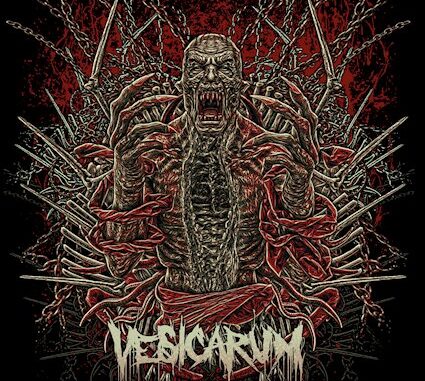 Bands on Bands : Elyrean Review Vesicarum's Reign of Terror
This week we gave Black Country thrashers Elyrean the challenge of reviewing a new release from contemporaries Vesicarum. What do they think of the Reign of Terror E.P. from a band they could well be sharing a stage with once covid-19 restrictions get lifts?
Vesicarum are a vicious Death Metal band from Kent. Formed in 2016 as a solo project by vocalist Glynn Neve, the band found their footing in 2018 with a full line-up, consisting of Martin Shipton and James Thompson (Guitars), Orla Blue Reed (Bass) and Donal McGee (Drums). 'Reign Of Terror' is the bands debut E.P.
Asa [bass/vocals for Elyrean]:
The E.P opens with the title track, and clean guitars. Not what I expected but it sets the mood nicely. The song rips into some rumbly Bass, before kicking everything in. The riffs are slow and chunky, with some excellent trempicked leads to add atmosphere. 'The Sick And Diseased' follows next, sounding like Bolt Thrower worship. You can see why they chose this as the single. The following track, 'Midnight Slasher', is another slow and chunky song, though the ending picks up the tempo to punishing effect. 'Early Warning Signs Of A Serial Killer' continues with much of the same, but with a great guitar solo that comes in halfway through. The E.P ends on 'Undivine End', a fitting title. It's two minutes of atmosphere, ending the E.P in uncomfortable fashion. That is a compliment!

Overall, this is a great debut. The performances are great, the songs are well written and the production is good, being clean enough to hear everything, but dirty enough to maintain the grit that makes Death Metal special. There is one thing though. The vocals are different, and that may put people off. I personally would like to see Glynn use more range, as the vocals do appear to stay the same the entire way through, with no highs or lows thrown in. I think this would greatly benefit them, setting them even further apart from the usual Death Metal bands. Either way, this is a solid first release and is something I recommend to any Death metal fan.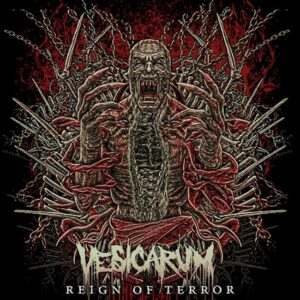 Daryl [drummer for Elyrean]:
First off, I think this E.P flows really well. Each track leads quite well into the next with some nice, chunky riffs in there also, especially in the second song, which I like a lot. The production is pretty good especially for self-recording, mixing and mastering as its easy for you to cloud your own judgement hearing the track over and over again. I'm not too keen on the vocals, I would have preferred them to be more on the standard death metal growl side, but they don't take away from the instruments. All in all, I think this is a solid first release.
You can find Vesicarum's 'Reign of Terror' on all good streaming services from today! And make sure you  give them a like on Facebook!