Album Review: Palaye Royale - The Bastards
Reviewed by Tim Finch
Palaye Royale caused much a stir when they toured the UK earlier this year. Arriving inthe UK a good month before the lock down occurred, controversy seems to follow them throughout their run. A spate of last minute cancellations from venues, warnings from others and hastily re-arranged shows – in the case of Wolverhampton – followed. Whether intended or not, this shifted the focus of much of the music world, fans and press alike, onto the band. Thrusting them to the forefront of everyone's consciousness and as the saying goes… all publicity is good publicity.
The February tour was the prelude to the album 'The Bastards' which sees its release date on May 29th. The Las Vegas based outfit describe themselves as "fashion-art-rock" but what does that really mean? The answer – a mix of indie rock, glam rock and out and out rock and roll – citing bands like The Rolling Stones, Bowie, The Doors and T. Rex as influences. Their look… something out of a Tim Burton film. They most certainly live up to their "fashion-art-rock" billing.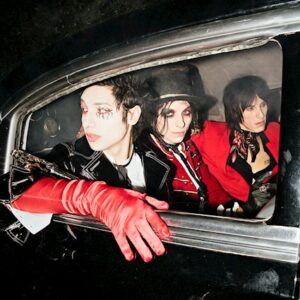 'The Bastards' is the bands third full length album and from the opening of 'Little Bastards' they do not hold back. A softly harmonised vocal intro launches into a catchy pop-rock number. 'Massacre, The New American Dream' is where the band open up. Punk rock attitude with modern chart rock sensibilities. Music for the new generation.
'Anxiety' has an industrial undercurrent running through it, keeping the pace high and the attitude in the listeners face. Every track on this album is unique, keeping the listener on their toes, pace fluctuating, style varying but the attitude always in your face. 'Fucking With My Head' the anthemic song played live on their February tour going down a storm that had the crowd bouncing from the front right to the back of the venues.
In 'The Bastards' Palaye Royale produced a unique album, drawing on a plethora of influences to deliver what in twenty years may well be considered a classic. Different from anything that has come before it and yet feeling so familiar it provides reassurances to the next generation of music fans looking for a place in the music world to call home. Palaye Royale are the next generation of bands to hit it big, and with this release they have secured a long future.