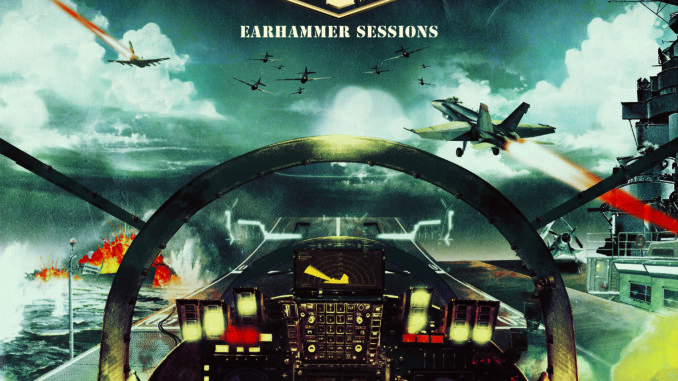 Album Review: War Cloud - Earhammer Sessions
Reviewed by Jon Wigg
What do you get if you mix a big slab of New Wave of British Heavy Metal with Southern Stoner rock and sprinkle in some proto-metal and thrash? The answer in War Cloud's case is damn fun band that make an easy to listen-to high octane brand of metal that is guaranteed to have your head nodding and feet tapping.
Originally formed in Oakland, California and now based in Austin, Texas, this 4 piece started in 2014 and have released 2 albums – 'War Cloud' in 2017 and 'State of Shock' in 2019. As with many bands, it is in the live setting where these guys made their name. 'Earhammer Sessions' covers tracks from both albums and was recorded as-live in the studio using the set list from their latest European Tour.
Now first up, this isn't original, perfect, stunning or ground-breaking but by gum it's fun to listen to. While often described as a stoner metal band, I would more call them a NWOBHM band with modern stoner influences. There are definite influences from early Maiden, Priest, Saxon and Motörhead throughout with some Deep Purple and Rainbow as well, all with a stoner groove and swing.
'Vulture City' kicks off with a frenetic drum opening from Joaquin Ridgell before twin-guitar riffs, which are also prevalent here, kick in from Nick Burks and double-duty frontman Alex Wein. This is a traditional metal opening with riffs, riffs and more riffs. Stoner is the order of the day for the next 2 tracks 'Giv'r' and 'Chopper Wired' which really swing along very nicely although I'm not sure the latter really needed a recreation of the drum solo from the live set at the end – it does break up the flow of the album. 'White Lightning' has a real Saxon feel to it – easy to imagine Biff and the boys speeding things up and bashing this out live.
'Divide and Conquer' is a definite highlight, with the Maiden influences right to the fore. The gallop and riffing, the catchy bridge and chorus and twin guitar section to finish accompanied by an excellent bass line from Sam Harman. Instrumental 'Tomahawk' is up next which has a derivative slower start before kicking up the speed to an excellent thrash gallop. Another excellent song. 'Speed Demon' is another fast paced track that reminded me of the Wildhearts and the session finishes with a Motörhead-like piece of 'rock 'n roll' in 'Striker' which also has some more early Maiden style Murray/Smith dual riffing.
As I said before, not a perfect album – Alex Wein has a fine growl but a limited range and the drum solo was a bit of a downer – and there is nothing new here, but overall War Cloud have produced an 'as-live' session at a time when we are all craving real live music, and it is very welcome. They are certainly a band who I will check out when they return to Europe.
War Cloud release the 'Earhammer Sessions' via Ripple Music on May 22nd