Album Review: BPMD - American Made
Reviewed by Paul Hutchings
Ah, the smell of nostalgia! Rock and metal music reeks of it. We love to reminisce and explore music history, the very foundations of our favourite styles of music with generation after generation revelling in the discovery of those bands who influenced our favourites. So, what's the story with yet another 'supergroup' delivering a new package of feel-good classics for our aural delight?
Well, the reason sits with the eight-year-old son of Metal Allegiance songwriter and producer Mark Menghi who has clearly been schooled right. "Last summer, right after the Fourth of July, I was sitting in my backyard," Menghi recalls. "I had the fire pit going and I was drinking a beer. As it got later into the evening, I was listening to a bunch of '70s stuff and Lynyrd Skynyrd's 'Saturday Night Special' came on. I said, 'Man, I would love to play that song,' and my eight-year-old son said, 'You should do a record of all these songs, Dad.' And I was like, 'Hmmm? Yeah, why not!'"
Move forward to now and what we have is an unlikely but ferocious and iconic ensemble in BPMD. Essentially a bar room covers band unlike no other, BPMD features Overkill's Bobby "Blitz" Ellsworth (vocals) super drummer Mike Portnoy (ex-Dream Theater, Sons of Apollo, The Winery Dogs), Menghi on bass and Vio-Lence and ex-Machine Head guitarist Phil Demmel.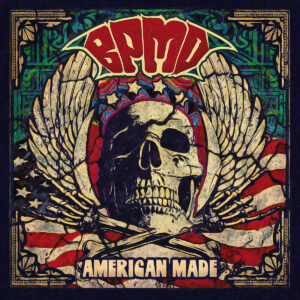 Ten tracks, all of which have an iconic status in the history of American rock music. Kicking off with Blitz's introductory lyrics to Ted Nugent's 'Wang Dang Sweet Poontang' in his signature skyscraper-high howl, BPMD are clearly here to have a good time. A song that I am super familiar with, I wouldn't give Nugent the steam off my piss these days, but in my formative years growing up few could touch the Motor City Madman. Portnoy's drumming is rarely anything other than exceptional and he anchors this superbly, linking in with Menghi to allow Demmel to let loose in true Nuge style. Portnoy's second choice follows and it's an explosive version of Aerosmith's 'Toys In the Attic', the first single from 'American Made' and the third album from the rock legends. Demmel admitted this was the challenging track to play, as he explained. "It was tricky because Aerosmith have two guitarists, Joe Perry and Brad Whitford playing different things. So, as one guitar player, I had to pick a medium place between the two that sounded good. I thrashed it up a little by adding a lot of down picking and some gallops and triplets." I'm no guitarist but he's done a fine job whilst Blitz plays to his strengths, lowering his pitch where necessary but also hitting those trademark screams.
Written by Willie Dixon and recorded by Howlin Wolf in 1954, it's the Cactus version of 'Evil' from 1971's 'Restrictions' that is the first choice of Blitz, and it's great to hear something a little less popular. Cactus of course featured Carmine Appice amongst others and having cross referenced the original and the Cactus version, BPMD do a fine job in honouring the song whilst adding their own little touches and arrangements. More familiar to most will be the riffed-up version of Texas trio ZZ Top's 'Beer Drinkers and Hell Raisers', a track from the legendary 'Tres Hombres' record and still a staple of the bearded ones live set. What's clear is that Blitz can add his vocals to all the tracks on this album, whilst Menghi's driving bass playing is first class. As the man said, "I'm a finger bass player so I'm kind of all over the place and we've all been influenced by a wide variety of bands including Black Sabbath, Judas Priest, Iron Maiden and Metallica. So, of course, we're going to attack the songs a little harder than guys that didn't grow up on heavy music."
There is little to question on 'American Made'. A thumping version of Skynyrd's 'Saturday Night Special' is followed by Demmel's choice, 'Tattoo Vampire' from Blue Öyster Cult's 'Agents of Fortune', which is, well, let's just say a little faster and more ferocious than the original. Buck Dharma's quote that BPMD "took Tattoo Vampire and put it into hyperdrive. I plugged in and hung on for dear life!" summarises the energy here. Van Halen's second album 'II' isn't always remembered for its face melting heaviness, with the singles 'Dance The Night Away' and 'Beautiful Girls'. Maybe time to give that classic vinyl another spin, as BPMD remind us that hidden on side two was the dirty 'DOA'. Well, strap in as BPMD add a blistering version which takes no prisoners.
Despite this being a covers album, there is much to get your teeth into. How many metal fans know the history of the James Gang, whose track 'Walk Away' gets the BPMD treatment? The band that Joe Walsh cut his teeth with are certainly an influential outfit, as are the penultimate artist covered. Mountain may be best known for 'Mississippi Queen' and 'Nantucket Sleighride' but Blitz's choice of 'Never In My Life' certainly works with aplomb here; ample cowbell, Demmel's smouldering bluesy guitar work and Blitz's gravel laced delivery all combining in magical style. That leads to the most obvious track to chose on an album called 'American Made'; 'We're An American Band', the track covered numerous times but of course originally laid down by Grand Funk (Railroad). There's a sense of duty when recording this song and BPMD keep faithfully to the track that was first released in July 1973. It's the track that gives you the sense of fun that BPMD had making this album.
'American Made' is superbly played, beautifully produced and produced and provokes a wave of nostalgia that demands you dig out the vinyl, hunt the tracks on Spotify or YouTube and explore the music which means so much to some of our most valued musicians. "We're basically a cover band but we made sure we did high-quality versions of these songs and gave them all a little twist," Ellsworth concludes. "I think there's a place for that in the music world today. There's something really great about nostalgia, especially if it's reimagined."