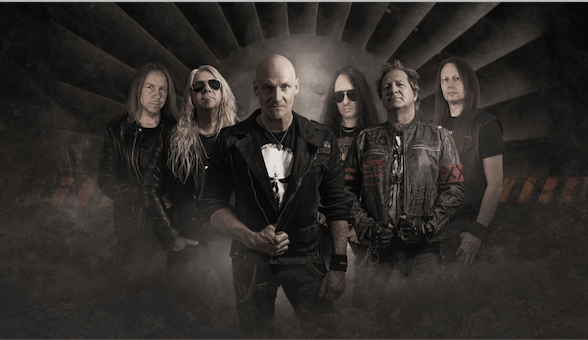 Album Review: Primal Fear - Metal Commando
Reviewed by Paul Hutchings
Now on album 13, it's fair to say that German power metal band Primal Fear have discovered a formula that works. Having been with AOR label Frontiers for their past six releases, Metal Commando sees them back with original label Nuclear Blast. Over 22 years since their eponymous debut record, 'Metal Commando' provides 11 songs in just under an hour and once more it's a homage to Judas Priest that immediately springs to mind.
That may be a tad unfair, as there is much more to the Germans than merely worship at the table of the Metal Gods. If you are unfamiliar with Primal Fear, they were formed in 1997 by Ralf Scheepers (ex-Gamma Ray) and bassist Matt Sinner, initially after Scheepers was rejected as the replacement for Rob Halford in Priest. The connection remains. Over the next 20 years the band has released 12 albums, all following a similar blend of Helloween and Priest with 2018's 'Apocalypse' their most recent effort. The band's line-up has varied during the two decades with the current band members joined by new drummer Michael Ehrė who makes his debut here.
'Metal Commando' is full of rich hooks, clean melodies and some ferocious riffs which combine to make accessible tracks that have always appealed to the band's ever growing fanbase. With three guitarists (Tom Naumann, Alex Beyrodt and Magnus Karlsson) there is an inevitable Maiden comparison although the band's live edge is where that comes to the fore. There is the odd throwaway track. 'Hear Me Calling' with its ballad style for the first half isn't the most memorable, but that contrasts with the raging opener 'I Am Alive' and the thumping 'The Lost & The Forgotten'.
Elsewhere there is plenty to get the head banging, such as the piledriver of 'My Name is Fear', with its ragged riff and machine gun drumming. It's the epic 'Infinity' that really catches the attention. The closing song on the album, at over 13 minutes it is the longest and most flamboyant piece of music the band has written and it's quite a magnificent ending to the album. Ebbing and flowing with an ease that only comes from years of experience, Scheeper's voice is in fine form, whilst the blend of symphonic segments provides drama and atmosphere as it builds to an impressive conclusion.
For Sinner and Scheepers, metal is life and they are as dedicated to the cause now as they were 20+ years ago. 'Metal Commando' provides us with the latest instalment from a band who are ensconced in the German metal scene. Produced by Sinner and mixed and mastered by Jacob Hansen, 'Metal Commando' arrives on the scene via Nuclear Blast on 24th July