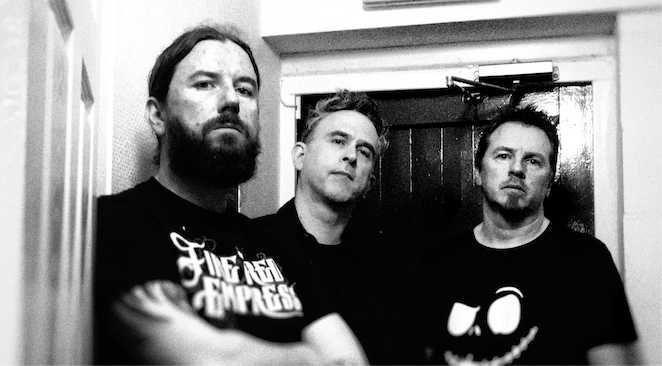 Album Review: Guns For Girls - Blood Harmonies
Reviewed by John Caffrey
Guns for girls are a three piece band from the midlands. Gavin Herbert (guitar and vocalist), Carl Haden (bass and vocals), Dylan Cain (drums). Their musical influences garnered from a broad spectrum of styles, with the screaming guitars from grunge driving slabs of riffage from the stoner scene and vocals that would sound great in British indie guitar band.
The extended start to the opener 'Over The Shoulder Of The Devil', kicks off with a driving drum beat and chunky guitars reminiscent of the grunge sound of Soundgarden, the vocals are great with harmonies that work with the broken signatures and time changes. This not just grunge, or stoner but a fantastic bastard son of the two. Tracks 'Where Is The Sun?' and 'Black Rose' have a real Queens of the Stoneage feel but with a more choppy groove as if Danko Jones were playing. These would fill a dance floor in any rock club.
These sit happily along side some of the more slow tracks like 'Holy Dime' and 'Secrets', although slower they are just as powerful, with more of a Pixies/Huska Du sound. They flow along with fabulous vocals that would not be out of place it a sixties psychedelic band.
Other tracks sound more like a fresher more modern take on 90s grunge with hints of Faith No More, and Crazy Gods of Endless Noise in songs 'You Get What You Give' and 'I Found A Way'. In contrast 'Inglorious' has more of a collage rock feel with guitars by The Hives, fantastic.
Overall this album is a great debut recording, smashing riffs and enough hooks to carry the band to great heights if it gets some support. I've watched a few of their live videos on YouTube they look like a band I will be checking out as soon as we are allowed.
Guns For Girls release 'Blood Harmonies' on July 24th.