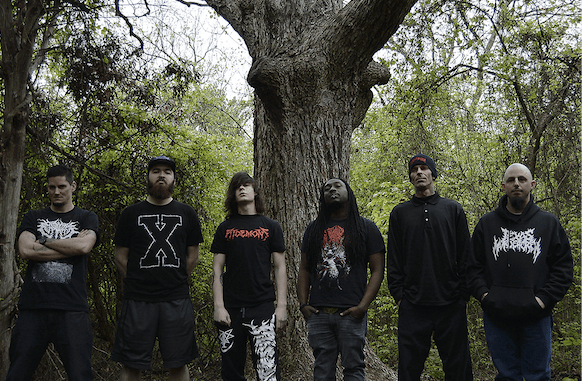 Album Review: Texas Murder Crew – Everyones Last Breath
Reviewed by CJ Claesson
They say everything is bigger in Texas, so why wouldn't the slams be? Texas Murder Crew is not here to waste anyone's time. Following up their 2018 demo they are about to unveil a prime cut of beefy slamming death metal to the blood thirsty masses. Consisting of six songs of brutality supreme, 'Everyone's Last Breath' is sure to put its hooks in you. Formed in 2018, Texas Murder Crew are the new butchers on the block. Avid brutal death metal enthusiasts might rejoice by the fact that the lone star six-piece consists of Ex-Devourment string assassin Kevin Clark. That fact alone should indicate what Texas Murder Crew is all about.
So what are they about? Four words, four syllables: blast beats & slam riffs. 'Everyone's Last Breath' delivers unrelenting Texas-style brutal death metal with crushing slams that hit you right in the gut. Surprised? I wasn't. The formula is tried and tested and as the Seattle death metallers I Declare War once said: "if it ain't broke, blast beat the fuck out of it". Adhering to the genre, the band paints a vicious picture of inhumane cruelty with haunting samples incorporated with the intensity of the music and the dual vocal performances of Bren Wells and Logan Ross. Texas Murder Crew demands your full attention in witnessing the brutality unfold.
Clear standout tracks for me are 'Curse of Humanity' with its tasty guitar hook and 'Destroy the Witness' with arguably the grandest slam part on the record. The intensity is carried throughout the record and closing track 'Stronghold' breaks the mold a bit with its modern almost deathcore-esque progression. Texas Murder Crew is definitely a band I will enjoy watching grow overtime. If you're a fan of slam, brutal death metal, death metal, deathgrind or all the above - it's guaranteed you will enjoy this EP. So, be one of the first in your group of friends to get into these lone star maniacs and while your buddies are discussing Kraanium or Dying Fetus you can go "yeah, cool, but have you heard this new band Texas Murder Crew? Their new EP is killer!"
'Everyone's Last Breath' out on August 7th.