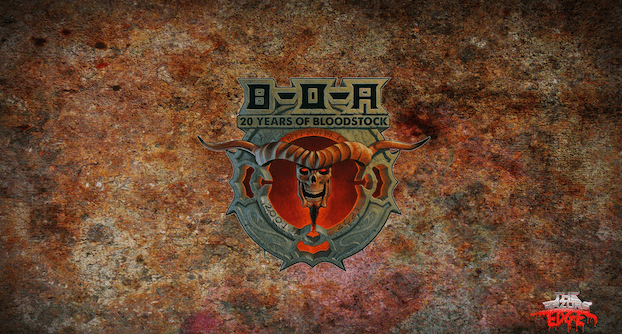 Bloodstock 2020 Interview: Sacred Reich.
Interviewed by Tim Finch

It's been a strange few years for Sacred Reich, from coming of hiatus to a great reception, to a couple of personnel changes, a stunning first album for twenty three years and then the sad loss of their founding member Jason Rainey. It's been quite a emotional rollercoaster for the Sacred Reich machine.
2020 should have seen the band play their very first open air festival in the UK on the hallowed grounds of Catton Hall. Yet instead, they are lcoked down in Arizona and have enough spare time for chat with us.
The Razor's Edge: Welcome to The Razor's Edge…
So I wanted to start talking about Bloodstock Festival, you were due to play today, middle of the afternoon on the main stage. It would have been your first Bloodstock appearance, possible first outdoor festival appearance in the UK. What does it mean to you to playing the biggest metal festival in the UK?
Phil: It feels like it's been a long time coming, we've been wanting to play for quite a while but it never worked out. So, it was pretty exciting and we were looking forward to it, apparently we'll get a chance next year now.
The Razor's Edge: When the call came from the organisers how quickly did the booking all come together?
Phil: It came pretty quick, it was just a matter of timing and where we are before the date and there was a bunch of stuff going into it. When the offer came in we were like cool, this is perfect. We're just excited. Dave is friends with Vicky and her husband and he was telling us how good it is.
The Razor's Edge: This year would have been the festivals 20th anniversary and your own 35th anniversary as a band. Did you have anything special planned?
Phil: I didn't really think about it that way [laughs]. We were just going to go play.
The Razor's Edge: As it is your 35th anniversary, were you going to do anything to mark the occasion?
Phil: No, we really didn't. I don't know, 35 is kind of in the middle right? 25 is a thing - half of 50. Maybe 40 if we make it that long. No we really haven't planned anything. For a long time we were playing the same songs and we didn't have any new material. So it feels different now that we have a new record out and we are working on a new record. There's more to celebrate looking forward, so thats kinda what we are doing.
The Razor's Edge: The current situation is tough on a lot of people right now, for yourselves other than the summer festival run, what impact has this pandemic had on the band?
Phil: Every band is in the same position right now. Everyone is on hold wondering whats going to happen. All we can do is what we can do. Now that we don't have much going on we are focusing on writing songs. It's a bit of a weird time to be writing new songs, things are up in the air and it can sometimes cause anxiety and theres a lot of negativity going on. There's always a negative side and a positive side of everything. Our last record was really positive and I don't want to get caught up too much that we get caught in all this negative energy and project it out, but I can't see how it doesn't have some sort of impact on what we write.
The Razor's Edge: But then you look back at the 70's and negative energy spawned the punk rock movement so it could potentially have a good impact on music going forwards.
Phil: Yeah, it just depends if you can channel all that stuff into an energy that isn't necessarily negative. People can do whatever they want, if people want to channel that into some really heavy, angry, hateful songs I don;t think it would be that hard. I think finding the silver lining is the tough spot right now, thats the challenge.
The Razor's Edge: So you've mentioned you are writing an album, was that planned or is that because of the lockdown?
Phil: Our plan was that we had the whole year booked. For 2020 we were ready to go and we were booking 2021. So we had to find something else to put our energy into so if we are sitting round doing nothing and some inspiration comes to write some songs then we should just run with it. And I think a lot of people are doing it.
The Razor's Edge: So looking back a year, 2019 saw you release your first studio album in 23 years and 13 years since you came back from hiatus. Was it a conscious decision to wait so long before recording new material?
Phil: No, it just happened naturally, the songs came back and we were like "yeah lets do it". It was nothing more than that, inspiration has to come for songs, you have to feel creative and in a place where it's available. That sounds all "blah blah blah" but thats just how it is for us. Inspiration has to come, the signs have to come, and it chose then to come back, who are we to argue.
The Razor's Edge: Awakening was up there in a lot of peoples albums of 2019. How proud are you of the reaction it's garnered?
Phil: It's very nice that people like it. Ultimately we do these things for ourselves, we write the songs as they need to be written and they think they are good songs. If we are happy with it, thats one part of it. Ultimately we want people to like it, we wouldn't be going to all this trouble if no one was going to listen to it. It's really nice that people liked it and appreciated it. The shows were going great and there was such a good vibe every night, it was great to be a part of and we can't wait to get back to it.
The Razor's Edge: It was the first album since Joey joined and Dave re-joined. When it came to writing Awakening how involved were the two of them?
Phil: Joey played on all the demos'. We would send the demo's to Dave and he would hear his parts. When we were jamming he would put his stamp on the record. Whatever we were recording for the drums [on the demos] were just a placeholder for an idea for what it should be. Dave's and incredible drummer, so whatever ideas he took and pushed them either further. Everyone was involved int he process.
The Razor's Edge: I wanted to touch on Jason [Rainey] for a minute if I can. A wonderful man I met a number of years ago in Birmingham. He was Sacred Reich if you will. A massive loss to the scene and to yourselves as band members. A lot of fans were unaware of his ill health, so it came as a shock to us all. Was that part of the reason for him ultimately stepping away from band?
Phil: Most certainly, when everything went down we said "health reasons" and everyone said "whats that code for". Jason had posted some stuff on his own page as he was upset with everything thats going on, I understand that. This is unfortunate, we were talking about it yesterday, I always feel like these things are private and our business. When we split with Greg everyone wanted to talk about it, some things are not everyones business. Some things can be private, even though we have a public job, so everyone doesn't need to know everything, it's not that important and it's mostly just important for us. We just like to leave things be as they are.
I just miss Jason, I was very close to him and the whole thing just sucks.
The Razor's Edge: Now Joey has stepped up to fill some big shoes! A young and very talented guitarist. Where did you find him?
Phil: Well, I knew his dad Tim. Tim was a big Sacred Reich fan and he moved to Phoenix to jam with Rob Halford years ago. When I met Tim he said you know I have a little studio and I play drums if you need help with the demo stuff. I said that sounded great and we went down to the studio and knocking ideas around and his son Joey was there. Joey would engineer everything, I had ideas and I would record them on my phone, just like guitar riffs but I'm not really a guitar player. So I would say "Joey can you play this riff the way it's supposed to be played". He is a great guitar player and he would play out the riffs, we were just kind of fleshing out ideas for the songs, so thats how I met him.
He recorded all the rhythm tracks of the demo and wound up recording them a few times as we changed keys and things. He was the only other person on the planet familiar with those songs. When we knew Jason wasn't going to be able to do it we said "well Joey already knows everything". Within a few days of being in the studio with him, I already knew as I had demoed everything with him so I had no questions over how good Joey was, but it was important for the other guys to see it for themselves. On the second or third day of him doing the guitar tracks it was so obvious that he was our guitar player because we were trying to figure out what we were going to do, who was going to do it, what it was going to look like and he was there sitting in the control room recording the record. We didn't have to look far!
You know he's younger than two of my oldest kids [laughs], but he's such a great kid, has a great attitude, plays the guitar wonderfully and thats all he cares about - just playing music. He really loves the same era music we can from so it was a perfect fit. We were very lucky, he just fell into our laps, it couldn't have been easier and we couldn't have been more fortunate.
It's funny, every-time I post a picture of Joey on our social media everyone comments "Joey wears the coolest shirts" and I'm like Joey is a lot cooler than we are!
The Razor's Edge: You mentioned Joey's age compared to your own children does he youth have any effects on the dynamics of the band?
Phil: No. You know Joey's dad Tim is like our age. Joey grew up hanging out with Tim and his friends and jamming with all of them, so he's been playing with older guys forever. He's a quiet kid, he doesn't say a lot, he listens, he observes, he sees whats going on. I have a lot of friends who are saying "man you are going to have to teach him...". We are not going to have to teach him anything, Joey will pick up on it because he's smart enough to do it and he listens and pays attention.
The Razor's Edge: I noticed on your tour last year, Joey is out there in the bar mingling with the fans. Is he the party animal of the group now?
Phil: I don't know about party animal. He likes to drink some beers, he and Dave drink some beers. Me and Wiley don't really drink. I think I figured out that when we are on tour I just want to chill, I just want to hang out, read a book or something. It's all brand new for Joey, he want's to hang out, have a beer and meet people. He want's to soak it all in and he should. He's a great kid, he's super genuine, people are always excited to meet him and he leaves a nice impression with the folks.
The Razor's Edge: Has both Joey and Dave coming in had any impact on you and Wiley? What's it like being in Sacred Reich now compared to three/four years ago?
Phil: Well it's easier. It's just easier. The way everyone relates to everyone else is better so our dynamic is very good and that was necessary moving forwards. It's been really great.
The Razor's Edge: You had a run of dates through the UK last December, we caught you in Wolverhampton. How was that tour, the first UK tour since Awakening, for you?
Phil: It was pretty amazing. We did eight weeks in the US with GWAR first, so by the time we got to Europe we were really tight as a band. There were places we hadn't played in twenty five years, so the shows were building as we went. The response was always great and I was always amazed that people were singing along with 'Divide and Conquer' and 'Salvation' to the point where it was pretty moving to us. The record hadn't been out very long and that people were singing along and the new songs fitting so well with the songs we've been playing for years. It just felt so good and it felt like the momentum was building as the tour progressed, the crowd became more and more and started selling out and it was really a wonderful experience. I can't say enough about it.
The Razor's Edge: With the live scene now pretty much on hiatus. Are you guys planning anything as a band for the rest of the year? You've mentioned you are writing are you going to go down the live stream route or anything like that?
Phil: There is no plans for any of that stuff currently, maybe that will change. But I think our focus right now is just on writing songs.
The Razor's Edge: And then hitting the road as soon as you can I guess?
Phil: Yeah, as soon as it's all clear. We are moving into the unknown, we are booking stuff, maybe it'll happen, maybe it'll get pushed back. With the state of the US as it is right now, who knows when there will be a recovery and how other countries will respond to people from here, if they are going to want to let people in or make them quarantine, we don't really know. We'll just move forward and deal with things as they happen.
The Razor's Edge: And it's worldwide, it's not even localised to a country so we're all in this together.
Phil: Yeah it's a worldwide thing, we are just dealing with it really badly in this country.
The Razor's Edge: We're not really much better here in the UK.
Phil: That's a little comfort [Laughs]
The Razor's Edge: And when we come out of the forced hibernation… what does 2021 have in store?
Phil: Hopefully we'll get to do all the tours we have planned and we'll have this new record so we'll see.
The Razor's Edge: Thanks for taking the time to talk to us today.
Phil: It's my pleasure, I wish we could be out there playing Bloodstock.
The Razor's Edge: Same time next year?
Phil: YES SIR!