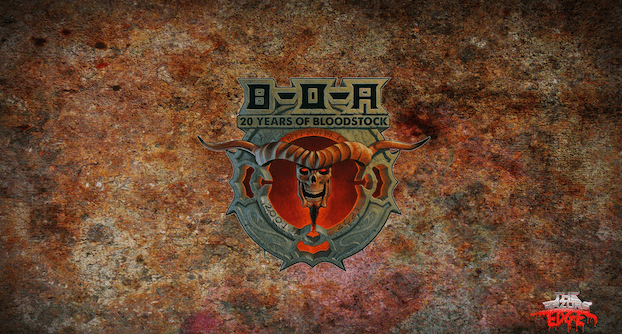 Bloodstock 2020: A Fan's Retrospective - Part 2.
by Dan Barnes

Following on from Part One of our fans retrospective, Dan reaches 2007 and the early years of the festival outdoors.
2007 started as usual with both the outdoor and indoor shows announced. Dates were set and Blind Guardian were announced as an outdoor headliner, with Testament also on the bill. No details were given for the Assembly Rooms show, but the announcement of Testament, the unofficial fifth member of the Big Four, was a sure sign Bloodstock were heading into different waters.
It didn't take too long for the reality to set in and, at that moment in time, hosting two Bloodstock festivals was simply untenable. It must have been a heart-breaking decision from the organisers to cancel and, effectively, moth-ball the indoor shows, as this is where the festival was born. But evolution is sometimes painful and by reorganising into a single show and putting the focus on the outdoor event, it allowed Bloodstock the opportunity to grow. Bearing in mind the 2003 show had already been a sell-out, then the Assembly Rooms' limitations were obvious.
The outdoor event was shifted to August and expanded by an extra day, giving us a two and a half day show, Thursday to Saturday in the mould of Wacken. The rescheduling of the event, sadly meant Blind Guardian were unavailable, so Testament were bumped up to Thursday headliner and Lacuna Coil and In Flames were announced as Friday and Saturday closers respectively.
The bill also included the likes of Firewind, Dark Tranquillity, Nevermore, Epica, Dream Evil and more; Sabbat returned, having dropped their Return to the prefix and showed why they were one of the leading lights in the UK Thrash scene of the 1980s; Benediction played a blinding show and reminded people the UK Death Metal scene extended beyond Bolt Thrower, and Arch Enemy played as In Flames' special guest, with Angela scaring the b'Jesus out of everyone with that voice.
Bloodstock 2007 still holds a special place in my affections, partly because of the line-up and partly because it was the moment that saw the end of the old Bloodstock and, like the B-O-A snake shedding its skin, the beginning of a new era.
For those of you who didn't attend before 2008 let me try to explain how the site was configured back in '05, '06 and '07. The main stage was (about) where the Sophie stage is now; the second stage (for what it was) was situated about where the dodgems are and what is now the main arena acted as a car park for day visitors, while the camp site was pretty much where it is now. There was no VIP sections and no VIP camping. The signing tent was adjacent to the main stage (about where the First Aid tent is) and that fronted the back-stage access point.
Thursday: TESTAMENT / Firewind / Head On / Kiuas / Sight of Emptiness / Chris Slade
Friday Main Stage: LACUNA COIL / Dark Tranquility / Nevermore / Epica / Korpiklaani / Memfis / Wolf / Scar Symmetry / Voodoo 6 / Exploder
Friday Second Stage: HEXAGRAM / Idiom / King Lizard / Sinocense / Forever Never / Cerebral Fix / Timefall / Enemo J / The Aftermath / Life Denied / The Omen / Mindflow
Saturday Main Stage: IN FLAMES / Arch Enemy / Sabbat / Dream Evil / Finntroll / Legion of the Damned / Benediction / Freedom Call / Rise to Addiction / Beyond All Reason
Saturday Second Stage: TERRATHON / Axis of Evil / Exit 10 / Trigger 9 / Honey for Christ / Nemhain / Speed Theory / Nephwrack / Sinnergod / Hollw Earth Theory / The Apostacy / Kebraki / Hanging Doll
There was a tear in the eye when the September came around and the annual pilgrimage to Derby didn't happen, but times change and it was necessary to embrace it whole-heartedly.
Arriving on site in 2008 was something of a shocker to see the reorganisation of the festival grounds. For the most part everything is where it is now, with a few exceptions, and Bloodstock had gone the full three-days, Friday to Sunday. The diversification of the bill showed Bloodstock was moving away from the core of the indoor Power Metal bands, to hosting the likes of Destruction, Overkill and Moonsorrow; Primal Fear returned who, along with the mighty Helloween and the equally mighty Iced Earth slaked the thirst of the Power Metal crowd.
But it was the unexpected announcements that really showed Bloodstocks new mettle: they managed to get At the Gates on their reunion tour, Soulfly brought a tribal feel to the Friday and I had been excited to see Napalm Death on the main-stage since their announcement in the May of 2008. Headliners Opeth, Dimmu Borgir and the Annette-fronted Nightwish were great choices, though Nightwish's show was a shadow of the theatre tour the band had undertaken in the spring; and Dimmu's set clocked in at less than seventy minutes, but they did pack enough pyrotechnics into that hour-plus to be seen from orbit.
Bloodstock even managed to introduce some of bands who certainly did not fit the traditional idea of a Bloodstock-band and began the first of the famous Bloodstock-controversies: Rise to Remain had a Dickinson play at Bloodstock, shame his dad didn't bring his band for a jam! And As I Lay Dying had metalcore rear its head from the Bloodstock main-stage, and not for the last time.
2008 also saw the expansion of the second stage, with a more focused approach to the billing and artists featured. My personal highlight of the 2008 second stage was seeing The Berzerker, late additions to the bill, absolutely smash the place to pieces. Berzerker frontman, Luke Kenny, just before kicking into their cover of Corporeal Jigsaw Quandary, announced they were playing it because Carcass were not at the festival. It was almost as though he had a crystal ball.
Thursday: MARSHALL LAW / Conquest of Steel
Friday Main Stage: OPETH / Helloween / Soulfly / Primal Fear / Destruction / Akercocke / Tyr / Praying Mantis / Evile / Sait Daemon
Friday Scuzz Stage: FROM THE ASHES / Sorcerer's Spell / The Dead Lay Waiting / Anger Management / Firebrand Super Rock / Son of Science / Obsessive Compulsive / Hospital of Death / Broken Faith / A470 / Dead Filmstar
Friday Lava Stage: THE INBREDS / Invasion / Outcry Fire / Pro-Ject
Saturday Main Stage: DIMMU BORGIR / Iced Earth / Soilwork / Napalm Death / Moonsorrow / Communic / Swallow the Sun / Eluveitte / Rise to Remain / Cloudscape / Evil Sacrecrow
Saturday Scuzz Stage: THE BERZERKER / RSJ / Metalliod / Concept of Time / Hellfighter / Keltic Jehad / The Defiled / Blood Island Raiders / The Dirty Youth / Mantra / Empereal Destroyer / Witchsorrow / Denounce / 9 Days Down
Saturday Lave Stage: SONDURA / Fury UK / Seven Years Dead
Sunday Main Stage: NIGHTWISH / At the Gates / Overkill / As I Lay Dying / Kataklysm / Mob Rules / Grand Magus / Alestorm / Crowning Glory / Heaven's Basement
Sunday Scuzz Stage: TESSERACT / Silent Descent / Musta Talvi / Ted Maul / Ravens Creed / Celtic Legacy / Necrosadistic Goat Torture / Ravenge / Setotonal / De Profundis / Blasphemous Creation / Cursed as Angels
Sunday Lava Stage: LIQUID SKY / Adam Bomb / Total Rock Band / Heaven's Gate / Esoterica
The 2009 edition of Bloodstock Open Air will mostly be remembered for its headliners; which is a shame really, because the line-up this year was an absolute peach. Saxon returned for their first outdoor Bloodstock experience; Katatonia finally played after being the most requested band on the forums up to that time; the likes of The Haunted, Enslaved, Candlemass and Kreator turned the Saturday line-up real, real heavy; and on Sunday we were treated to the likes of Girlschool, Anathema and a little Swedish band called Sabaton who put in an appearance very early in the day.
But it was and is those headliner controversies that dominate the memory of 2009. Bloodstock has opted for their Friday and Saturday bookings to be billed as co-headliners. The Friday show had Arch Enemy playing before Carcass, giving Michael Arnott plenty to do before the weekend started and, but for some premature fireworks, Friday went off without a hitch.
Saturday's show was poignant in it featured Blind Guardian, whose headliner slot two years earlier had been affected by cancellation and rescheduling issues, and Cradle of Filth who were the proposed original show-toppers in 2001. Blind Guardian played like homecoming heroes and Cradle, consummate professionals that they are, matched them note for note. That is until some clown with a cricket ball sized gob-stopper took out Paul Allender with a shot to the small of his back, stopping the show stone-dead. It would be a solid decade before Cradle of Filth would grace the Bloodstock stage again, which is ridiculous for a British band of their stature at the most straight-out Heavy Metal show in the country. You might not be a fan of the band, but whatever your opinion, some of us wanted to watch them; Bloodstock book plenty of bands that aren't my cup o' tea, but that gives you time to grab a beer or a catch up with friends or, even, the opportunity to check out a band or two I'm not familiar with.
But the biggest controversy of 2009 – and one that stood for a good few Bloodstocks – was the announcement of Europe as Sunday show-closers. Now, Europe aren't necessarily my thing, but I did catch them back in 1989 at Milton Keynes Bowl, playing special guests to Bon Jovi and they played a wow of a set. Obviously THAT song was the one that dominated, but Europe eschewed playing it safe and introduced a number of new songs which, in front of 60,000 sun-kissed people is brave in anyone's book.
I'd been banging the "Europe are an awesome live band" drum for two decades and although their announcement was something of a surprise I was more than confident they would play a blinder. As a pre-cursor to this, some of us were over at Hellfest a few months before and Europe were on the bill. Joey Tempest had the early-evening crowd of dedicated Manowarriors eating out of the palm of his hand; and that was before The Final Countdown. Come that keyboard intro and it felt like there was not a body in the Main Stage arena not up and bopping.
By the time Satyricon had finished and the stage was reset for the Swedes, Bloodstock was theirs for the taking. And take it they did. Europe's show was an absolute triumph and one of the best headline sets seen at either the indoor or outdoor shows. All those times I've been through the signing tent. All of those great bands you I've met, shaken hands with and had them sign my CDs or album sleeves and my claim to fame is still that I have Joey Tempest's autograph.
Friday Main Stage: CARCASS / Arch Enemy / Saxon / Sodom / Katatonia / Municipal Waste / Die Apokalyptischen Reiter / Insomnium / Million $ Reload / Blitzkrieg
Friday S.O.P.H.I.E. Stage: PYTHIA / Malefice / Godsized / Xerath
Saturday Main Stage: CRADLE OF FILTH / Blind Giardian / Apocalypitca / Kreator / Enslaved / Candlemass / Entombed / The Haunted / Wolf / Battlelore / Uncle Rotter
Saturday S.O.P.H.I.E. Stage: THE ROTTED / Abgott / Arthemis / Celesty
Sunday Main Stage: EUROPE / Satyricon / Amon Amarth / Moonspell / Turisas / Anathema / Equilibrium / Girlschool / Sabaton / Beholder
Sunday S.O.P.H.I.E. Stage: EDEN CURSE / Tribe / Darkness Dynamite / Anterior
The announcement of Heaven & Hell as Sunday headliner in February 2010 made me happier than a man of my age should realistically have been. It meant that my fortieth birthday (which was a week before, but who's counting when it's a special one?) would be spent in the company of one of the bands who first got me listening to Metal all those years ago. I've always been a Dio-era Sabbath fan and, nothing against the Ozzy-era, Heaven and Hell and Mob Rules were foundational records for me. Love Master of Reality, love Paranoid, love Sabbath, Bloody Sabbath; but, given the choice, it's Heaven and Hell I pick every time.
Having seen Heaven & Hell in Belgium and Manchester in 2007 and again in France in 2009 after the release of the phenomenal The Devil You Know record, I was stealing myself for a long six month wait until the night of August 15th would finally come around. My level of excitement was such that the announcement of Fear Factory, Devin Townsend, Gojira and even the mighty Twisted-Fudgin'-Sister could not detract from prospect of Dio-Iommi-Butler-Appice's set.
History however laughs when we make plans and, come the spring, reports of Ronnie's failing health put a mere show into perspective. The tour was cancelled in early May and, on the 16th, the light in the black that was Mr Ronnie James Dio went out. The voice of Heaven and Hell, the voice of Holy Diver, the voice of Rainbow Rising. Will we ever see his like again?
In honour of the great man Bloodstock permanently named the mainstage after him.
A rearranging of the bill followed, with Twisted Sister moving to play Sunday night and Opeth stepping in to cover the Friday slot, a billing they had held two years previous. But Heaven & Hell's cancellation would not be Bloodstock's last in 2010. As the show drew nearer Behemoth frontman, Nergal, would succumb to cancer and the band would have to withdraw. Late replacement would be Cathedral who had played the indoor show as Darwin Suite headliner in 2005.
On the whole, the 2010 bill was another eclectic one, with the likes of stalwart bands Rage, Edguy and, the Queen of Metal herself, Doro, rubbing shoulders with heavyweights like Cannibal Corpse, Obituary and Gorgoroth.
But it wasn't just about the mainstage from 2010 onwards as Bloodstock had created a second stage to be proud of (except the pole up the middle of the stage, which smacked of poor planning). The previous year the second stage, previously the Scuzz stage, became the S.O.P.H.I.E. stage after the foundation set up in honour of murdered goth, Ms Lancaster. The Sophie, as it is still affectionately known, hosted the likes of Powerwolf, Benediction and Winterfylleth across the weekend and, although it was used sporadically in 2010, there was enough momentum gained to introduce a full weekend's artists going forward.
On the other side of the arena was the New Blood stage, where the newest and the brightest bands could showcase their wares.
2010 was the first year a major band made the decision to film their Bloodstock performance for a commercially available release. That band was Death Metal supergroup, Bloodbath who, up to that point had played little more than a handful of shows. Bloodbath Over Bloodstock was released a year after the show and features a rabid performance from the band. Before Bloodbath took the stage a request was made that the fans lower their flags to give the production crew the best possible views of the show. Dutifully, the Bloodstock faithful obliged and the resulting footage plays out unhindered. When it's considered that Cannibal Corpse was due on stage next, it says something that Bloodbath were 2010's Death Metal highlight.
However, the Swedish superstars weren't the first band to have their Bloodstock experience captured for posterity. Season's End Ascension DVD is a record of their 2005 Grand Hall show and remains, to this day at least, the only complete show commercially available from the indoor shows. Illuminatus' Wargasm promo video contains footage from the 2003 festival and Biomechanical recorded The Awakening clip in the Darwin Suite but Season's End's show is still unique.
Three other bands who have released in commercially available festival footage are October File, whose 2011 S.O.P.H.I.E. appearance can be seen on Renditions in Juxtaposition; Orange Goblin, whose 2012 headlining appearance is available on A Eulogy for the Fans and, most recently, Winterfylleth's 2017 main stage show was filmed for The Siege of Mercia, released in 2019.
Worth checking out if you're interested in the deep dark history of Bloodstock's past is the Pure Blood, volume 1 DVD which features videos from the smaller bands to play the early days of the festival. It all looks a bit dated now, but a couple of beers and the nostalgia glasses come out, along with this gem. The aforementioned Biomechanical and Illuminatus clips can be found here, along with FourWayKill, Panic Cell, The Prophecy and more.
There was also the Into the Snakepit – B.O.A. 2009 release which was more a flavour of the festival than a full-blown film. It does feature main stage performances from Amon Amarth, Sodom and Beholder and is an enjoyable way to pass eighty-two minutes of your time.
Thursday: DESERCRATION / Hospital of Death
Friday Ronnie James Dio Stage: OPETH / Meshuggah / Sonata Artica / Gorgoroth / Cathedral / Ensiferum / Rage / Ross the Boss / Black Spiders / Snakebite
Friday S.O.P.H.I.E. Stage: POWERWOLF / Enforcer / Steelwing / Collapse
Saturday Ronnie James Dio Stage: CHILDREN OF BODOM / Fear Factory / The Devin Townsend Project / Amorphis / Obituary / Edguy / Onslaught / Evile / Leave's Eyes / Andromeda
Saturday S.O.P.H.I.E. Stage: SYLOSIS / Benediction / Regardless of Me / Mordecai
Sunday Ronnie James Dio Stage: TWISTED SISTER / Cannibal Corpse / Bloodbath / Gojira / GWAR / Korpiklaani / Doro / Holy Moses / Suffocation / Bonded by Blood
Sunday S.O.P.H.I.E. Stage: KILLING MACHINE / Winterfylleth / Witchsorrow / The Prophecy / Purified in Blood
2010 was the first year Bloodstock would announce a band for the following year. Just before Twisted Sister took the stage the screens flashed up the name of one of 2011's headliners: Immortal. Sending us Black Metal fanatics home in raptures with the prospect of the frozen wastes of Blashryk coming to Catton Hall in twelve short months.
The other headliners were announced a little later but, but the time Motorhead were confirmed it felt like the worst kept secret in Metal. But regardless of whether the rumour mill had spoiled the surprise or not, the prospect of Lemmy and co gracing the mainstage was a mouth-watering delight. A real curve ball, however, was the confirmation of W.A.S.P. as Friday headliner, an announcement right out of the blue. With the likes of Devin returning as Blackie's special guest, following technical difficulties experienced the previous year, and At the Gates, Napalm Death and Kreator coming back for more, 2011 was a real treat.
The whole of the bill was a feast for metal fans of all genres: the Power Metallers got Rhapsody of Fire, Therion and Hammerfall, the Thrashers had Forbidden, Coroner and Exodus, and the corpse-painted had 1349 to compliment Immortal's top slot. There was no shortage of Metal royalty in 2011: alongside Lemmy was Ihsahn and Tom G Warrior.
For me, it was the Sunday of the festival that was the biggest draw. Along with a festival topping Motorhead, I had Morbid Angel, newly reunited with David Vincent and plugging their controversial Illud Divinum Insanus record, Exodus, Napalm Death, 1349 and a (then) rare UK appearance by Primordial.
The Irish dark metallers were making their second Bloodstock appearance after a set in the Darwen Suite in 2002; but the gods were not kind to the band as Alan blew out his voice part way through the second song. Consummate professionals that they are and the band played on, with Alan conducting the crowd to sing his words for him. Being in the crowd at the front of the stage was as epic as a Primordial composition and a special memory. Luckily, Alan's voice had returned to a certain extent by the time they appeared at the signing tent and he probably wore it out all over again with people asking him how his voice was.
The overwhelming memory of 2011 has to be the Motorhead show. Lemmy and the band are the very definition of professional, but there was obviously something not right with the great man that night. Rumours abound that the show the evening before at Brutal Assault in the Czech Republic had not gone well either confirmed that this would not been the triumphant set we all hoped for. Sadly, this would be the last time I would get to see Motorhead in the flesh, but the memories of all those other fantastic performances still live long in the memory.
Thursday: BEHOLDER / Revoker / Xerath / Achren
Friday Ronnie James Dio Stage: W.A.S.P. / The Devin Townsend Project / Kreator / Coroner / Triptykon / Poisonblack / Forbidden / Wolf / The Defiled
Friday S.O.P.H.I.E. Stage: LAWNMOWER DETH / October File / Byfrost / Arthemis / Romeo Must Die / Cerebral Bore / Imicus
Saturday Ronnie James Dio Stage: IMMORTAL / Rhapsody of Fire / Therion / Wintersun / Ihsahn / Finntroll / Tarot / Grave Digger / Skeletonwitch
Saturday S.O.P.H.I.E. Stage: ANGEL WITCH / The Rotted / Deadly Circus Fire / Hammer of the Gods / Def-Con-One / Blake / Dripback
Sunday Ronnie James Dio Stage: MOTORHEAD / Morbid Angel / At the Gates / Exodus / Hammerfall / Napalm Death / Primordial / 1349 / Hell
Sunday S.O.P.H.I.E. Stage: CRIMINAL / Amarazthe / Power Quest / Survivors Zero / Nemhain / Hellish Outcast
As good as previous Bloodstocks had been I don't think I was looking forward to the weekend as much as I was when the 2012 show came around. It was originally going to take place a week later than usual so as not to coincide with the closing ceremony of the 2012 London Olympics. But, for whatever reason, Bloodstock kept its normal weekend in the calendar.
The reason I was looking forward so much was the sheer quality of the announcements. Every time Bloodstock put out a press release it was for a quality collection of artists, the like of which they had not assembled before. 2011 was a great line up overall, but from personal point of view, the Saturday was nowhere near as strong as either the Friday or Sunday bills. 2012 was the first time that pretty much every slot was filled with a band I would go and see if they played in Manchester on a Wednesday night.
Prime bands for me were in 2012 were Sepultura, Paradise Lost and Testament and with a strong black metal showing with Watain, Mayhem and Dimmu Borgir, what else could I want? Although I was equally excited at the prospect of seeing Deicide I'm not so naïve was to actually think they were going to show up and – lo and behold – they cancelled; for whatever reason! A big draw this year was Anvil. Freshly reinvigorated by the surprising success of movie detailing their career, Anvil had been handed a second chance and, for a time at least, were the darlings of the metal scene.
Alice Cooper added the superstar quality in 2012 and Nergal's recovery from cancer saw Behemoth take their spot at the festival after having to cancel in 2010. The Friday headliner might have seemed slightly generous, but their performance was the ferocious climax every Friday deserves.
Leading up to the show was the mystery of who would close Saturday, with the announcement stated to be being made on the 6th June. It ended up being another fairly poorly kept secret as I recall having a conversation about Machine Head's confirmation at the Bolt Thrower gig in London on Easter Saturday.
The keyboard warriors were out in force for Hatebreed in 2012. The thinking being that a band with its roots in the hardcore scene had no business at a Metal Festival. But how wrong that assumption was, as Jasta and company destroyed the Ronnie James Dio stage with a set of incendiary fist-pumpers not out of place sandwiched between Sanctuary and Testament. So successful was Hatebreed's show that they have become a staple of several subsequent festivals.
2012 also saw the S.O.P.H.I.E. stage used for the whole of the day, with proper billing and recognised headline quality bands at the top of the bill. Orange Goblin made their first return to Bloodstock since 2001 and showed the star quality their years on the road had honed. One-time strangers to the live environment, Anaal Nathrakh headlined Sunday, creating their own particular version of Hell on Earth with every filthy riff and unearthly scream.
Thursday S.O.P.H.I.E. Stage: VIKING SKULL / Marionette / Bloodshot Dawn / Saturnian
Friday Ronnie James Dio Stage: BEHEMOTH / Watain / Dio Disciples / Sepultura / Iced Earth / Moonsorrow / Grand Magus / Freedom Call / Malefice
Friday S.O.P.H.I.E. Stage: ALCEST / Eastern Front / Pythia / Death Valley Knights / Derision / Sweet Savage / Primitai / Gonoreas / The Commander In Chief
Saturday Ronnie James Dio Stage: MACHINE HEAD / Testament / Hatebreed / Sanctuary / Mayhem / Crowbar / Chthonic / IamI / Benediction
Saturday S.O.P.H.I.E. Stage: ORANGE GOBLIN / Sight of Emptiness / Witchsorrow / Winterfylleth / Fury-On / Rising Dream / Internal Tenebra / Dripback / Savage Messiah / Splintering Soul
Sunday Ronnie James Dio Stage: ALICE COOPER / Dimmu Borgir / Paradise Lost / Anvil / Evile / The Black Dahlia Murder / Nile / Corrosion of Conformity / Kobra & The Lotus
Sunday S.O.P.H.I.E. Stage: ANAAL NATHRAKH / Headcharger / Demonic Resurrection / Noctiferia / Ancient Ascendant / Crimes of Passion / Battalion / Flayed Disciple / Re-Armed
Bloodstock's unrelenting march, with every festival being bigger and better than the previous year had to falter at some stage and for me the 2013 line-up was a bit regressive. That said, the early announcement of King Diamond as Friday headliner, and the promise of a full stage show whetted the appetite. Lamb of God and Slayer were already in the bag before the year was out and the promise of Anthrax, announced at the 2012 show, meant Bloodstock would close out the Sunday with a mini-version of the Big 4 which had been touring Europe a few years previous.
I don't want to come over as negative, but I found 2013 just a little bit of a damp-squib compared to what had gone before. This may have had something to do with being on crutches due to a snapped Achilles tendon and not being able to access either the S.O.P.H.I.E. or the New Blood stages with any real ease. It's just that 2013 wasn't my cup o' tea.
But when 2013 was good it was very good indeed and other than the King it was the thrash element which really elevated the show. Voivod, Exodus and Gama Bomb on the main stage and Xentrix finally making it to Bloodstock in the tent, meant those of us of a certain age could relive our misspent youths.
Future headliners Sabaton and Gojira were highlights of the Saturday bill and the headline slot from Lamb of God had a particular poignancy, as Randy Blythe had just been exonerated in his court case in the Czech Republic. But, as Randy would say, it was no time to celebrate as one of their fans had lost their lives and nothing could change that.
All eyes were on Slayer the next day. When booked before Christmas 2012, Slayer were sporting the original line-up of Araya-King-Hanneman-Lombardo; but a mere few weeks into 2013 and Dave was out. Gary Holt had been covering for Jeff through his health difficulties, but his passing in early May 2013 was a shock to all.
Consummate professionals that they are, Slayer played a sombre set and would perhaps have benefited from delaying for twelve months. But even an off-parr Slayer show is an earth-shaking event and they closed out Bloodstock 2013 in some style.
Thursday: TRAGEDY / Ravenage / Oaf / Bill Riff Stampede / Motherload
Friday Ronnie James Dio Stage: KING DIAMOND / Accept / Voivod / Municipal Waste / Firewind / Dark Funeral / Ex Deo / Death Angel / Earthtone 9
Friday S.O.P.H.I.E. Stage: SCAR SYMMETRY / Xentrix / Xerath / Cypher 16 / Skiltron / The Prophecy / Shrapnel / Bloodbound / Absolva / The Way of Purity
Saturday Ronnie James Dio Stage: LAMB OF GOD / Avantasia / Sabaton / Gojira / Kataklysm / Hell / 3 Inches of Blood / Beholder / Stormbringer
Saturday S.O.P.H.I.E. Stage: THE LAST IN LINE / Power Quest / Neofly / Mael Mordha / Scarab / Betraeus / Vanderbuyst / Sworn Amongst / Unfathomable Ruination
Sunday Ronnie James Dio Stage: SLAYER / Anthrax / Devil Driver / Exodus / Amorphis / Fozzy / Sacred Mother Tongue / Whitechapel / Gama Bomb
Sunday S.O.P.H.I.E. Stage: Dying Fetus / WOLFSBANE / Belphegor / Breed 77 / Gormathon / Evil Scarecrow / Bossk / RSJ / Grifter / States of Panic / Lifer