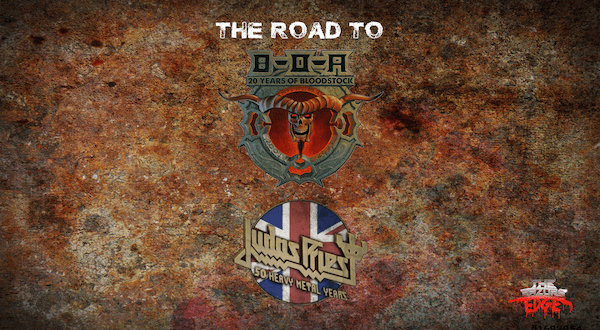 The Road To BOA : Judas Priest - Five Significant Albums.
by Paul Hutchings

Formed in 1969 in West Bromwich, Judas Priest are rightly considered to be one of the forefathers of heavy metal, second only to their neighbours Black Sabbath. The band have sold over 50 million albums worldwide with 11 albums making the UK Top 30, and despite several line-up changes through the years, Priest have produced 18 studio albums that contain enough classic cuts to fill a whole day at Wembley stadium. The classic line-up for many is considered to be Rob Halford, KK Downing, Glenn Tipton, Ian Hill and Dave Holland, although Holland played for Priest only from 1980-89, when Scott Travis replaced him and has kept the drum stool warm in superb style ever since.
When Halford left Priest after 'Painkiller' in 1992, Tim 'Ripper' Owens stepped into the breach until Halford's return in 2003. Owens work with Priest is certainly decent, but Halford's operatic vocal range is unique and is defined as the voice of Priest. The acrimonious departure of founder KK Downing in 2011 still rumbles occasionally, with Downing forming his own band (KK's Priest). His comments since the confirmation of Glenn Tipton's Parkinson's Disease have poured oil on those troubled waters, but unbowed, Priest continue.
Their 2018 headline set at Bloodstock Open Air marked a triumphant return for a band who despite the affection for them in the UK metal community have rarely achieved the same level of adoration here as they have abroad, particularly in the 1980s when they sold out arena after arena in the US. Still, for those of us who have loved the band for so many years, the sight of Glenn Tipton playing during the encores on that heady evening at Catton Hall in August 2018 brought tears to the eyes. There are joys and gems in every Priest album, but here I examine five which are particularly important not only to me but to heavy metal fans around the world.
1. British Steel
Probably the first Priest album that I heard, the 1980 release of their sixth album was a massive commercial success and honed that driving heavy metal style that the band had touched on in previous releases. Recorded at Tittenhurst Park, the home of Ringo Starr, the nine tracks included the powerful riff heavy opener 'Rapid Fire', the stomp of 'Metal Gods' and the industrial 'Grinder'. Of course, the album also spawned the classic 'Breaking The Law', a song which became Priest's 'Ace of Spades' and which utilised an analogue recording of smashing milk bottles. , Two other singles, 'United' and the anthem 'Living After Midnight' provided a bit of almost pop commerciality. For me, it's 'Rapid Fire' and the intensity of 'The Rage' (with its reggae style midpoint) which make this album a blueprint for 1980s metal. Whilst 'Breaking The Law' is one of the most overplayed songs in history, it still makes you want to head bang. An all-time classic album, and one that everyone should own.
2. Screaming for Vengeance
It's fair to say that the follow up to 'British Steel', 1981's 'Point of Entry' was a little disappointing with the band following a more commercial sound, possibly aimed more at the US than their home country. Regardless, 1982 saw them back in style with album number eight. 'Screaming For Vengeance' saw Priest return to their heavier roots, and the album went on to sell over five million copies. Crammed to the brim with goodies, the opening duo of 'The Hellion' and 'Electric Eye' became the standard opening for their
increasingly impressive live shows. Halford's vocals carry more edge and grit, his range magnificent as he hit the incredible high notes on tracks like 'Riding on the Wind' and the blistering title track, which is prototype power metal. The duel guitar work of Downing and Tipton is on top form with that driving style so distinctive. 'Screaming For Vengeance' also contained another massive hit in 'You've Got Another Thing Comin'. Another album that should really be in the collection.
3. Painkiller
For many this is the ultimate Priest album; it's hard to argue against it. The first release to feature Scott Travis, there are few albums that can open with such blistering pace as this one. The title track is a metal anthem, explosive, visceral and probably the heaviest song the band had recorded at the time. 'Painkiller' is perfection in metal. Full of drama, pace, Halford's piercing cries and the screaming guitars all combining to provide six minutes of blistering heat. But it's not all about the title track. In fact, there isn't a real dud on this album. Sure, 'Leather Rebel' may be a bit tongue in cheek, but the power of 'Between The Hammer and The Anvil' and the atmospheric pounding 'Night Crawler' are just two songs that I never tire of listening to. It's possible that this was Priest at their pinnacle. It certainly turned out that way for almost two decades.
4. Angel of Retribution
This one may not be one of the band's greatest records but there is a symbolism here that makes it one of my favourites. Having returned to Priest in 2003 after 11 years away, the opening riffs and vocals on 'Judas Rising' confirmed that the Metal God was home. It's a powerful start to an eclectic album that signalled the reinvention of the band. The fire was ignited in fits and starts on this album. 'Demoniser' is a rager, 'Hellrider' is solid if unspectacular and 'Deal With The Devil' classic Priest. It was the 13-minute closing song 'Loch Ness' that divided opinion. Ambitious storytelling, I loved it. Dark, smouldering and with a powerful atmospheric feel, it demonstrated that Priest were unafraid to take a risk. Others felt it was too Spinal Tap, and I can see their point. Geoff Barton in Classic Rock wrote that the track sends "the entire record crashing down in flames... Loch Ness is so ill-conceived, so long-drawn out, droning and dismal, that is single-handedly destroys what would otherwise have been a triumphant Halford-led return". I disagree with that. For me, 'Angel of Retribution' is a solid album with the band flexing their writing muscles in a way that they felt able.
5. Firepower
After the rather ambitious but ultimately ill-fated double album 'Nostradamus' which was followed by Downing's departure, 2014's 'Redeemer of Souls' brought Priest back to familiar territory and a welcome return to form, with Ritchie Faulkner bringing some fresh impetus. Four years later and Priest delivered the goods (sorry!) with one of their best ever releases. Aggressive, sharp, and ferocious from start to finish, 'Firepower' saw Priest putting all challengers back in their place. It contained all the necessary elements. Halford's soaring vocals as defiant as they were forty years earlier, Tipton and Faulkner's twin axe attack on prime form and Ian Hill and Scott Travis holding the foundations with an iron grip. A double whammy opened the album, with the title track and 'Lighting Strikes' immediate anthems. 'Firepower' received positive responses and saw it become the highest charting album in the US. Just shy of an hour in length, it may be argued that it's about two songs too long but overall, this is a superb slab of classic powerful heavy metal and one that may be the crowning glory in a magnificent career.