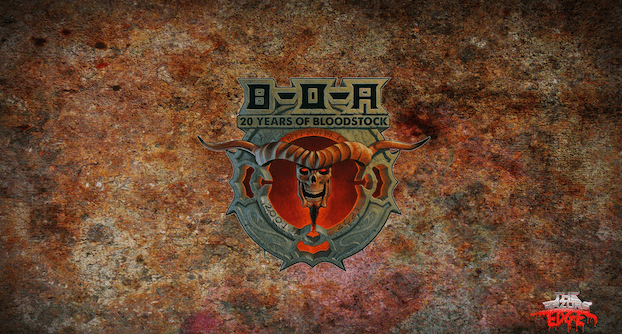 Bloodstock 2020: Life of Agony - It's In Their DNA
by Dan Barnes

The reason we love Bloodstock is because they seem to know musically what we want. Year after year they sustain us with a diet of Metal heavy-weights and up and comers and, occasionally, slip in a band that might not be on everyone's playlist. The music of Hatebreed, King 810 and Parkway Drive may be unfamiliar to festival goers on their announcement, but all three have arrived at Bloodstock and put on one Hell of a Show. In 2014 it was the turn of Brooklyn bruisers, Biohazard to turn Catton Hall into a mass of bodies and, had bat not been on the menu, their NY scene contemporaries, Life of Agony would have taken the same Sunday slot this year.
Formed in 1989, the early nineties was a creative and commercial high point for the New York Hardcore scene, with the likes of Agnostic Front, Sick of It All and Madball's form of ultra-aggressive punk rock beginning to make big waves in the underground. Possibly due to competing against the angsty and introspective nature of the then-burgeoning Grunge scene out of Seattle, NYHC had raw power, speed and heaviness, all imbued with a swagger which found favour across of myriad of scenes, from Metalheads to Skaters. But what the NYHC scene lacked was subtlety and a modicum of sensitivity with maybe some melody sprinkled in for good measure. And this is where Life of Agony come in.
Although LoA was born on the same streets as their heavy-weight contemporaries, meaning they played many of the same shows, the band freely admit to only being influenced by NYHC, but state they were never truly part of the Hardcore scene at all, citing other influences as disparate and wide-ranging, from Metallica to Radiohead; from Pink Floyd to Social Distortion; with a smattering of Zeppelin and Sabbath in there for good measure.
To label the New York scene as solely hardcore is to do a disservice to the host of other aggressive musical acts emerging from the Big Apple at that time. Whether that be the alternative metal of Helmet or the Gothic grandeur of Type O Negative, down to the previously mentioned Biohazard, whose influences were as much from the rap and hip-hop scenes as they were from the hardcore bands.
Life of Agony's exile from the true nature of New York Hardcore can be isolated to one factor: the vocals of Keith Caputo. Musically, Joey Z and Alan Roberts, alongside Type O Negative drummer, Sal Abruscato, could easily have held their own against any of the purveyors of crossover thrash riffs and two-step Hardcore rhythms; but it is in the depth and range of Caputo's voice that Life of Agony's individuality resides.
At the time of Life of Agony's emergence, the global music-scene was gripped by the success of Nirvana and record companies saw the band as natural successors to the Grunge titans. Both bands shared the same wounded lyrical introspection and a darkness that would have cross-over appeal between audiences.
Signed to Roadrunner Record, Life of Agony released their first album, River Runs Red, in 1993. Named by Rolling Stone magazine as the 58th greatest metal album of all time in 2017, sandwiched between Napalm Death and Emperor, the debut is ostensibly a concept record dealing with the subjects of abandonment, domestic abuse, alcoholism and, ultimately, suicide.
As a concept record, River Runs Red takes place over the space of a week, in which the unnamed protagonist, already damaged by the emotionally-distant environment in which he lives, endures verbal abuse from his mother, all to the soundtrack of a crying baby. We find out in the interludes, Monday, Thursday and Friday, that he is dumped by his girlfriend over an answering machine, is abused by his boss before being fired from his job and then being told he won't be graduating after failing his exams.
The album is a tour-de-force of vocal performances from Caputo; the likes of Underground and Words and Music, with their haunting quality add to the uncomfortable feel of the record. Whereas, elsewhere, the low registered Sabbath-ism of This Time and Through and Through, or the hardcore-infused Method of Groove and My Eyes compliment the descent into a personal hell.
It is widely considered that the lyrical content of Life of Agony's records lays out the internal conflict being experiences by Keith Caputo, but the responsibility for the majority of LoA's musical and lyrical content comes from bassist, Alan Roberts, with Caputo mostly contributing ballads, predominately from personal experience.
The combination of musical styles - from the slow, doomy Black Sabbath-esque to full-on Groove, married to the hardcore tropes of gang vocal and ferocious riffing, show Life of Agony are willing to eschew their NYHC origins from the outset. Joey Z's guitar sound ranges from massive chugging riffs to the precision of classic rock through to a sawing, abrasive sound.
River Runs Red is not an album to be easily categorised. It is simultaneously hardcore, alternative metal, groove metal and doom all played-out as a modernist Gothic horror story. Listening back to River Runs Red in 2020 you realise that it was so far ahead of its time when released in 1993 that there's little wonder it didn't capture the public imagination that the scope of its ambition deserved.
Over the coming years, other bands would employ similar tropes in their creation. Nine Inch Nails' imperious The Downward Spiral came out a year later, which also portrays a protagonist in distress, and would go on to redefine a decade and be hailed as the modern masterpiece it is. Korn's debut album of 1994, itself a study in personal pain and abuse, would go on to sell a boat-load of units and kickstart the whole Nu-Metal movement.
Life of Agony developed a reputation as being a hardworking gigging band after the release of River Runs Red, touring with the likes of Korn and Ozzy Osbourne and shifting up to 10,000 units per week, before returning to the studio to record their sophomore album, Ugly, in 1995.
Ugly represented a major shift in sound from River Runs Red. Gone were the hardcore influences and the aggressive, double-bass drum kick of the debut, in favour of a more textured record, steeping in the alternative metal genre of the mid-1990s. Tracks like Seasons, Lost at 22 and Drained maintained the groove, but the clean vocals and alternate stylings of Let's Pretend and How Would it Be are a world away from the raw emotional energy of River Runs Red.
However, that's not to say Ugly is not a good record. The close out tracks of Damned if I Do and Fears hold onto the heavier guitar chug and infectious groove of the debut, after having been filtered through the gauze of alternate metal. The likes of Life at 22 and I Regret still appear in the band's setlists, along with the pop-punk of Other Side of the River being a world away from the pain and laid-bare emotion of River Runs Red.
Although it seems as though it would stand out like the proverbial sore-thumb, Life of Agony's electronic and gothic cover-version of Simple Mind's Don't You (Forget about Me) is far more interesting than it's suggestion would have you believe. The movement away from the bludgeoning sound of River Runs Red to the more delicate Ugly demonstrated Life of Agony's creative scope and, in the time before the emo-fuelled Nu-Metal sank it's talons into the heavy music scene, LoA were the band whose soul-laid-bare stance was okay for even the most zealous of Metalheads to like.
Following the Ugly tour, drummer Sal Abruscato left the band to be replaced by former Pro-Pain and Crumbsuckers sticks-man, Dan Richardson and in 1997 Life of Agony released Soul Searching Sun, a continuation of the ideas and musical stylings of Ugly. Much to the consternation of those fans wishing for a return to the band who'd recorded River Runs Red, LoA delivered a melodic alternative metal record which had ingested far too many pop elements to even try to compete with the debut.
Featuring the single, Tangerine, a poppy, alt metal track with the beginnings of Nu Metal and Emo ingrained, it represented a record filled with light-weight songs a million miles removed from their early work. Songs like Weeds, Gently Sentimental and Whispers feel generic and of their time. While Lead you Astray, Angry Tree and Desire feel phoned in and not worthy of their place on a Life of Agony record. Surely, the worst offender is the cringy ballad My Mind is Dangerous which, on a record as faceless as Soul Searching Sun, has the dubious honour of being the worst offender.
That said, I don't think it would be right to leave that comment as being the last word on Soul Searching Sun. For all its bland 90s alt metal, there are a couple of highlights worthy of note: Neg still maintains the 90 feel but employs a sound more in keeping with the previous incarnation of the band. The same can be said of Heroine Dreams, with its dirty guitar work and heavier sound, it too harkens back to the Life of Agony of old.
The reasons for Soul Searching Sun's lack of direction was blamed on the disruption to personnel within the group. A change in the drummer had upset the delicate balance and this had the effect of altering the overall chemistry of Life of Agony to the point that the cracks became chasms and as Caputo's interest in the group waned.
As well as polarising the fan-base, Soul Searching Sun also fractured the band. Caputo left partway through the tour, citing disillusion with the rock world, before going solo and releasing the mostly-acoustic Died Laughing album.
The band would continue after recruiting Ugly Kid Joe frontman, Whitfield Crane. The first time I saw the band was with Whitfield on vocals, at the 1998 UK Ozzfest at the Milton Keynes Bowl. I think he did a fair job that day, but I would obviously have preferred to have seen and heard Keith Caputo fronting the band. This was the only British date for this incarnation of the band and their appearance on the second stage was probably hindered by the fact that they were going on just after Pantera had finished playing the main stage.
It was evidenced by that performance that while Whitfield Crane was a good frontman for Ugly Kid Joe – they'd played a fantastic set as support to Def Leppard in Sheffield back in 1993 – his party-loving persona and onstage antics did not sit well with the lyrical introversion of Life of Agony's catalogue.
This line-up of the band continued for the next twelve months before splitting up. Possible too much had changed since the darkness of River Runs Red, and the fans had lost hope that they would ever see the like again from the band. In reality, Life of Agony had become their own cover band.
Four years after the band split they would reunite with the original line up for two shows in New York. The success of these shows led to the band embarking on a US tour and some European festivals and would eventually see the release of Broken Valley in 2005.
Any fan expecting a return to the sound of the first record was disappointed as Broken Valley was an amalgam of all the three previous albums. Junk Sick and The Day He Died were reminiscent of River Runs Red tracks This Time and Underground, whereas Last Cigarette and Don't Bother would sit comfortably among Ugly and Soul Searching Sun's more alternative moments. The short ballad No One Survives is simple, but haunting lament of piano and voice.
Themes of death, drugs and regret dominate the record and Broken Valley was a solid return after seven years away but was considered something of a failure by their record company who did not know how best to deal with the band. Even the band consider the album could have been better were it not for the time constraints put on them by Epic.
I managed to catch them a couple of times on the Broken Valley tour. The first time in Belgium at the 2007 Graspop Metal Meeting, where they would share a main-stage billing alongside Lamb of God and Korn and the Metal deities that are Heaven & Hell and Iron Maiden. The other time I caught them was at the Damnation Festival in Leeds in 2009, where they headlined the main-stage of a bill featuring Therapy? Anathema and Electric Wizard. These first times of seeing the full band, with Caputo front and centre solidified their status, in my mind at least, that there really was something unique about them.
External pressures saw Life of Agony split for a second time in 2011. In wider consideration the transformation of Keith into Mina Caputo was not held to be a contributing factor in the second split as it was already something the band as a collective had come to terms with prior to going on semi-permanent hiatus.
Come 2014 Life of Agony confirmed they were active again and the resulting album, A Place Where There No More Pain, was delivered in 2017. With Mina's transformation complete the band were able to deliver the album that would bridge the gap between River Runs Red and Soul Searching Sun. The sound is clean, but the heaviness is there and the darker edges have not been blunted.
In many ways this is a celebratory album for the band as a whole and for Mina individually. Her voice and her range have not been so diverse since River Runs Red on tracks like Meet My Maker and World Gone Mad. Life of Agony as a collective were eager to explain that this new record as about the band as a whole and it formed a way of reconnecting with their fans and providing a place of healing. It would be very easy to see The Place Where There's No More Pain as being a deeply personal record for Mina but there is also a view to be taken to suggest it's as much a cathartic experience as it is a damning one.
It could well be easy to suggest Life of Agony had needed to make The Place Where There's No More Pain for twenty years as it feels like the natural musical successor to River Runs Red. There's thick slabs of guitar, heavy rhythms and catchy choruses. I manged to catch the band in Manchester on this tour and, being the first time Mina had fronted the band, I was heartened at the goodwill and positivity from every member of the crowd directed toward her. The band played a tight show that night with a set taken from all aspects of their career, though the bulk coming from River Runs Red.
Clearly the creative juices were flowing as the band finished the world tour and seemed to jump straight into another record. But Life of Agony do not do plain sailing and their line-up changed with Sal Abruscato vacating the drum stool to be replaced by long-time fan Veronica Bellino. Unlike the aftermath of Ugly and switch of drummer, the resulting records does not feel like a band unfamiliar with itself.
2019's The Sound of Scars is the spiritual successor to River Runs Red, taking many of the same thematic and structural queues from the debut. Melancholic riffs and dream-like vocals place this album in the liminal space between metal and punk, all the while guiding the listener through a journey of despair and mental anguish. As with all of Life of Agony's work, The Sound of Scars is a multifaceted ride through soaring highs and crashing lows. Tracks like Lay Down and Eliminate hurtle along at a frantic pace, while the record closes out on the wistfully mellow I Surrender. Yet the band promise some serious pit action with the stomping choruses of the likes of Black Heart and Stone.
This album is another example of Mina's incredible vocal range. Clearly, events in her life have altered her voice but her shift from the baritone of River Runs Red to the more fragile delivery on the last two records has been to the advantage of the band.
The tour to support The Sound of Scars – if the Manchester show at the end of October 2019 is anything to go by – shows Life of Agony as a rejuvenated and hungry machine, delivering the kind of performances a band this deep into its career should only dare dream.
Sadly, global events have postponed Life of Agony's Bloodstock debut this weekend. But, LoA's 2021 performance at Catton Hall is bound to be a festival highlight. By that time there may be another album to promote, another set of songs to simultaneously smash stuff up and have your heart broken to. Whatever happens, it's assured to say that Life of Agony will be there because they are survivors. They can't help it – it's in their DNA.