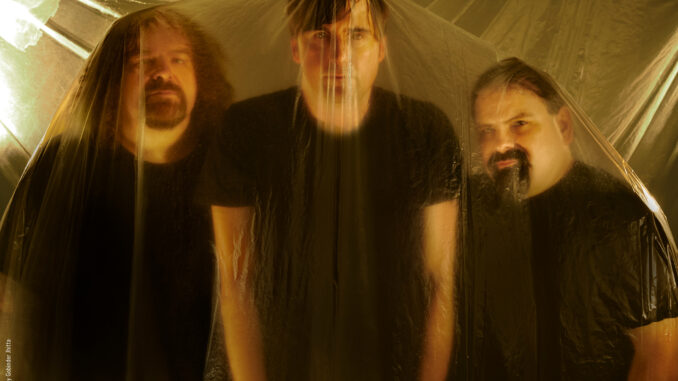 Album Review: Napalm Death – Throes of Joy in the Jaws of Defeatism
Reviewed by Dan Barnes
I don't imagine there were many of us who saw the original broadcast of BBC's Arena documentary 'Heavy Metal' back at Christmas 1989 and, after seeing live renditions of 'You Suffer' and 'Scum', thought here was a band with some serious longevity.
Yet, here we are, more than three decades later and Napalm Death release album number sixteen which sees the continuation of a run of stunning releases dating back to 2000's 'Enemy of the Music Business'.
Having whetted our appetites in February with the two track EP, 'Logic Ravaged by Brute Force', and had three-quarters of the band gather for the latest Venomous Concept record, it was clear that Napalm Death were a band with something to get off their chests. It has been five years since the imperious 'Apex Predator – Easy Meat' so not only are there some big shoes to fill, there's also a heavy weight of expectation.
'Throes of Joy in the Jaws of Defeatism' is a heck of a title and feels like a more straight forward release from the band. The opening trio of 'Fuck the Factoid', 'Backlash Just Because' and 'The Curse of Being in Thrall' are all standard Napalm Death fayre. Grinding guitar, fuzzed-up bass and whirlwind drums beneath Barney's ferocious vocal assault. The breakdowns are in evidence and the power and sheer force of will of the music all but wreck the foundations of whatever building you happen to be listening in.
But we all know Napalm Death are not ones to rely on one-dimensionality to get their message across and just as you think you've got a handle on this 2020 iteration of the band, they sweep into 'Contagion', with it's clean guitar hook and low end groove, it summons the spirit of 'When All is Said and Done' or 'On the Brink of Extinction'.
It is in these anomalies to the traditional Napalm Death sound that the ongoing genius of the band can be found. The dissonant drawls of 'Joie De Ne Pas Vivre', 'Invigorating Crutch' and 'A Bellyful of Salt and Spleen', complete with industrial backdrop and bleak, nihilistic noise sensibilities, form a perfect juxtaposition to the grinding found elsewhere on the record.
Yet, even here, Napalm Death are not done and are able to reveal other sides to 'Throes of Joy in the Jaws of Defeatism'. 'Acting in Gouged Faith' brings back the groove and bounce and carries with it more than a flavour of the Alternative scene. However, it is 'Amoral' that stands out the most on the record: an 80 infused industrial post-punk mood with some unbelievable musical hooks which you'll find yourself humming along to long after the record has ended.
The performances are exemplary as you would expect from the band: Barney's vocal is harsh and guttural but also, somehow comforting; Shane's bass is fuzzy and centres the album as Danny's drumming lays a huge foundation upon which this record is built. Promotional material shows Napalm Death as a three piece with Mitch Harris and live guitarist, John Cooke, sharing guitar duties. Some rumours persist that Mitch will not play live with the band again. We wish him well.
That Napalm Death are able to write, record and deliver live the quality and breadth of an album like 'Throes of Joy in the Jaws of Defeatism' is an achievement in and of itself; that they are able to do it time and time again is testimony to their unwavering dedication to their craft.