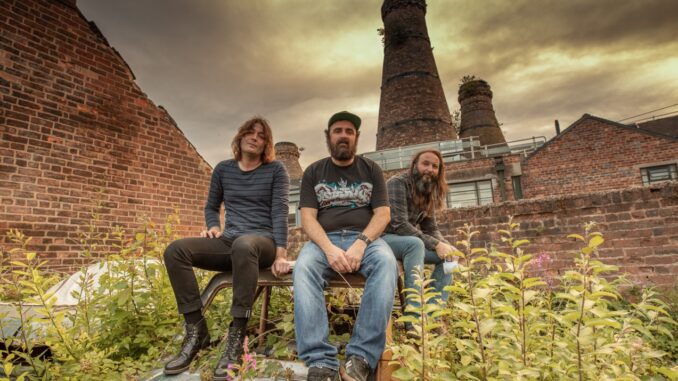 Album Review: Red Spektor - Heart of the Renewed Sun
Reviewed by Paul Hutchings
Amongst the many bands who dazzled at last year's HRH Doom vs Stoner event at Sheffield Academy, Stoke-on-Trent's Red Spektor stood shoulder to shoulder with anything on offer that weekend. Their heavy fuzzed style worked its magic and induced 45 minutes of enchanting wizardry. I knew what to expect from the trio when 'Heart of the Renewed Sun' arrived.
I wasn't disappointed. The three-piece are powered by the potent rhythm section of Jonny Esp on drums and Rob Farrell on bass, the duo holding the groove level to allow guitarist and singer John Scane to take centre stage with his killer tones and deep, soulful vocals. There's a heady mixture of blues, psychedelia and of course, stoner rock in this second album. Dive into the void, experience the blend of early Sabbath, Hendrix and Fleetwood Mac (pre-Nicks and Buckingham obviously) and enjoy eight tracks on unbridled intoxication.
Heart of the Renewed Sun opens with the punchy 'Wallflower', with a bass riff that echoes elements of Lemmy Kilmister's intro on 'Damage Case'. And that's okay because Lemmy was God as we all know only too well. 'Wallflower' is the ideal opener, the reverb on the guitar and the thick, chunky elements immediately embedding its addictive hooks into the listener before a trippy mid-section then guides back to the driving riff and a hard-hitting solo that cuts through with ease. 'Wallflower' leads directly to the free flowing 'Revol', a delightful meander which showcases Scane's excellent guitar work, although it rarely dips throughout the album.
Whilst the band sit firmly under the stoner rock banner, Red Spektor's sound kicks all the stereotypes of the genre into next week. The blues filled break out of 'Violet Sun' has one foot firmly in the seventies, but it also grabs the attention as vital and modern. Penultimate song 'Hell to Pay' smoulders and smokes, the slower drawn out pace bewitching and beguiling. That leads to the laid back closer 'Ivory Towers', a relaxed play out which has the listener drifting through time and space in a fantastic end to a quality follow up to the band's debut release.
'Heart of the Renewed Sun' is out on 2nd October, via Kozmik Artifactz.