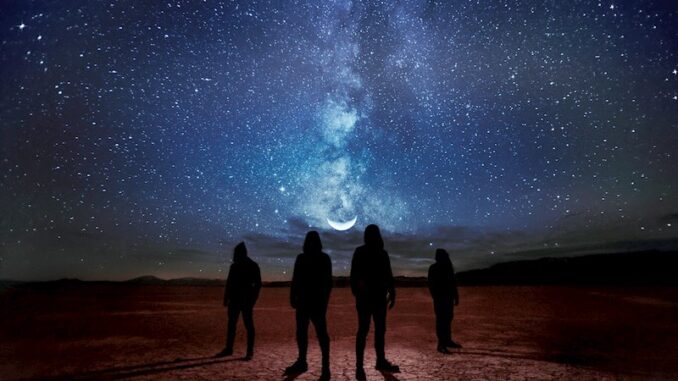 Album Review: Uada - Djinn
Reviewed by Paul Hutchings
Deep in the pacific North West, there has been a stirring in the darkness. The melodic black metal of Uada creeps slowly but relentlessly across the globe, an unstoppable tidal wave of pagan themed music. Those who have already heard the band's first two albums, 2016's 'Devoid of Light' and 2018's Cult of a Dying Sun' will already be immersed in the ferocity that the spews forth. Those that do not either join or fall by the wayside. An hour in length, this is not an album for the faint hearted, but those who do invest reap the rewards.
Unlike many of their peers, Uada embrace a range of styles that combine into a powerful, soulful, and majestic tour de force. Submerge into the depths of the title track, and become bewitched by the flowing, organic waves that shimmer and shine. Formed in 2014, the Portland based outfit have honed their craft to intricate and intoxicating levels. The frenetic power of 'The Great Mirage' is tempered by huge chunks of doom filled elements, the guttural growling of co-founder and guitarist Jake Superchi echoing with malevolent intent.
As the album advances, the spiralling centrepieces roll forward. 'No Place Here' allows Uada space and time to sonically expand, the rhythmic swaying, desolate tremolo riffing clicking seamlessly together in a miasma of technicolour. At times ferociously aggressive, Uada are able in a second to switch to a dream like state of textural exploration. Similar expansive soundscapes evolve during 'The Absence of Matter', a mere ten-minute piece that maintains the intimacy, delicacy, drawing the attention like a moth to a flame. At times, Uada transform from their blast-beating black metal, veering towards more rustic folk styles and yet they always pull back from any precarious precipice with ease, remaining true to their roots.
The band's rhythm section is rock solid. The final performance of drummer Josiah Babcock is superb, his links with new bassist Nate Verschoor (erstwhile main man of Veiled) providing a platform of concrete which underpins the frenetic riffing of Superchi and fellow guitarist and co-founder James Sloan. Black metal often melds into a scorching coagulation of riffing and little else. Uada break both the concept and the blueprint and with a clean, crisp production (by Superchi who mixed and mastered the album as well) have delivered an immense third album that stands comfortably alongside any black metal album released this year.
Djiin is released on 25th September by Eisenwald