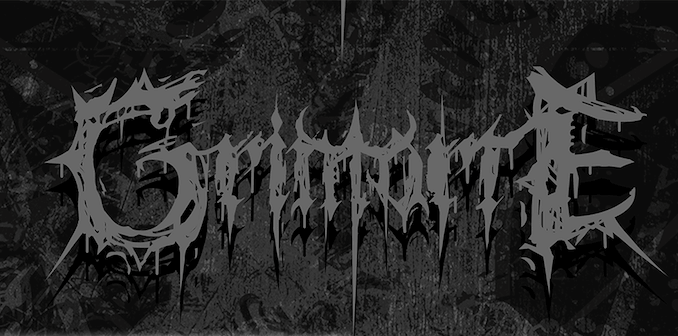 Album Review: Grimorte - Esoteric Ascendance
Reviewed by Paul Hutchings
To quote the legendary guitarist Nigel Tufnell, "How much more black could this be? And the answer is none — none more black". This is Grimorte, a devilish project comprising Ashen Crown's Kieran Scott and Archierophant's Lewis Borthwick. Estoteric Ascendance is a haunting four-track E.P. which explores the dark esoteric mystics surrounding Aleister Crowley and the occult. Not a new subject to the metal world so the pressure is on to deliver something a little bit different.
Esoteric Ascendance's narrative is of a woman's journey into being lulled into the esoteric pagan and Satanist practices of the golden dawn revealing her transition from innocence to possession, then to reawaken to find her new self-believed demonic form. The Procession is the opening song, a harrowing atmospheric introduction with Scott's demonic howls instantly recognisable as the track begins its slow march, drifting between crashing segments where Scott roars and gentler, almost ethereal elements. It's the perfect gateway to a blend of dark atmospheric black, death and doom metal.
Whilst the feel of the remaining three songs lean heavily towards the crushing doom style, there is much to absorb here. Slow, concrete heavy riffs spar lustfully with sporadic increases in tempo on 'Sequestrate', the speed flicking back and fore, occasional blast beats juxtaposed with the much slower pace. The title track fits the sinister feel of the album, a cacophony of noise, the funeral march interrupted by blistering bursts of blackened death whilst the monastic chanting on final song 'Firvir' leads to a much more contemporary black metal style track, Scott's demonic croaking akin to those black metal masters of yesterday and the concluding minute with its cinematic soundscape merely leaves the listener gasping for the next instalment.
Borthwick's obvious talent as the main instrumentalist in the project evident whilst Scott gives a performance that makes his Ashen Crown debut sound distinctly paper thin. He sounds like a man possessed, totally immersed in his role. Borthwick's production is impressive. Grimorte have kept this debut E.P. short, but with the promise of more to come. Two of the UK metal scene's brightest stars have delivered something exceptionally special.