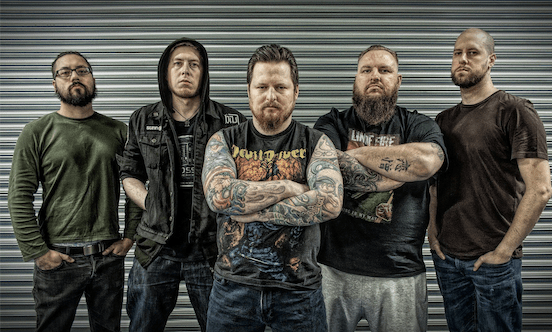 Album Review: Incinery - Hollow Earth Theory
Reviewed by Paul Hutchings
Cast your mind back to 2014. A mere six years ago, it probably seems a lifetime to Incinery. The Nottingham thrashers debut long player 'Dead and Buried', produced by the late, legendary producer Chris Tsangarides, received some fantastic reviews, and the band opened the Thursday evening festivities at Bloodstock with a thrashtastic 30 minutes which got the whole event moving. Since 2018, the band have been tirelessly working on their sophomore release and at last 'Hollow Earth Theory' has arrived. Is it worth the wait or have Incinery been bypassed by some of the other stellar releases in the UK thrash scene this year?
Well, rest assured, for Incinery have not lost any of that brutal drive that was a trademark of their previous music. In fact, they've upped the game quite ferociously. 'Hollow Earth Theory' draws inspiration from a mix of occultism, conspiracy and science fiction, delivering what the band describe as "a whiplash nightmare tour of the titular hollow earth. This is a riff maelstrom by way of alien abduction, the novella of Harlon Ellison, alchemist Nicholas Flamel and existential cosmic annihilation". Get the fuck in. This is way better than some wizard's sleeve sniffing.
Incinery's sound has matured and broadened. Their aggressive, raging thrash metal remains the central pillar of their sound, with the blistering shredding of guitarists Jason Chaikeawrung and Chris Kenny as prominent and fiery as before. But they've added to their thrash onslaught with a wider approach. There's more melody, groove and a modern edge that soaks up wider influences that mere thrash legends. Opening with 'Hollow Earth', Incinery get down to business right away, duel riffing and blisteringly fast drumming combine before James Rawlings dives right in, barking his aggressive, gravel-soaked delivery with real power. This is every sinew straining as Rawlings spits his lines out, raising genuine fear that he might cough up a lung such is the venom in his finish.
At mere minutes shy of an hour, there is an orgasmic amount of thrash to indulge in on 'Hollow Earth Theory'. The groove-based feel of 'Savage Lands' may contain slight echoes of the pounding drive of Richmond's Lamb of God but any haters can fuck off right now as it is the muscular power to this track that forms my comparison and with a flying fist to the face, Incinery are not cloning anyone on this release. Get your head blasted off by 'The Less Dead', a battery which assaults the cranium and feel the sheer force that the band have harnessed. This is face melting stuff.
The rhythm work on 'Hollow Earth Theory' is stunningly good. Ste Dudley's drumming is machine like in its efficiency, and he clicks effortlessly with bassist David Jordan who also provides some brutal backing vocals. 'Forgotten One' is a huge example of this intricate linking, a punishing beast of a track that assaults the aural cavities. And whilst Incinery have definitely shifted their sound, just when you are pondering the subtle changes, they hit you with one of the fastest tracks on the album, the crushing 'Carrion King' that is just massive in both sound and pace. Explosive, bludgeoning and ferociously fast, this is the track you play very loud to piss off the neighbours. It's full of heavy, thick thrash riffage and a fine shift in tempo, the anthemic middle section allowing a pause before roaring back in for the finish.
Another impressive feature of 'Hollow Earth Theory' is that despite the retention of their earlier 80's thrash feel, Incinery have expanded their repertoire and incorporated a wider range of modern metal. 'Ellison' broods with malevolence, the sheer intensity of the track crushing with its heaviness, the concrete mixer riffage paralysing. Incinery can't resist throwing it down though and the second half of the track erupts in a blinding pace. And so, it continues. There's not room to breathe as the album develops. As you crawl towards the end, there is a killer finish with the duel ferocity of 'Beyond the Dawn' and 'Terminal Singularity'. You'll grab your breath, then reach for the play button and go again. It's that good.
'Hollow Earth Theory' is released on 30th October.