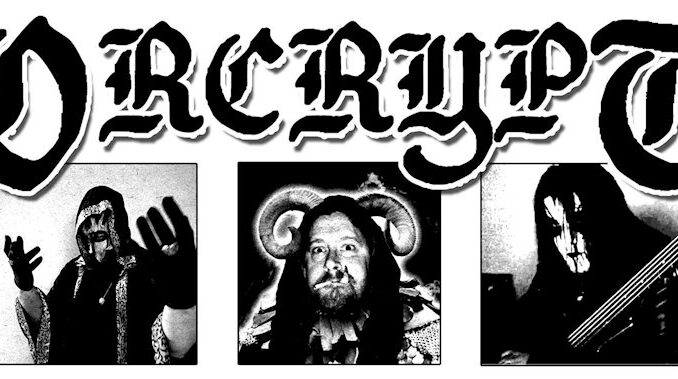 Album Review: Orcrypt - Balrog & Roll
Reviewed by Richard Oliver
Black metal and fantasy fiction have long been bedfellows with many a black metal band named after places or characters from The Lord Of The Rings. Orcrypt are one such band who also fall under this influence having formed in 2010 with their debut album Mercenaries Of Mordor being released in 2015. Only founding member Ugluk (bass & drums) remains from the former line up and for the band's second album he is joined by Sammael (guitars) and J.R.R. Martin (vocals).
This line up change brings about a shift musically to a more riff based style of black metal and lyrically to fantasy role-playing games such as Dungeons & Dragons. The music is very reminiscent of Norwegian black metal bands such as Darkthrone and Gorgoroth with its use of gnarly and simplistic but very effective riffs but there are some nods to traditional heavy metal with some of the riffs such as in 'Hexblade' and 'Dice And Damnation'. The music is generally at a middling and steady pace which is used to great effect in songs such as in 'Mind Flayer' and 'Tomb of Horrors' but when the speed does kick up a notch songs like 'Flight Of The Dracolich' and 'The Beholder' it ensures that heads are banging along. The vocals by J.R.R. Martin are in that atypical black metal style but he is an effective vocalist knowing the right moments when to take things up a gear in terms of stamina and intensity. The guitar playing by Sammael is decent with loads of tasty black metal riffage throughout as well as some chaotic solos whilst Ugluk provides a tight rhythm section which holds everything together.
Orcrypt have a very decent second album with 'Balrog & Roll' which whilst not as sonically devastating as black metal can be or as progressive and experimental as the genre has become in recent years, is a very effective mid-paced black metal album with great riffs, great performances and a great atmosphere.
'Balog & Roll' is released via Death To Music Productions on October 31st.