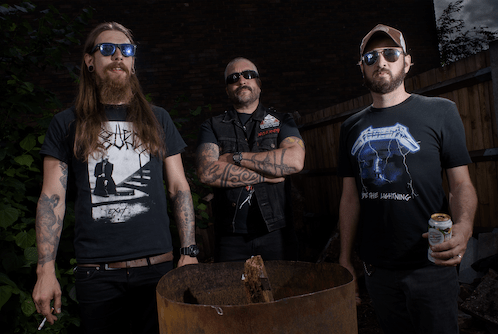 Album Review: Possessor - Damn The Light
Reviewed by Tim Finch
When it comes to heavy metal there always seems to be close ties to horror films and that movie genre in general. Over decades the two have held a close relationship and in 2020 there are no exceptions. We have already seen the outstanding Video Nasties album release which draws inspiration from such films, and now following the trend are APF Records label mates Possessor with their horror infused metal mayhem and new album 'Damn The Light'.
From the stunning album artwork, akin to those classic horror movie posters, you start to get a picture of what the album and the band are about to deliver. 'Damn The Light' has been written entirely during the COVID-19 lockdown period and rehearsed only over video calls, and impressive accomplishment in itself.
The opening of 'Bloodsuckers' invites the listener in to delve deeper, that driving bass line high in the mix, reverberating and drawing your attention. 'Coffin Fit' and its monstrous riffs continue the barrage, accompanied by the haunting vocal tone, and telling the mesmerically horrific tale.  The rolling, bounding riff gripping onto you until the sudden, dramatic end to the song. Throughout the record the heavy bass lays the foundations on which the band build, it's sludgy in feel, but faster than you would expect from said genre. 'The Strangeness' the perfect example of this, a mix of the doomier elements of Black Sabbath and the fast paced drive of Judas Priest, a juxtaposition of styles that meld into one unique presentation. 'Razorback' has an extra edge to it, the distant vocal cries atop riffs that scar your soul.
Lockdown conditions have proven to be the ideal opportunities for bands to take stock and concentrating on writing new material. To also record under such restrictive conditions is to be commended, but to produce an album of such quality through it is to defy all the odds. For fans of dark, heavy metal and of horror in general, this is an album like no other.