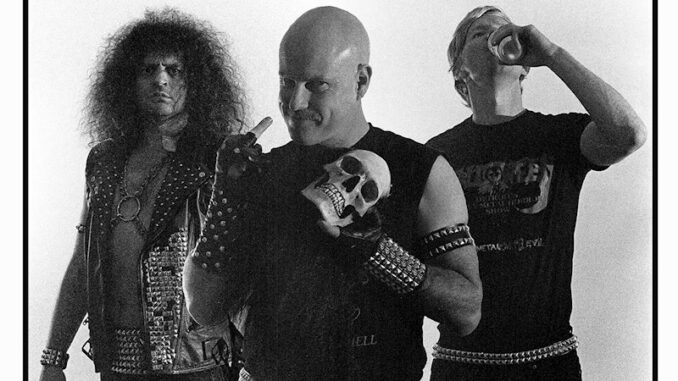 Album Review: Stälker – Black Majik Terror
Reviewed by Jon Wigg
Ahh the 1980's. A simpler time when bands vied for the who could be fastest, heaviest, loudest (I don't care what anyone says - it was Motorhead - always Motorhead!), meanest, scariest and who could wear the most make-up!. Fans wore denim... and leather... and were brothers all together. The New Wave of British Heavy Metal morphed into speed metal and then thrash metal. What a time!
Move forward thirty-ish years or so, and about twelve thousand miles, New Zealand trio Stälker unleash their second full-length 'Black Majik Terror' on the world. And a fine slab of speed/thrash metal it is too. Harking back to those afore-mentioned halcyon days, there is nothing subtle about Stälker's music. This is lovingly crafted, brutal metal that owes a lot to their predecessors, in particular Exciter, Painkiller era Judas Priest, Motorhead, Venom and Slayer.
Rising from the ashes of Razorwyre, whose excellent 2012 album Another Dimension is well worth checking out, Stälker really knows how to please a crowd. Their fun speed style really hits high notes and this whole album is a joyful reminder of why I grew to love this music in the first place. From Razorwyre are drummer Nick Oakes and guitarist Chris Calavrias and joining them is vocalist bassist Daif King. King brings Halford-esque high pitched screams where required, and a well balanced snarl that injects some menace to proceedings. Oakes' drumming is direct and drives the tempo at all times, but for me the real star is Calavrias, whose superb performance makes this album one of my favourites of the year.
The main element of 'Black Majik Terror' is speed although the band demonstrate their ability to write and perform towards the slower end of the metal genre in the excellent 'Holoscene's End'. Opener 'Of Steel and Fire' channels Painkiller with the drums opening and demonic scream before a sped up Motorhead style riff bludgeons the listener. The title track brings in an organ at the start before a demanding and furious riff kicks in. 'Sentenced To Death' and 'Stälker' keep up the frenetic pace while 'Demolition' has a lovely mid-paced chugfest in the breakdown.
'The Cross' kicks off as a bass-heavy prog track before the pace builds again towards the devastating climax. 'Iron Genocide' is another wall of noise and speed before album closer 'Intruder' introduces some horror elements. Make no mistake, this is a fantastic speed metal album, produced by a trio on top form, that deserves to get some serious time in your ears. The music isn't anything new but I think that is the point. Nick, Chris and Daif love the old bands and have made their tribute, while still sounding fresh and innovative.
I really can't find anything about this album I didn't like - certainly musically. The album cover is a little corny with buxom scantily-clad maiden facing the toothy demon skull beast, but who cares - it's metal right? This is exactly the kind of album a 15-year old me would have bought in Shades, just based on the cover, so it's all good.