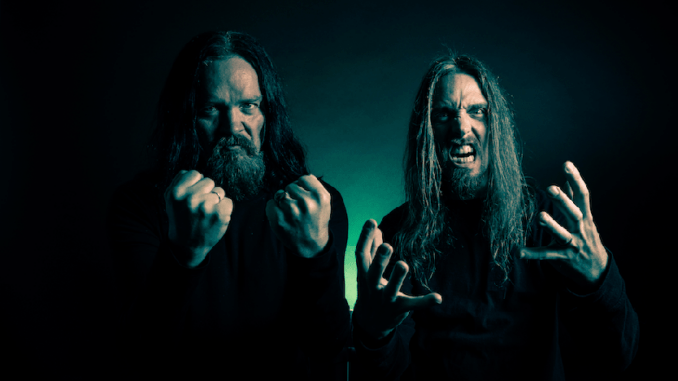 Album Review: Cadaver - Edder & Bile
Reviewed by Richard Oliver
2020 has seen the resurrection of many bands thought long-gone and releases from bands who have not put any new music out in many years from Evildead and Cirith Ungol to Heathen and Green Carnation but crawling deep out of their festering grave return Norwegian cult death metallers Cadaver. We had a little taster of their return earlier in the year with the release of the D.G.A.F. E.P. but now is the time for Cadaver to unleash their new full length and fourth album Edder & Bile.
Cadaver formed back in 1988 and have been in various states of activity in those years with name changes and an ever shifting line up. The one constant member throughout all the years has been guitarist Neddo who is the primary songwriter for the band. The latest iteration of Cadaver sees Neddo performing vocals, guitars and bass whilst drumming duties are filled by the brilliant Dirk Verbeuren (Megadeth, ex-Aborted, ex-Soilwork). The album is a culmination of ten years of demo recordings and sees Cadaver return on absolutely vicious form. They have a sound that is influenced by many different death metal scenes from the Florida sound to the Swedish sound and also a major nod to UK death metal legends Carcass who are clearly one of the bands biggest influences.
The album is an absolute riff fest and is at flesh ripping levels of viciousness with songs such as Morgue Ritual, Feed The Pigs and Years Of Nothing going straight for the jugular. You get a couple of slightly slower and steadier songs such as The Pestilence and Let Me Burn but they are still rippling with intensity. Dirk's drumming is of the usual ridiculously high standard and Neddo's vocals are very much in the vein of Jeff Walker of Carcass and are entirely suited to the viciousness of the music. We also get guest vocal spots from death metal royalty such as Jeff Becerra of Possessed and Kam Lee of Massacre.
There has been a lot of extremely good death metal this year and the list of must hear albums for death metal fans has grown again with Edder & Bile. Even though they are currently working as a two piece, Cadaver show they have lost none of their ferocity and intensity. This is killer death metal done the old way.