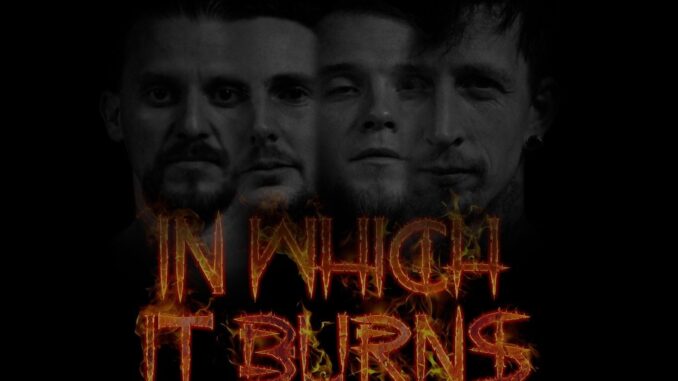 Album Review: In Which It Burns - Silence The Nothing
Reviewed by Paul Hutchings
For those who may not know, In Which it Burns may well be the UK's furthest West based metal band. The Pembrokeshire outfit have been slowly honing their craft over the past four years, qualifying for the final of the Metal To The Masses event at Fuel Rock club last year. 2020 promised bigger things and with three EPs already under their belt, their first full length should have been a cause for massive celebration. Lockdown has been particularly cruel to the band whose geographical situation means every gig is a slog to get to. Pushed forward with relentless enthusiasm by guitarist and vocalist Wayne 'Stretch' Mayhew, the loss of bassist Mike Thomas was a mere bump in the road.
Musically, In Which it Burns flirt between the groove of Lamb of god, the industrial edge of Fear Factory and tinges of Machine Head, with a good bit of thrash thrown in. They've forged their own identity and favour the tight riff and punishing drumming attack. Live they are one nasty, snarling clawed animal.
Personally, I'd have opened this album with 'From Behind Blue Eyes', which is a raging beast of a track that thrashes angrily. As it is, In Which it Burns decided to begin this nine-song album with 'Lost in the Lie (69 Cowbells)', a smouldering bruiser that builds from a grand intro into a ferocious, jagged riff heavy affair. In Which it Burns is a band that bristles with hatred and anger at injustice and hypocrisy, and the band are as furious here as they have ever been. Tracks like 'Destruction of Faith' and 'Hands That Cup The Blood of Innocence' leave you in no doubt about their rage against organised religion whilst the long time set favourite 'Just Know This' is given new life in this recording, with new bassist Ian 'The Squid' Jennings rampaging bass lines underpinning everything, complimented by the swirling lacerations of lead guitarist Steve Flynn.
'The Creed Master' is one of the nastiest songs on the album, a hybrid mixture of death grind and punk infused thrash that is all contained in one curled fist which hammers from start to finish. It's possesses a solid break down which allows Flynn to unleash a brief but blistering solo before the huge stomping size 12 comes crashing back down. Stretch's vocals are at their most aggressive here, his raging screams utterly terrifying. On the flip side, the brief, gentle acoustic intro to closing track 'Victim of My Rage', with the subtle synths adding just the right layers, allows a final breath before the track explodes into a fireball of passionate battering.
In Which it Burns put their heart and soul into everything they do. I know this from personal experience and their commitment to the cause is unquestionable. It's therefore disappointing that the production on 'Silence the Nothing' does the band no favours. The songs are buried deep in a muffled sound which prevents those razor-sharp guitar breaks screaming out from within the songs. The other area which is going to prompt interesting reactions is the vocals. Stretch's aggressive, snarling roars are often unintelligible and that's going to be a challenge to some. His style is such that I think it's the right fit for the band. Whether those new to In Which it Burns feel the same, I can't be sure.
This is by no means a poor album. The songs contain heart, passion, and enough energy to power a small city. The musicianship is solid and listening to their earlier EPs it's evident how the band have progressed with their song writing. With their second album already in the works, it's going to be interesting to see and hear if In Which it Burns can move forward again, or get lost amongst the masses of metal that is flooding the scene today.