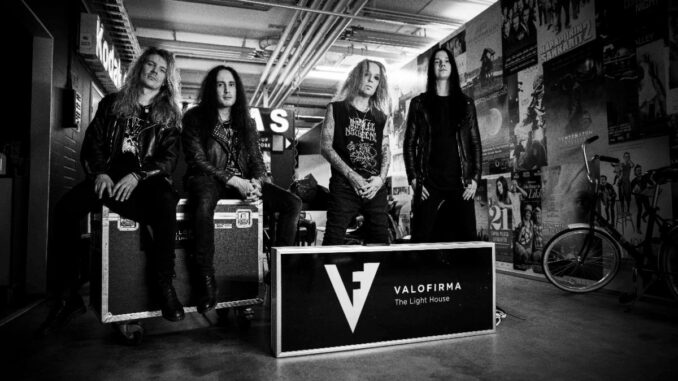 E.P. Review: Bodom After Midnight - Paint The Sky With Blood
Reviewed by CJ Claesson
As his moniker conveyed, Alexi Laiho never half-assed anything. Compiled on a modest three-track E.P. is a closing chapter and summary of his career and Bodom After Midnight delivers an unsurpassed tribute to melodic extreme metal. This is peak Wildchild.
As if last year didn't kick the world in the face enough, the news about Alexi's untimely passing shook the metal community and the newly constructed assault vehicle Bodom After Midnight came to an early halt. It really tugs on the (war)heartstrings to be writing in past tense about a man who with six strings and unapologetic aggression completely shattered the restrictions of extreme metal. Children Of Bodom reigned supreme for over 25 years and the seemingly abrupt termination of the band left fans bemused. Three of the five members left the band, leaving just Alexi and his partner-in-crime Daniel Freyberg, who joined the hatecrew in 2016. Soaring from the ashes came Bodom After Midnight consisting of Alexi, Daniel, Waltteri Väyrynen (Paradise Lost) on drums, bassist Mitja Toivonen (ex-Santa Cruz) and live keyboardist Vili Itäpelto which infused hope for a continuation. Recorded in 2020, 'Paint The Sky With Blood' was supposed to be the starting point for a new beginning. Alas, these are the final riffs. Despite the tragic circumstances surrounding this release - it serves as a final salute to three decades of explosive metal and fans can rejoice in Alexi's brilliance one last time.
Paint the Sky with Blood
Pushing play has never been riddled with as much melancholy as with this release. But as soon as I did, that feeling washed away as I'm hit with the first riff. Together with the initial blast beats it's strongly reminiscent of classic 'Hatebreeder' and 'Follow The Reaper'-era C.O.B transcending into that 'Hate Crew Deathroll' and even 'Are You Dead Yet?'-sound. Yet, it is new and incredibly exciting. Alexi has always mastered the balance between raw aggression and bewildering melodies and with 'Paint the Sky with Blood' it's no different. Did I wish for a raise-your-fist-chorus? Yes. Did I get one? Did I ever. It's a masterclass in dynamic songwriting and one that fans of Alexi are not unfamiliar with. As already established on the 2019 C.O.B release 'Hexed', Daniel and Alexi are a ferocious guitar duo, but the way they complete each other is particularly prominent on this release. Alexi shouts: "The B-A-M's in full effect" and that's not an understatement! The whole band delivers an overwhelming punch which is produced to perfection.
Payback's A Bitch
Even though the track starts off with heavy breathing, there is not much time to rest until Alexi screams "Go!" and the brawl is on. Again, the listener is thrown into a whirlpool of metal genres fused together in perfect unity. Classic heavy metal is mixed with a layer of thrash and even melodic black metal metal qualities, seamlessly tied together by Alexi's unique, signature style of riffing. This track has an added undertone of aggression which is further amplified by Alexi's primal war cries throughout the track. Of course the track wouldn't be complete without a beast of a guitar and synth solo in no less than three parts. Even after a career spanning over three decades, Alexi's imagination for creating innovative and sensational solos is truly a testament to his ability to control his instrument. What appears to be somewhat of a straight-forward metal song is riddled with attention-grabbing details which keep the listener on their toes. Packed with memorable qualities, this song will have you hit that replay-button multiple times. 3-2-1 KILL!
Where Dead Angels Lie
As mentioned above, this three-track E.P. serves as a matchless tribute to Alexi's tremendous career but also to melodic extreme metal. Closing the album with a cover of 'Where Dead Angels Lie' by Swedish legendary extreme metal outfit Dissection proves this point. I'm not going to lie, when I saw the tracklisting for the E.P. I nearly choked on my coffee as 'Storm of The Light's Bane' happens to be my favourite albums of all time and 'Where Dead Angels Lie' is, in my opinion, the best metal song ever written. Does it surprise me that they covered this song? Not one bit. Primarily because it's an absolute ripper and secondly because Daniel Freyberg told me after the last ever C.O.B show in Helsinki that 'Storm of The Light's Bane' just happens to be one of his favourite records too. I can think of no better band to cover this song than Bodom After Midnight. Needless to say, it's an incredible rendition of the song - staying true to the original whilst adding details to it making it their own. Now, Alexi was no stranger to fantastic covers but the fact that they decided to include this piece of melodic extreme metal history on a rather short E.P. is an incredible homage to a genre he went on to extend to the masses.
'Paint The Sky With Blood' is 14 minutes of extraordinary viciousness and in a perfect world there would be more to come. However, it's a privilege to have this record to enjoy forevermore. Alexi and his Bodom After Midnight delivered apex sonic aggression until the very end.
On friday the curtains will close for Bodom After Midnight - but their legacy will live on forever!
Paint The Sky With Blood out via Napalm Records on April 23rd.