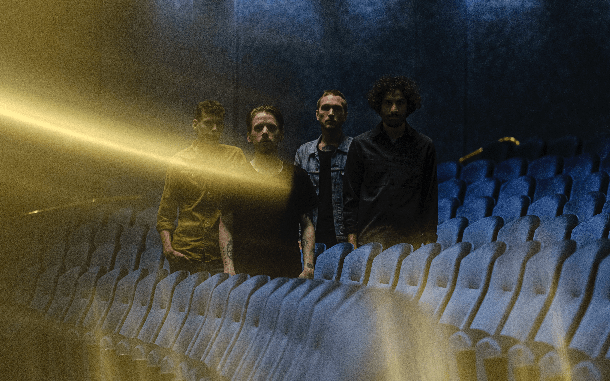 Album Review: PG.Lost - Oscillate
Reviewed by Dan Barnes
Swedish Post-Metal band, PG.Lost's new album is perfectly titled Oscillate as it spends its entire running time switching between moments of light and darkness. Those fans of bands like Mono, Russian Circles and Pelican will be enthralled by PG.Lost's construction of musical soundscapes able to evoke an emotional reaction in the listener.
Though the Post Metal genre often uses complex structures to create a connection to the music, Oscillate follows a different path and, instead, adopts more simplistic rhythms and instrumentation but without compromising the overall effect.
From the ominous opening chords of the title track through to the closing moments of The Headless Man, PG.Lost have crafted an album which draws the listener into a world of light and shade, of crushing darkness and of soaring, uplifting illumination.
Compare the simple lines and captivatingly upbeat essence of Mindtrip, with its poppy riff and handclapping insistence of positivity, with the menacing atmosphere of Shelter, dark and oppressive and leading to a huge, destructive climax.
Those juxtapositions are found within the tracks of Oscillate: E22 begins with confident guitar lines and a bass-drives heartbeat, overlayed by Anathema-esque vocals, only to descend into a heavy, tense and cloying outro. Suffering begins with the kind of drone usually associated with Sunn0))) before taking the listener on a journey evocative of the cityscape of Blade Runner: the weight of the bottom end anchoring you to the ground, while the guitar weaves moments of elegant beauty, allowing you, for the briefest of time, to soar above and escape.
Oscillate is a journey of an album, a wholly instrumental passage through both dark and light, drawing on a multitude of styles but without ever sounding like a confused mish-mash. Rather, the simplistic nature of the approach to the music allows PG.Lost to craft an album that means every time you set foot on its journey you are greeted with something you may not have noted before.
In reviewing this record, I played it through several times beginning to end, then used the Shuffle feature on my player to see how Oscillate would present itself. Every time I did so it allowed me to reinterpret the tracks in a new way, not knowing what would come next.
The final two tracks, Eraser and The Headless Man are Oscillate's most intense. The former beginning with a drum and bass-fuelled dance beat, only occasionally being joined by the guitar. As it progresses, Eraser becomes the heaviest track on the record, resorting to howling guitar and frenzied instrumentation in a cacophonous symphony.
The drone is back in the thick, heavy chords of The Headless Man, complimented by melancholic and measured drum hits and, just when you think PG.Lost have ended their new record on a downer, those incessant chimes that have haunted the opening part of the track, burst forth and provide a hopeful climax of joy and liberation.
I've made no secret of my love of the Post Metal genre and its ability to move and provoke emotion within the listener. PG.Lost's new album is one which can join the pantheon of PM records that have the ability to take the listener on a journey, the destination of which is limited only by the breadth of imagination.
So, happy travels, and don't forget to leave a review on Trip Advisor!