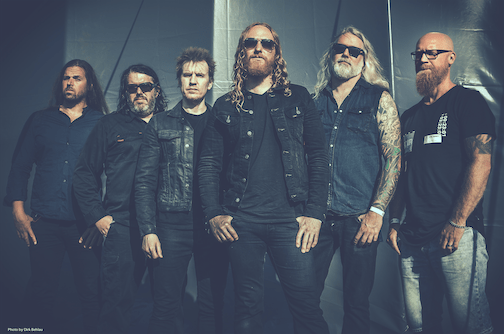 Album Review: Dark Tranquillity – Moment
Reviewed by Paul Hutchings
As they enter their 31st year, there is little sign of the Gothenburg melodic death metal masters Dark Tranquility slowing on iota. In fact, 'Moment', their 12th album is one of the most energised works they have ever delivered. Since 2016's Atoma, the band has refreshed the guitar situation with the inclusion of full-time members Christopher Amott and Jonas Reinholdz who replaced long-time guitarist and founding member Niklas Sundin.
Shaped and crafted over more than a year at keyboardist Martin Brändström's studio in Gothenburg, the result is a cohesive and compelling 50 minutes and 12 tracks which shows the band's ability to deliver memorable hooks, killer riffs and that melodic death metal sound that they have moulded into an instantly distinctive sound over the past three decades.
The powerful 'Phantom Days' is the ideal opening song, full of the muscular yet melodic approach that Dark Tranquility do so well. Identical to None displays the interplay between the band, the duel guitars working in harmony, ferocious yet melodious solos flying out, Brändström's keys subtle whilst the combined drumming and bass lines of Anders Jivarp and Ander Iwers respectively ensures that the platform is steady for Mikael Stanne's growling vocals to take centre stage.
'The Dark Unbroken' may be familiar to fans of the band, having been released as a second single not that long ago. It allows Stanne to show his clean vocal prowess, the delicious melodies coursing through the whole song whilst the steely edge of the duel riffing affords gravitas as well as bombast. There are textures, shades and colours that have been eked out during the writing process with the trio of Stanne, Jivarp and Brändström's creations expanded with Rehinhold's palette.
One of the main qualities of Dark Tranquility is their ability to blend light and dark, such as 'Remain in the Unknown', 'Standstill' and 'Eyes of the World', all of which mix gorgeous melodies with driving metal riffage. The soundscapes that the band can create can at times take the breath away and in Amott and Reinhold Dark Tranquility possess two fabulous guitarists who have not over indulged but whose dexterity and skill levels ensure that they give everything needed.
I mentioned that 'Moment' was a compelling album. Add to that absorbing because it was only when 'In Truth Divided' began to play that I realised I'd reached the end. Drawn in by the sheer elegance of the music, the contrasts, moments of sheer exhilaration and the general towering quality of the musicianship, 'In Truth Divided' is aptly positioned to close an album that grows on every play. Melancholic, deep, and full of glorious melodies, 'Moment' stands alongside anything that Dark Tranquility have produced in the past and comfortably next to the top albums of 2020.