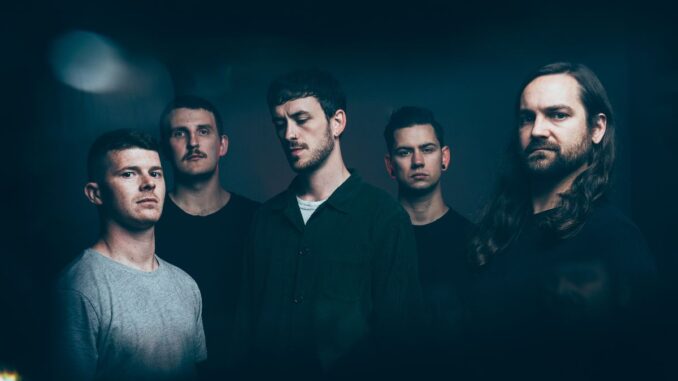 Live Review: Palm Reader - Live at St Edmunds Church, Rochdale [Stream]
23rd November 2020
Review Carl Black
Think a moody, deserted church with a thin layer of fog drifting across the pews. In the gloom stand a band ready to play, Candles flicker with the drafts that these old places of worship have. You can see the breath fall from the bands mouths in anticipation of what's to come. You've got the vision in your head. You're thinking… black metal band. Corpse paint, Black leather, long songs and incomprehensible vocals? You'd be wrong.
Step forward Palm Reader, fresh from signing to the brilliant Church Road Records (see what they did there) smashing out a live set for paying customers on a live stream. Nothing wrong with that in these strange times. We've all seen some of these types of events this year. Caught between a gig and an album play through party, these Nottingham avant-garde art band give 100% effort during this 45-minute broadcast.
The songs consist of heavy, sludgy riffs with a high, melodic guitar lick over the top. It's the hard verses the soft, the heavy verses the light, the sensitive verses the insensitive. Massive walls of loud, explosive music, with extended transitions one second, and you could hear a pin drop, it seems, the next. The performance cannot be denied. They engage the cameras and play beautifully. It's brave to lay your music bare, like a live album with no overdubs, which are rarer than hen's teeth. This bravery is applauded by this reviewer. The band will be pleased with the show, it sounded great and if this was a "live" album we'd all be saying how brilliant the musicianship was.
If it's one thing I've learned during lockdown, much like football, only two thing matter the people who play, and the people who pay. During this three quarters of an hour, we get the people who play in shovel loads. Without the people who pay, this is an album spinning with no one listening, a recording when the produces forgotten to press record, a live gig to an empty hall. We are littered with performances like this. In years to come we will re-watch them and wonder why did a very cool band, decide to set up in an empty building and play if their lives depended on it? And we'll remember, shudder and hope we never go back to those hard times. I wouldn't say I'd never go back to this performance, but I think the visuals will be unnecessary. The music speaks for itself and I would definitely like to see a standalone, audio release from this performance